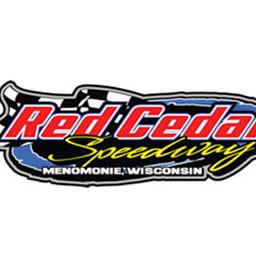 9/25/2023
Red Cedar Speedway
---
MAHDER 55 TO RESUME OCTOBER 13
Menomonie WI, September 22 – Rain brought an early conclusion to the Duane Mahder 55, slated to be run on Friday night, Septeber 22nd at the Red Cedar Speedway in Menonomie. The third attempt to get this race completed was only marginally more successful than the first two attempts, the most recent being on the previous night.
Track workers would do an exceptional job of overcoming the rains of Thursday night to have the track set for racing action on Friday and the heat races for three classes of cars, the WISSOTA Late Models, Modifieds and Super Stocks were completed with the last Modified heat finishing up in light rain.
Unfortunately, things would only get worse from that point with heavy rain starting to fall and with no end in sight for the precipitation, the program was called at that point.
Club officials were meeting to determine what the next step for this event would be and whether it would be completed, and if so, when. An official announcement is expected to be released by club officials as to what will be the the plan moving forwasrd.
The speedway face book page and website will have all information posted as soon as a decision is made.
9/22/2023
RED CEDAR SPEEDWAY
Results
31 entries
WISSOTA LATE MODEL
Heat 1 (10 Laps): 1. 55C-Chad Mahder[2]; 2. 19-Steve Laursen[1]; 3. 27-Jake Redetzke[4]; 4. 1-Mike Anderson[3]; 5. 68-Mike Prochnow[7]; 6. 7X-Jesse Glenz[8]; 7. 85-John Kaanta[5]; 8. 23X-Matt Gilbertson[9]; 9. 31-Travis Budisalovich[6]; 10. 71JR-Buddy Hanestad[10]; 11. 22P-Nick Panitzke[11]
Heat 2 (10 Laps): 1. 428-Kevin Adams[2]; 2. 58-AJ Diemel[9]; 3. 92-Aaron Wilson[1]; 4. 55-Cory Mahder[3]; 5. 90-Lance Matthees[4]; 6. 10-Daniel Bargender[6]; 7. 29F-Dave Flynn[8]; 8. 23-Steve Vizer[7]; 9. (DNF) 54-Rick Niemi[5]; 10. (DNS) 34-Jordan Langer
Heat 3 (10 Laps): 1. 28-Sam Mars[9]; 2. 44-Darrell Nelson[2]; 3. 15-Nick Anvelink[3]; 4. 30-Kevin Burdick[6]; 5. 81-Ashley Anderson[8]; 6. 11-James Giossi[7]; 7. 6M-Jeff Massingill[10]; 8. 22-Brett Shafer[5]; 9. 54L-Jayme Lautigar[1]; 10. (DNF) 22E-Kevin Eder[4]
29 entries
WISSOTA MODIFIEDS
Heat 1 (10 Laps): 1. 05-Jake Hartung[3]; 2. 22JR-Ashley Anderson[5]; 3. 04JR-Adam Ayotte[1]; 4. 89-AJ Diemel[8]; 5. 44-Darrell Nelson[6]; 6. 44X-Adam Hensel[7]; 7. 38-Zach Gibson[9]; 8. 14-Brad Johnson[10]; 9. 80-Kerry Hansen[4]; 10. 55O-Taylor Olson[2]
Heat 2 (10 Laps): 1. T40-Danny Thomas[2]; 2. 55-Cory Mahder[5]; 3. 22T-Michael Truscott[4]; 4. 57-Mike Anderson[6]; 5. 3JR-Shane Halopka[9]; 6. 18S-Kennedy Swan[10]; 7. 2-Todd Gehl[7]; 8. 4A-Hunter Anderson[8]; 9. (DNF) 18-Mark Hanson[3]; 10. (DNF) 78-Brent Prochnow[1]
Heat 3 (10 Laps): 1. 40-Kevin Adams[2]; 2. 27H-Steve Hallquist[3]; 3. 37-Travis Anderson[8]; 4. 34JR-Dan Larson Jr[9]; 5. 27P-Parker Anderson[1]; 6. 1L-Donnie Lofdahl[4]; 7. (DNF) 92-Aaron Wilson[5]; 8. (DNF) R2-Jason Richardson[7]; 9. (DNS) 11-Justin Weinberger
33 entries
WISSOTA SUPER STOCK
Heat 1 (10 Laps): 1. 7-Andrew Mackey[4]; 2. 2F-Matt Melhouse[2]; 3. 8-Matthew Larson[11]; 4. 5-Jason Havel[3]; 5. 55-Ron Mahder[10]; 6. 71-Brandon Clemens[7]; 7. 22-Dan Nissalke[1]; 8. 14L-Dylan Leu[8]; 9. 77W-Wayne Bignell[6]; 10. (DNF) 1776-Wayne Dean[9]; 11. (DNF) 15-Brian Lick[5]
Heat 2 (10 Laps): 1. 22T-Terran Spacek[1]; 2. 96-Chris Gorka[2]; 3. 14X-Leslie Leu[4]; 4. 1E-Eric Olson[7]; 5. 9K-Kolby Kiehl[11]; 6. 17-Lucas Christiansen[6]; 7. 87-Kenny Davis[3]; 8. 81-Avery Anderson[8]; 9. (DNF) 247-Jackson Larson[10]; 10. (DNF) SLOW1-Michael Anderson[5]; 11. (DQ) 10-Jeff Eisner Jr[9]
Heat 3 (10 Laps): 1. 207-Jesse Redetzke[2]; 2. 12K-Duane (DJ) Keeler[1]; 3. 7R-Tommy Richards[5]; 4. 25-Chad Johnson[6]; 5. 2-Bart Steffen[7]; 6. 26-Kyle Copp[4]; 7. 75-Scott Geiger[3]; 8. 20*-Andrew Davis[8]; 9. 14-Warren Bartelt[9]; 10. 92L-Alexander Lessard[11]; 11. 92-Tom Karis[10]
---
Article Credit: ED REICHERT
Back to News