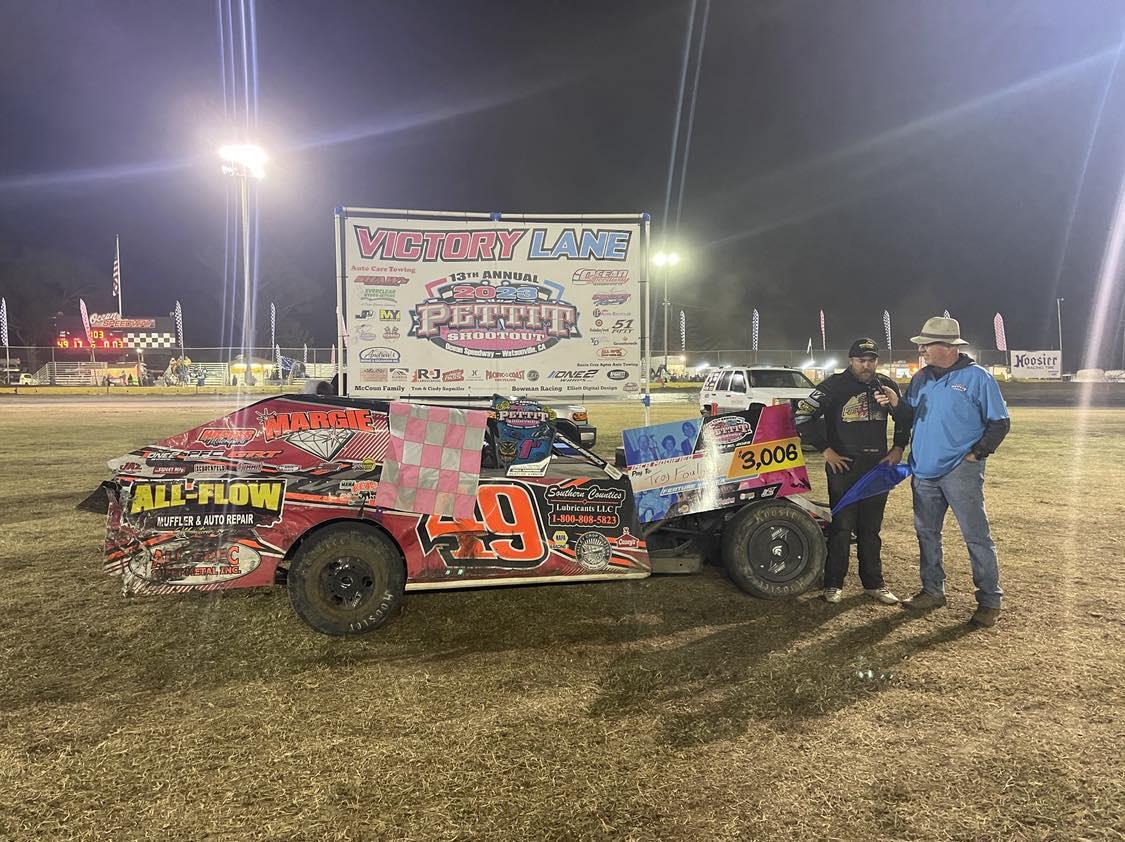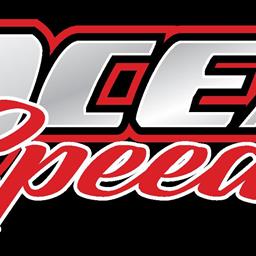 ---
TROY FOULGER SWEEPS PETTIT SHOOTOUT, WINS 103 LAP IMCA MODIFIED RACE
WATSONVILLE, CALIFORNIA (September 30, 2023) – Oakley's Troy Foulger completed the sweep of the Pat and Jim Pettit Memorial Shootout at Ocean Speedway in Saturday's 103-lap finale, grabbing the 13th annual IMCA Modified event in Watsonville. The victory paid $3006 to win in the extra distance affair at the Santa Cruz County Fairgrounds after Foulger snared $1003 on Friday night.
"Thank you to the Pettit family for everything they do. They are a wonderful family and give us a great race," Foulger said. "Hats off to the track crew and hopefully that was a good show for the fans. I saw (Nick Decarlo's) nose down there and I didn't know what pace to set. Lapped traffic was thick so I just started sliding people. So I kind of moved my line down there in three and four and was able to get away."
Hall of Famer Jim Pettit II of Prunedale led the 22 starters from the pole position before Foulger took over the lead on lap two. The race saw its only caution flag fly on lap 12. 2022 Pettit Shootout winner Troy Morris III of Bakersfield took over second on the restart. Pettit challenged on the inside but Morris was able to hold the second spot.
Nick Decarlo of Martinez used lapped traffic to advance into fourth past Bakersfield's Robby Sawyer on lap 28. Foulger led Morris, Pettit, Decarlo, and Sawyer into the lap 50 break for refueling on the frontstretch.
When action resumed, Pettit finally overhauled Morris for second on lap 55. Decarlo followed suit, driving outside of Morris for third on lap 57.
Pettit approached Foulger in traffic, using the outside to nab the lead on lap 68. Foulger knifed back to the inside to retake the lead on lap 69. Decarlo then took over second from Pettit on lap 80 and turned his attention to Foulger.
Decarlo dove underneath Foulger for the lead on several occasions in turn four to no avail. Foulger persevered to win the marathon feature followed by Decarlo, Pettit, Sawyer, and Morris. Grass Valley's Andrew Peckham was the quickest qualifier but finished last place in the feature to be awarded the Hard Luck award.
Cale Kanke led wire-to-wire to win his second Pettit Shootout of the last three years in IMCA Sport Modifieds. The 33-lap feature win paid $1006 to win.
Kanke started on the outside pole but led lap one. Jacob Mallett, Jr. of Oakley spun from sixth for a caution on lap six. Jeremy Hoff and Copperopolis and Fred Ryland of Brentwood dueled for second on the restart. Ryland made the pass on lap eight.
Levi Keifer of Bakersfield got rolling on the outside, advancing alongside Ryland for second. Hoff then took second back on lap 13 in the back-and-forth battling for the position. Ryland eventually used a crossover to seize the position on the backstretch on lap 23. Keifer then retired from the race.
Kanke cruised ahead unopposed for the win followed by Ryland, Kenny Shrader of Pacheco, KC Keller of Tracy, and Tanner Thomas of Atwater. Friday night winner Jason Ryan, Jr. was the Hard Luck recipient.
An action packed 23-lap Hobby Stock feature for $506 to win saw Tyler Irwin of Bakersfield complete a weekend sweep of his own.
Wayne Reeder of Watsonville led lap one over Jake Archibald of Oakley by just .035 seconds. They collided on the backstretch which relegated Archibald to the pits with a left rear flat tire and out of the race. He received the Hard Luck award for the misfortune.
Irwin made quick work on the outside line, driving from sixth to second by lap four before taking over the lead on lap seven. Ryan Hart of Dos Palos advanced to second and closed in on Irwin in lapped traffic. A caution flag on lap 19 gave Irwin a clear race track for the final four laps. Irwin narrowly avoided hitting a slowing Reeder as the leaders came to the checkered flag. Tyler Irwin topped Ryan Hart at the flag followed by Kodie Dean of Chowchilla, 19th starting 2023 track champion Joe Gallaher, and Dakota Keldsen of Watsonville.
Ocean Speedway September 30, 2023 Pat and Jim Pettit Memorial Shootout Results
Hobby Stocks
A Feature 1 (23 Laps): 1. 172-Tyler Irwin[6]; 2. 38-Ryan Hart[9]; 3. 7D-Kodie Dean[8]; 4. 1-Joe Gallaher[19]; 5. 03-Dakota Keldsen[15]; 6. 38S-Todd Gomez[14]; 7. 17T-Taylor DeCarlo[10]; 8. 13-Bobby Motts[5]; 9. 57W-Sam Kennedy[3]; 10. 225-Aidan Ponciano[16]; 11. 78-Jason Robles[12]; 12. 22-Adriane Frost[20]; 13. 31W-Steve Remde[18]; 14. 66W-Ken Winland[22]; 15. 8-Wayne Reeder[2]; 16. 69-Jerry Skelton[4]; 17. 51-Norm Ayers[13]; 18. 311B-Breck Smith[17]; 19. 73B-Brady Muller[11]; 20. 15-Maverick Shepherd[7]; 21. 43-Jake Archibald[1]; 22. X1-Bobby Gallaher[21]
IMCA Sport Mods
A Feature 1 (33 Laps): 1. 33-Cale Kanke[2]; 2. 7J-Fred Ryland[4]; 3. 188-Kenny Shrader[5]; 4. 38-KC Keller[15]; 5. 22T-Tanner Thomas[21]; 6. 127-Jacob Mallet Jr[7]; 7. 184-Riley Jeppesen[1]; 8. 76A-Mark Garner[8]; 9. 16M-Jeff Mead[14]; 10. TWO23-Raymond Lindeman[12]; 11. 4M-Emali VanHoff[10]; 12. 30H-Orion Messina[22]; 13. 5-Jeremy Hoff[3]; 14. 44T-Tyler Tucker[18]; 15. 2-Kelly Campanile[16]; 16. 15F-Matthew Frazier[9]; 17. 13-Austin McMillin[13]; 18. 74-Levi Kiefer[6]; 19. 7M-Ethan Killingsworth[17]; 20. 32-Nick Caughman[20]; 21. 52-Jason Ryan Jr[11]; 22. 80D-Dylan Wilson[19]
IMCA Modifieds
A Feature 1 (103 Laps): 1. 49-Troy Foulger[2]; 2. 17-Nick DeCarlo[9]; 3. 6-Jim Pettit II[1]; 4. X-Robby Sawyer[6]; 5. 03X-Troy Morris III[3]; 6. ONE2-Josh Combs[8]; 7. 2BH-Bobby Hogge III[18]; 8. 51G-Gavyn Manning[10]; 9. 5M-Jake Mayden[17]; 10. 20-Cody Burke[15]; 11. 51B-Bryan Clark[20]; 12. 29-Andy Obertello[7]; 13. 4X-Anthony Slaney[12]; 14. 1B-Tim Balding[14]; 15. 77-Fred Lind[16]; 16. 15F-Markus Frazier[4]; 17. 19K-Buddy Kniss[5]; 18. 17B-Tyler Blankenship[19]; 19. 34J-Jeff Faulkner[22]; 20. 14P-Ryan Porter[21]; 21. 25-Austin Burke[13]; 22. 75-Andrew Peckham[11]
---
Article Credit: Steven Blakesley
Submitted By: Steven Blakesley
Back to News