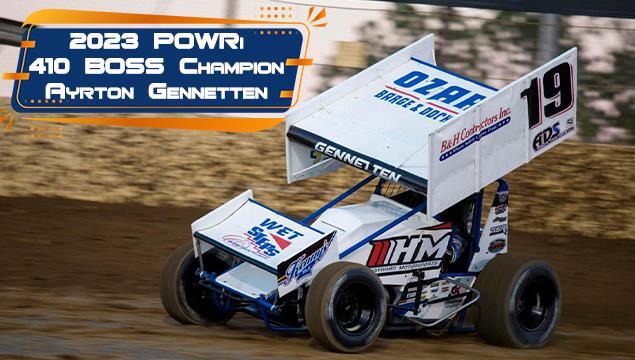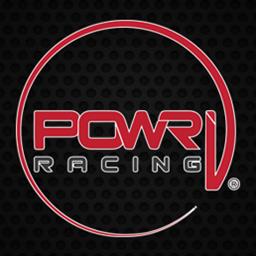 ---
Ayrton Gennetten Garners POWRi 410 Bandit Outlaw Sprint Series Championship
Belleville, IL. (11/13/23) Celebrating the second season of driving accomplishments throughout thirteen headlining events, the POWRi 410 Bandit Outlaw Sprint Series would witness the emergence of Ayrton Gennetten earning the 2023 points championship while continually solidifying his rank as a top-tier contender throughout the racing world.
Achieving his first career POWRi 410 Bandit Outlaw Sprint Series championship, Ayrton Gennetten, of Versailles Missouri, would rise to the occasion in a title-clinching season with a trio of feature victories including the illustrious and iconic Missouri State Fair as well as a pair of dominating runs at the family familiar Lake Ozark Speedway. Driving to six top-five finishes, Gennetten would advance fourteen positions throughout green flag racing while clinching the seasonal honors by two-hundred fifty points over Joe B Miller as Rookie of the Year winner Xavier Doney rounded out the podium placements for the 2023 series standings.
"After winning at Lake Ozark Speedway about mid-way through the season I felt like we really had a shot at capturing the championship and I wanted to fully support what POWRi was doing in building up 410 sprint racing around the Midwest," said series champion Ayrton Gennetten. Going on to include, "Granted the way my season went was un-ideal, but I think it made us a better team. I can't thank everyone who makes it possible, it takes an amazing family and team to be this fortunate."
Maneuvering the familiar and fast Hayward Racing, Kenny's Tile, B&H Contractors, Ozark Barge & Dock Service, Wet Steps, Hibdon Gravel, The Stuart House, Tony Stuart Racing, High-Performance Lubricants, KAA Speed, Scott's Superior Excavating, Aquatic Dock Supply, West Side Automation, Carolina Dock Stairs, Midland Performance, Hooker Harness, Vahlco Wheels, KSE Racing, Wildwood Racing, FSR, Pro Powder Coating, Winters Performance, Maxim Chassis, Rider Racing Engine, #19; Gennetten would not be denied in a dominating yearly performance that adds to his already impressive racing resume.
Leading thirty-four feature laps in the season, the third-generation driving talent Gennetten would continually be among the front-running finishers only placing outside the top ten in only one of his thirteen seasonal starts with the POWRi 410 BOSS. Ayrton would additionally acquire a single quick-time award while driving to a pair of heat racing wins.
Reflecting on the yearly quest for a title, Ayrton would add "This team has been through a crazy year and to come out with our first points title in a 410 Sprint Car is a testament to never giving up and having great supporters along the way. This was a big year for me personally by taking a lot more responsibilities within the team".
POWRi 410 Bandit Outlaw Sprint Series 2023 Winners:
4/22/2023 | Benton Raceway Park | Joe B Miller – Winner
5/19/2023 | Lee County Speedway | Aaron Reutzel – Winner
5/20/2023 | Lake Ozark Speedway | Joe B Miller – Winner
6/16/2023 | I-70 Motorsports Park | Jake Buback – Winner
6/17/2023 | Lake Ozark Speedway | Ayrton Gennetten – Winner
7/1/2023 | Lake Ozark Speedway | Shane Stewart – Winner
8/19/2023 | Lucas Oil Speedway | Garet Williamson – Winner
8/20/2023 | Missouri State Fair Speedway | Ayrton Gennetten – Winner
9/2/2023 | Lake Ozark Speedway | Ayrton Gennetten – Winner
9/3/2023 | Lake Ozark Speedway | Kevin Thomas Jr – Winner
11/10/2023 | Tri-State Speedway | Sam Hafertepe Jr – Winner
11/11/2023 | Tri-State Speedway | Aaron Reutzel – Winner
11/12/2023 | Tulsa Speedway | Aaron Reutzel – Winner
Championship Banquet information for all 2023 POWRi Seasons as well as the full 2024 Schedules are currently being finalized and will be released in the upcoming weeks. Full season standings are available online at http://www.powri.com/points/?c=1000&i=22673&t=Drivers.
For additional information on Start2Finish or to sign up for a subscription and catch all the excitement LIVE & ON-DEMAND, visit www.s2ftv.com.
Follow along for more information on POWRi and items such as race recaps, updates, full results, and press releases online at www.powri.com, or on Twitter & Instagram at @POWRi_Racing and Facebook at POWRi.
Photo Credit: Unknown
---
Submitted By: Cassy Staley
Back to News