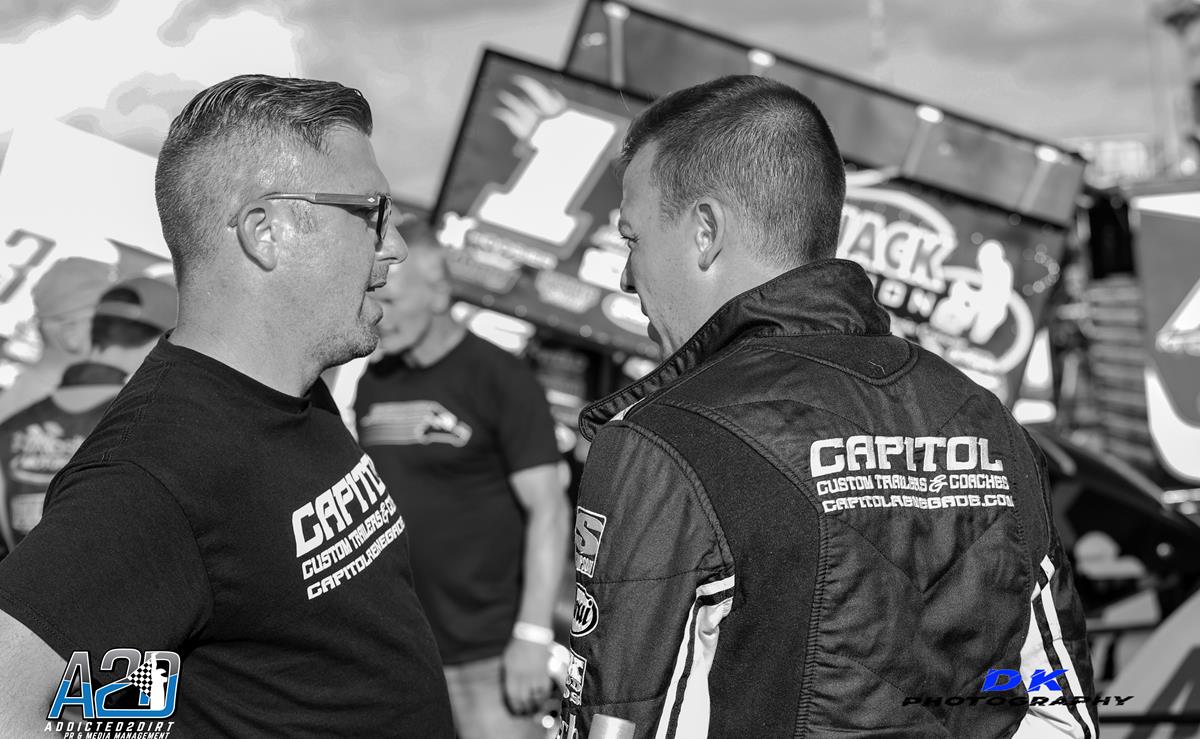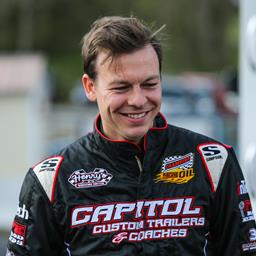 ---
Kyle Reinhardt Showcased Abilities on and off the Track During Successful 2023 Season
New Oxford, PA – November 17, 2023
by Addicted2Dirt PR & Media Mgmt
Photo Credit: Derick Kriner Photography
Kyle Reinhardt approached the 2023 season as a rebuilding year. With fewer resources at his disposal, than he had during the previous two seasons, the plan was to focus on Central Pennsylvania and other key events that made the most sense for his team.
His goals were to perform at the highest possible level on the track and work hard off the track to find partnerships that would allow him to expand his schedule.
Not only did he manage to check a lot of the boxes, including a couple that were unplanned, but he logged the best year of his 410 sprint car career thus far.
MAKING THE MOST OF WHAT YOU HAVE
Reinhardt came out of the gate strong in 2023, finishing tenth or better ten times in his first fifteen races. After that strong start, he announced a new partnership with Coors Banquet beer, who came on board through Ace Distributing of PA.
Competing with the High Limit Series, the World of Outlaws, and All Star Circuit of Champions, as well as across Pennsylvania and New Jersey, Reinhardt entered 47 events in his familiar Capitol Renegade, Coors Banquet Beer, Henry's Wrecker Service No.91, winning twice and finishing in the top ten 22 times.
"It was exciting having Coors Banquet join our program this year. We were able to make a few appearances for them, plus we had a few Coors Banquet beer showers.", Reinhardt said with a smile, referring to his trips to victory lane that always included a Coors Banquet beer in hand when he climbed to the top of his wing to celebrate.
"I think we represented them well and I hope we are able to continue to grow the partnership. This is a great relationship for the future of our team as we continue to gain more partners moving forward. A company like Molson Coors getting involved in our sport is a positive for all of us."
A GREAT FIT
In July, Reinhardt brought Chris Shuttlesworth on board as crew chief and turned his focus to driving. The pair previously had success together when Shuttlesworth was a member of the John Westbrook 1W team that Reinhardt wheeled to a 360 sprint car title and several wins at Selinsgrove Speedway in 2019.
Shuttlesworth and Reinhardt reached victory lane twice in their 32 races together during the second half of the 2023 season.
"Having the right guy to make the calls is huge. Most of the time it has just been me and I think I did well but it's a lot to manage. Chris and I work well together. I'm glad to have him. I trust him to make the calls and I can focus on my job behind the wheel.", Reinhardt commented.
CREATING OPPORTUNITIES
Just twenty-four hours before a late-July High Limit Series race at Grandview Speedway in Pennsylvania that was delayed a day by weather, Reinhardt's phone rang. Bernie Stuebgen of Indy Race Parts was in need of someone to wheel his No.71 at Grandview and he tabbed the Neptune City, NJ native for the job.
Despite never having sat in the car before, Reinhardt turned in an 8th-place run against a stout field. The result of the unexpected opportunity turned heads.
"Running well over the first few months of the season definitely led to opportunities. I've driven for other people and I always appreciated those chances but this was definitely the first time I was called about a high-profile ride. Bernie's car is known across the country as a top-notch car and I really appreciated the opportunity he gave me. We ran pretty well together too, especially considering it was only one night.", Reinhardt said.
Days later, Bryan Grove called Reinhardt and asked him to wheel the Grove Racing No.45 on the All Star Circuit of Champions tour, beginning after the Knoxville Nationals in mid-August.
Reinhardt accepted and took Shuttlesworth with him on the venture. The team gelled quickly, competing 13 times over a span of just five and a half weeks, recording one victory and seven top-ten finishes.
"The Grove 45 team, Chris, and I worked really well together and the results showed. We won a race and led a few others. We could have won a couple more if things had shaken out a little differently, but that's racing."
ASSESSING IT ALL AND LOOKING AHEAD
When the books closed on the 2023 season, Reinhardt's stats told an impressive story about a successful rebuilding year.
Reinhardt entered 61 total races, finishing in the top ten 30 times, which included 3 wins and 13 top fives. A top-ten run in 49.2% of the races entered is a notable improvement over the 26.6% he achieved in 2022.
The sum of all that is a win on and off the track. The rebuilding may have been accomplished but there is still plenty of building to be done. Reinhardt continues to look for partnerships to help grow his rising team.
"I wish I could tell you our 2024 plans but right now we are waiting for schedules and other information like a lot of teams are. Bryan (Grove) and I are talking too but we have to wait and see how things play out with the touring series and schedules before any of us can make a decision. I would like to run a combination of High Limit and World of Outlaw events but we will have to wait and see.", Reinhardt shared.
You can follow Reinhardt's social media channels listed below or check Addicted2DirtPR.com for the latest news and updates about Kyle's 2024 plans!
Sponsorship opportunities are available for the 2024 season.
Kyle can be contacted via kylereinhardt46@gmail.com.
PARTNER SPOTLIGHT
Capitol Custom Trailers & Coaches is your premier dealer for Renegade, inTech and Bravo.
We have something for any budget and any venue. Capitol has become the leader in new innovative ideas and changes to the Renegade brand. Through our own experiences as Racers and Custom and Antique car collectors we have added many new designs to the product.
Our goal is to not only sell you the product that you want, but to see you through the entire ownership experience and then be there when you want to purchase your next. For 80 years, our business success has endured by this same formula.
When you are considering all your purchase options how many others can truthfully say that and back it up with their actions? Whether you are a Circle Track racer, Drag Racer, Road Racer, Custom or Antique Car Collector, Motorcycle Rider or a Luxury Motorcoach enthusiast, come in and visit to see for yourself what we are all about.
You will not be disappointed!
View our online showroom at CapitolRenegade.com and join the Renegade Life!
ABOUT KYLE REINHARDT
Kyle Reinhardt is a professional winged sprint car driver based in New Oxford, PA. Originally from Neptune City, NJ, Kyle has been racing since 1999 and has earned multiple victories at every level he has competed in. Since turning professional in 2019, Reinhardt has compiled two track championships and seven victories, including an All Star Circuit of Champions win.
Learn more about Kyle Reinhardt and shop merch at: KyleReinhardt.com
Follow Kyle Reinhardt's season at: A2DPR.com/latest-news
Facebook: Facebook.com/KyleReinhardtRacing
Twitter: Twitter.com/KyleReinhardt21
Instagram: Instagram.com/KyleReinhardt21
Broadcast coverage of World of Outlaw events and Williams Grove Speedway events is available at DirtVision.com
Broadcast coverage of High Limit Racing events, Port Royal Speedway events and select Lincoln Speedway events is available at FloRacing.com
Broadcast coverage of 410 sprint car events at BAPS Motor Speedway AND select PA Speedweek shows is available at SprintCarUnlimited.tv
THANKS TO OUR PARTNERS!
The entire team would like to express their appreciation to all their partners for the support during the 2023 racing season!
Capitol Renegade
Capitol Custom Coaches & Trailers
Coors Banquet Beer
Henry's Wrecker Service
Fibreworks Composites
Maxim Chassis
FK Rod Ends
Kelly Racing Fuel
Arai Americas
KSE Racing Products
InTech Trailers
Mettec
AL Driveline
DMI
Rider Racing Engines
HP Engines
Titan Wings
Simpson Race Products
---
Article Credit: Addicted2Dirt PR
Back to News