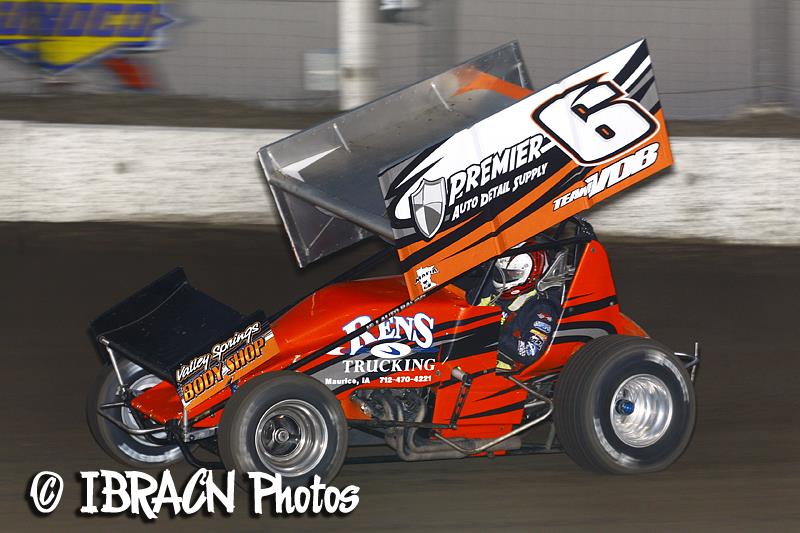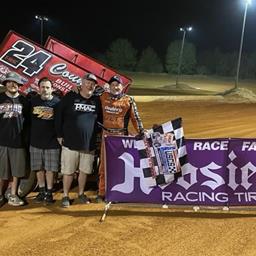 ---
Tuesdays with TMAC – Heading North!
Tuesdays with TMAC – Heading North!
(Bill W) September 23, 2014 – Terry McCarl and the TMAC Motorsports #24 team head north this weekend to help the IRA finish off their season in Wisconsin Friday and Saturday. Friday will see the series tackle the Luxemburg Speedway, and Saturday they will tow to the Dodge County Fairgrounds in Beaver Dam. Last weekend saw the Altoona, Iowa driver suffer some bad luck at the Fall Brawl in Nebraska and finish on the podium Sunday in MOWA action in Quincy, Illinois.
Last Friday saw the prelim for the Fall Brawl at the I-80 Speedway near Greenwood. "We weren't that great in the heat (sixth)," says TMAC. "I didn't think we had much of a shot making it out of the B starting eighth to be honest. There were a lot of good cars. We just had a really good car. We were able to get all the way up to second, and I felt like we were catching the leader."
TMAC liked his chances starting outside of row ten in Friday's prelim. "The car felt really good in the practice lap," he says. "I-80 is just a neat place. It's a big track, but a guy can come from the back and win. If you get your car on and drive well, you can overcome some diversity. I really like the track."
Unfortunately, things were over on the first lap. "I saw Ian (Madsen) get sideways and I thought I might miss it all," says TMAC. "Someone got across the track, got into the side of me, and we got upside down. It was no one's fault. I felt bad to tear up (owner) Jeremy's (Scadden) stuff, but fortunately, we haven't done that much this year."
Saturday's finale saw TMAC start and finish fourth in his heat. "Those heat races are all tough," he says. "The guy in front of me didn't get a good start, and we weren't able to. We ended up finishing right where we started. We were lucky to do that really."
He would run another B, this time starting fifth. "It was a bad spot to be in," says TMAC. "There were a bunch of good drivers. We had a pretty good start and we were able to get third (and a feature transfer). I don't know if it was from the crash the previous night or not, but we started having some motor problems. It was something with an oil ring or something. We were losing a lot of horsepower, especially in the last couple laps of the B."
He would start 21st in the main event. "When your motor doesn't run, the car isn't going to be as good," says TMAC. "We weren't as good as the night before. We ended up tenth, which looks good on paper…but we really weren't that good. There were some guys who had some problems and fell out in front of us. It was unfortunate, because we haven't had a motor problem all year in Jeremy's car."
Wayne Johnson swept both nights and earned a $50,000 bonus. His two day earnings topped $60,000. "I was really happy for Wayne," says TMAC. "The racer part of me was jealous, but the friend and promoter part were excited for he and his team. That's the second highest paying race of the year to win. I'm sure he and the family can use it. It's good for the event, because it creates a lot of hype."
Sunday found the team a little short on sleep, but headed to Quincy for MOWA action. "I jumped in Carson's car," says TMAC. "After our late night Saturday, Doug (Rankin) and Austin (McCarl) had it ready to go. We went down to have some fun. We won at Quincy in 1995, and I don't know that we've been back there since. I remember it being a fun facility that's neat for the fans and Kenny Dobson is doing a good job with it."
TMAC would finish fourth in his heat after starting seventh. "We just really couldn't get going early in the heat race," he says. "I was running the bottom behind (Jimmy) Hurley and he runs really well down there. I needed to go up top. We missed the Dash by one spot."
Starting seventh, he would surge to a third place finish. "Again I just messed around on the bottom too long and didn't get down where I needed to be," says TMAC of his feature run. "We had a pretty good racecar. I finally got up top and we were able to get to third. It laid rubber at that point, so it was kind of tough to pass. All in all, it was a fun night. We stuck around, signed some autographs and still got out of there by ten o'clock. That made me really happy, because lately we've had some really late nights into early morning. We have to get that figured out. Fans can't interact with the drivers when you do that."
To check out opportunities to partner with TMAC Motorsports on a nightly basis, visit www.TerryMcCarl.com or call 515 957-0020!
Websites for the McCarl Gang!
Driverwebsites.com develops the websites for the McCarl boys.
Check out www.TerryMcCarl.com, as well as www.AustinMcCarl.com and www.CarsonMcCarl.com!
This Month in TMAC History!
On this day in 1989, TMAC participated in the brief history of the USA sprint series at 24 Raceway Park in Moberly, Missouri, driving the Merrill #5m and finishing 12th. Steve Kinser, Dave Blaney and Bobby Allen were on the podium at the end of the night, atop a field of drivers that included young lions Frankie Kerr (Fetter 77) and Stevie Smith (Hamilton 77). In 1995, on this date, he was third in the Cheater's Day prelim at the Huset's (SD) Speedway. He would come back in 2000 to win the Cheater's Day event, besting Gary DeWall, Gregg Bakker, Don Droud Jr. and Terry Reilly.
"Tuesdays with TMAC"!
"Tuesdays with TMAC" is an up close and personal look at colorful sprint car veteran Terry McCarl. To receive "Tuesdays with TMAC", send an e-mail to sprntcar@hotmail.com with "TMAC" in the subject line.
TMAC Motorsports would like to thank sponsors Country Builders Construction, Rossie Feed and Grain, Bosma Poultry, SnowPlow Snow Pushers – www.TheSnowPlow.com, DeBerg Concrete, Colin Bulmer, A.R.T. Speed Equipment, Berryhill Racing, Phil and Vivian, Justice Brothers/Gillund Enterprises, Ryan Yager Trucking, Vortex Racing, Hoosier Tire, Chris Spaulding – Attorney at Law, Schoenfeld Headers, K&N Filters, Rens Trucking, NutriShop – Maple Grove, MN, HRP, All Pro Cylinder Heads, Bob and Beulah Elder, Engler Injection, T&P Brothers, Winters, Kilani Fender, Inc., DriverWebsites.com, CM Rock, Sander, Brown and Miller, Pro Shocks, Ben Cook, Bell Helmets, Burnett's Rock and Landscaping, Van Der Brink Trucking, Van Der Brink Designs, Morgan Strawberry Farms, Buttman BBQ, Aurora Rod Ends, Crow Safety, Justice Brothers, KSE Steering, Snyder Lawn & Landscaping, Strange Performance, Saldana Racing Products, Scribner Plastics, Waterman Fuel Pumps, Weiland Racing, Butlerbuilt, PBS Bushings and Mote Fasteners.
Bill Wright
Bill W Media
Monroe, IA USA
sprntcar@hotmail.com
Twitter: @BillWMedia
Back to News