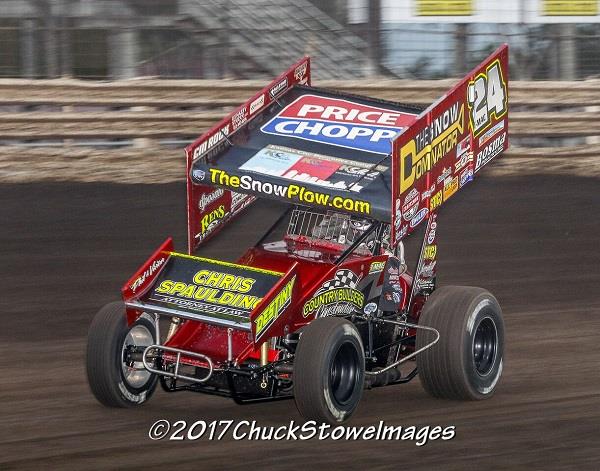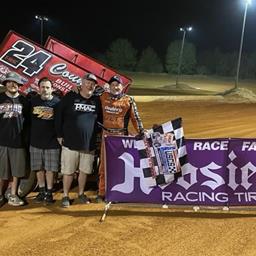 ---
Tuesdays with TMAC – Fifth in the Finale!
Tuesdays with TMAC – Fifth in the Finale!
(Bill W) August 29, 2017 – Terry McCarl and the TMAC Motorsports #24 team finished up the 2017 Knoxville Raceway campaign with a fifth-place finish Saturday night. The Altoona, Iowa veteran finished fifth in the point race as well, continuing a top five streak that dates back to 1988, when he finished sixth. This weekend, TMAC will race in 360 competition at Lake Ozark Speedway near Eldon, Missouri.
TMAC reflected on finishing fifth in the standings at Knoxville. "We were a bit off all year," he says. "Fifth is probably the worst we've finished since back in 1988. I couldn't be more proud of Austin though. He finished third in the points in his first year with the TKS Motorsports team. Getting beat by your son makes it a little easier to take. He showed what he can do if he doesn't have to worry about his own tire bills and can concentrate on driving the car. His cars were always his responsibility before."
TMAC finished the season strong, winning in both ASCS 360 and in weekly 410 action in the same night on July 29. "We got beat by some better teams in the standings, but we're already looking forward to next year," he says. "Each time we've been able to do that (win twice in one night), it was during the 360 Nationals, or like this year, where we had sixty plus 360's in the pits with ASCS. Doug (Rankin) works his butt off. He's in the shop every day at 8 a.m. and probably puts in 60 hours or more a week for us. We added Steve Fitzpatrick on a part-time basis, and that's been great too. It's hard to find good crew guys, and we are lucky to have Doug and Steve. We'd like to find some more help, but this day in age, it's tough for a team like ours."
He reflected on the year a bit more. "It took a while for us to get our cars and engines straightened out," says TMAC. "Once we did, we really gained steam towards the end of the year. Every driver is different with what they like, and we're back on track here. We had a couple of DNF finishes early in the year, and that cost us just like anybody. To win a championship, you can't fall out of races. We did, and that killed us points-wise. We're still proud of our year, and our team."
TMAC also put the car into the championship of the Knoxville Nationals. "We did great at the Nationals until we hit that rut in turn three and got into the fence," he says. "I thought we had a solid top ten going there. We started in the third row of the biggest sprint car race in the world, which is really big for our team."
TMAC Motorsports will be busy this Labor Day weekend. "Carson will race the family car (#97) in Granite City with the MOWA series Friday," says TMAC. "Then I'll be racing at Lake Ozark Saturday and Sunday. I remember that being a nice racetrack, and I'm really glad that it's reopened. We'd like to help them make this a big event like it has been in the past. It's the kind of thing that we need to support. I look forward to meeting the people down there."
Check out the TMAC Motorsports Merchandise This Weekend!
Visit the McCarl's this weekend! Get a free TMAC Motorsports coffee mug with the purchase of a t-shirt!
McCarl Family Websites!
Driverwebsites.com develops the websites for the McCarl boys. Check out www.TerryMcCarl.com, as well as www.AustinMcCarl.com and www.CarsonMcCarl.com!
This Month in TMAC History!
TMAC finished the season at Knoxville fifth in points. He had a feature win, two podium finishes, six top fives and eleven top tens.
"Tuesdays with TMAC"!
"Tuesdays with TMAC" is an up close and personal look at colorful sprint car veteran Terry McCarl. To receive "Tuesdays with TMAC", send an e-mail to sprntcar@hotmail.com with "TMAC" in the subject line.
TMAC Motorsports would like to thank sponsors SnowPlow Snow Pushers – www.TheSnowPlow.com, Country Builders Construction, Bosma Poultry, Destiny Motorsports, Simplot Grower Solutions, Price Chopper, Hiland Dairy, Searsboro Telephone Company, KC Breweries, A.R.T. Speed Equipment, Berryhill Racing, Phil and Vivian, Justice Brothers/Gillund Enterprises, Hoosier Tire, Chris Spaulding – Attorney at Law, SuperFlow, Schoenfeld Headers, Rens Trucking, NutriShop – Maple Grove, MN, HRP, All Pro Cylinder Heads, Maxim Chassis, Bob and Beulah Elder, Engler Injection, Snap On Tools, Sposato Paint, Winters, Kilani Fender, Inc., DriverWebsites.com, CM Rock, Brown & Miller Racing Solutions, Pro Shocks, Bell Helmets, Burnett's Rock and Landscaping, Octane Ink, Morgan Strawberry Farms, Dynasty Stucco, Aurora Rod Ends, Crow Safety, KSE Steering, Snyder Lawn & Landscaping, Strange Performance, Saldana Racing Products, Scribner Plastics, Waterman Fuel Pumps, Butlerbuilt and Mote Fasteners.
Photos: TMAC finished fifth in the finale at Knoxville (Chuck Stowe Images)
Bill Wright
Bill W Media
Monroe, IA USA
sprntcar@hotmail.com
Twitter: @BillWMedia
Website: www.OpenWheel101.com
Back to News