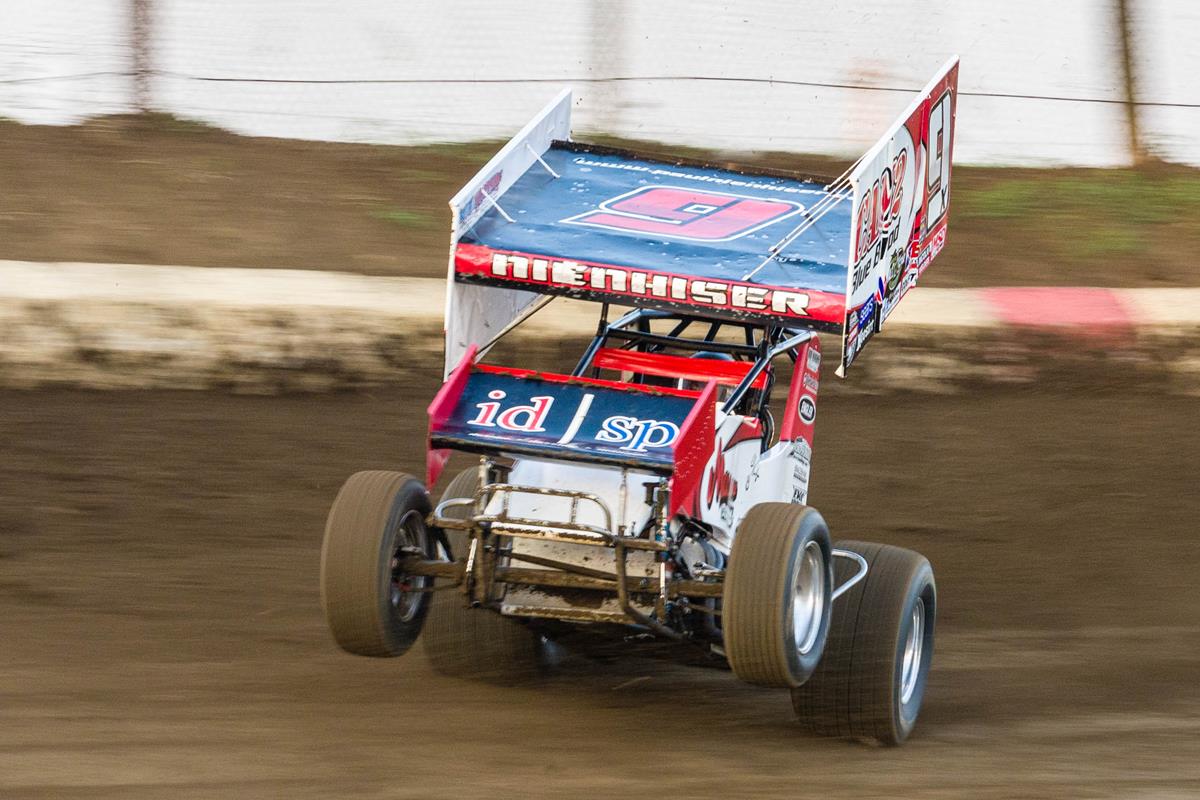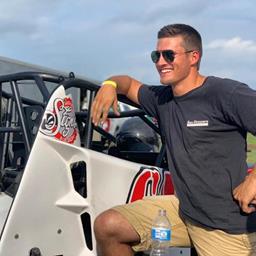 ---
Nienhiser Collected Amidst Great Run with the World of Outlaws at Fairbury
PETERSEN MEDIA: Looking to ride some recent momentum into a big week of racing with the World of Outlaws, Paul Nienhiser would have his best run to date going with the series last week in Fairbury, IL until getting collected in a mid-race tangle and being relegated to a 14th place finish.
"We had such a good car on Tuesday night in Fairbury," Paul Nienhiser said. "Unfortunately a couple of cars got together in front of us and we had nowhere to go and got in on the pile up. It is a bummer, but that is part of bullring racing."
Taking part in the series' first visit to the speedway, Nienhiser timed the CAM2 Blue Blood Racing Oil/Mason Sound/Innovative Design backed No. 9x entry in eighth quickest in qualifying time trials.
Lining up in the second row of his heat race, Nienhiser would find himself in a very entertaining battle with Brent Marks, and Cory Eliason for the second and final berth in the Sears Craftsman Dash. Exchanging positions lap after lap, the Chapin, IL driver would end up finishing fourth which would ultimately line him up in the sixth row of the feature event.
On the slick surface, Nienhiser went to his notebook from the 2017 season and got his machine dialed in for the feature event as he anticipated some rubber going down around the cushion.
Having his car good enough to run high, low, and even through the middle, Nienhiser would find himself as high as sixth during the latter stages of the race. With 15 laps to go, cars would get out of shape in front of him and doing his best to avoid the incident, Nienhiser would ultimately have nowhere to go and would become involved.
Making a trip to the work area, a little extended time would allow the Nienhiser crew to get him back on track where he would end his night with a 14th place finish.
Heading to Jackson, MN to take part in the Jackson Nationals with the World of Outlaws Craftsman Sprint Car Series over the weekend, rain on Thursday would push the opening night of the event back to Friday night.
Fighting issues early in the night, Nienhiser would struggle to diagnose the problem as he found himself in the 'C' Main. Continuing to try and find what hindered them, it would prove to be a fuel pump and it would finally give way during the 'C', and Nienhiser's night would end early.
Saturday afternoon brought on some day racing as officials opted to run the scheduled Thursday program before Saturday's finale.
During hot laps, something would again be amiss under the hood of Nienhiser's machine and trying to make it work with it being the only 410ci engine they had with them, the team would opt to play it safe and call it a weekend early.
"We just had issues at Jackson Motorplex, and instead of hurting our only 410ci engine trying to figure things out, we opted to call it a weekend," Nienhiser said. "I really have to thank everyone on this team for their hard work over a busy week. I simply couldn't do it without all hands being on deck."
Nienhiser would like to thank CAM2 Blue Blood Racing Oil, Mason Sound, Innovative Design, Bradshaw Custom Pumping, Wessler Bros. Agency, Bob Hawks Auto Body, Littleton Storm & Timber, Fierce Herbicide, Sunstoppers Window Tinting, Engler Machine and Tool, FK Indy, Rider Racing Engines, Kaeding Performance, and Steve Thomas Racing for their continued support.
2018 BY THE NUMBERS: Races-18, Wins-3, Top 5's-3, Top 10's-6
ON TAP: Nienhiser is hoping to return to action Friday night at Attica Raceway Park and on Saturday at Eldora Speedway with the All Star Circuit of Champions.
STAY CONNECTED: Stay updated with Paul Nienhiser by following him on Twitter @Paul_Nienhiser or by clicking over to www.paulnienhiser.com.
PETERSEN MEDIA: Petersen Media is a PR firm that can handle your public relations, marketing, and any other promotional needs. Petersen Media utilizes multiple tactics to help you reach your intended audience, to boost awareness.
For more information contact sales@petersenmediainc.com, by phone at 916-342-3424, visit www.petersenmediainc.com, www.facebook.com/PetersenMedia, or follow www.twitter.com/petersen_Media.
---
Submitted By: Paul Nienhiser
Back to News