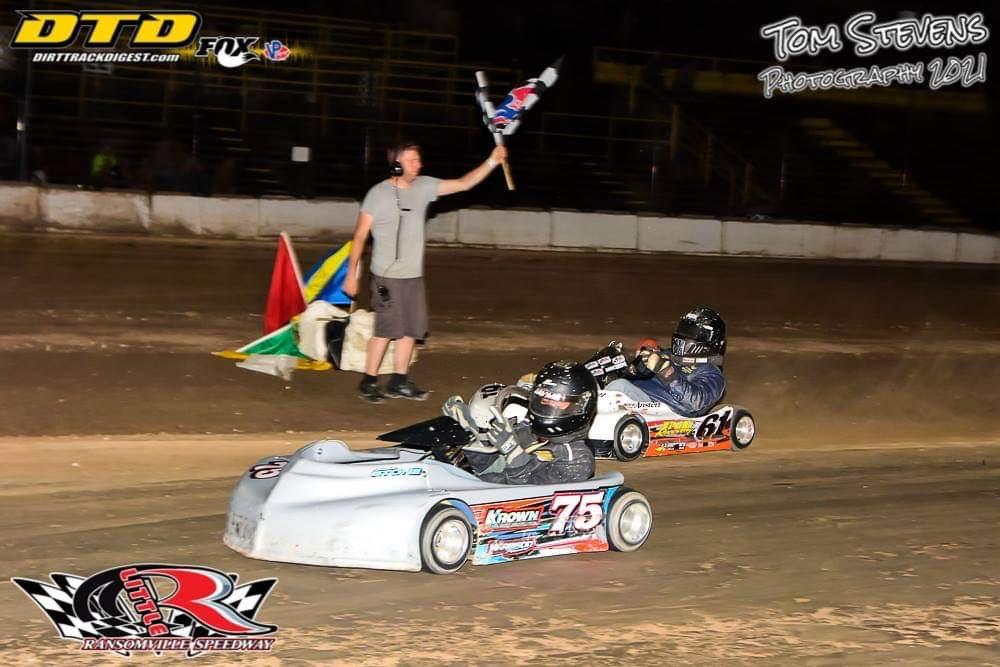 8/19/2021
Ransomville Speedway
---
Stone, Wallace, Bloomingdale, Clemons, Strassburg Jr, Westlake, Stewart, Cook and Schrader Win at the Little R
RANSOMVILLE, NY (August 19, 2021) Jayme Stone won the Finish Line Auto Detail Senior Heavy main event for the SANY New York Go Karts at the "Little R" on Thursday night. Brendan Wallace picked up the win in the Fisher's Auto Repair Senior Lites. Riley Bloomingdale won the Fitzgibbon Contracting and Construction Junior 3 feature. Dylan Clemons won the SJE Shocks Junior 2 feature. James Strassburg Jr and Amelia Westlake won the Slack Kart Junior 1 feature events. Laina Stewart, Jenson Cook, and Jake Schrader picked up the Just Signs and Designs Novice victories.
Fans, drivers, and crews can tune in to 96.5FM on their portable FM radio receivers to listen to all the action via the public address system.
The "Little R" will return to action on Thursday, August 26 for a full card of SANY New York Go-Kart racing. Pit gates will open at 5 pm and racing will get underway at 7 pm. As always, free grandstand admission for all to watch the future stars in action on the 1/16th-mile "Little R".
RACE RESULTS – August 19, 2021 – LITTLE R
Finish Line Auto Detail Senior Heavy: JAYME STONE, Jeff Anstett, Trent Smith, Ryan Gregoric, Ashley Daul, Colin Spatorico, Mike Csizmadia, Matthew Holmes, Steve Veihdeffer, Roger Wirth Jr
Qualifying Heats: Jayme Stone, Trent Smith
Fishers Auto Repair Senior Lites: BRENDAN WALLACE, Steve Veihdeffer, Trent Smith, Austin Gordon, Roger Wirth Jr, Abby Castile, Jayme Stone, Ethen Tedesco, Ruben Coffey, Vincent Chiodo, Eric Veihdeffer, Jeff Anstett
Qualifying Heats: Eric Veihdeffer, Jayme Stone
Fitzgibbon Contracting and Construction Junior 3: RILEY BLOOMINGDALE, Anthony Pollow, Colby Boyer, Brayden Bills, Sal Paonessa, Aden Harris, Brooke Moden
Qualifying Heats: Riley Bloomingdale
SJE Shocks Junior 2: DYLAN CLEMONS, Tyler Foster, Anthony DiPaolo, Ryder Lacy, Christian Soliday, Jocelyn Just, Abigail Fisher, Jacob Schulz
Qualifying Heats: Jacob Schulz, Anthony DiPaolo
Slack Karts Junior 1 Feature #1: JAMES STRASSBURG JR, Thomas Ruggiero, Tyler Moden, Brooklyn Chaffee, Aideen Rusnock, Jackson Bonesky, Rhys Porter, Gavin Gradl, Peyton Chaffee
Slack Karts Junior 1 Feature #2: AMELIA WESTLAKE, Brandon Guyette, Jayden Tomaino, Alexander Lee, Matthew Garvin, Jacalyn Nettleton, Cole Schumacher, Giovanni Paonessa, Gabriel Rodriguez
Qualifying Heats: Amelia Westlake, Thomas Ruggiero, James Strassburg Jr
Just Signs & Designs Novice Feature #1: LAINA STEWART, Kenneth Colon Jr, Raelyn Just, Sophia Harris
Just Signs & Designs Novice Feature #2: JENSON COOK, Ryan Barry, Luke Holmes, Jayme Just
Just Signs & Designs Novice Feature #3: JAKE SCHRADER, Jason Strassburg, Jax Cotriss, Lauren Strassburg, Cameron Smith
Qualifying Heats: Laina Stewart, Ryan Barry, Jason Strassburg
---
Article Credit: Steven Petty
Submitted By: Steven Petty
Back to News