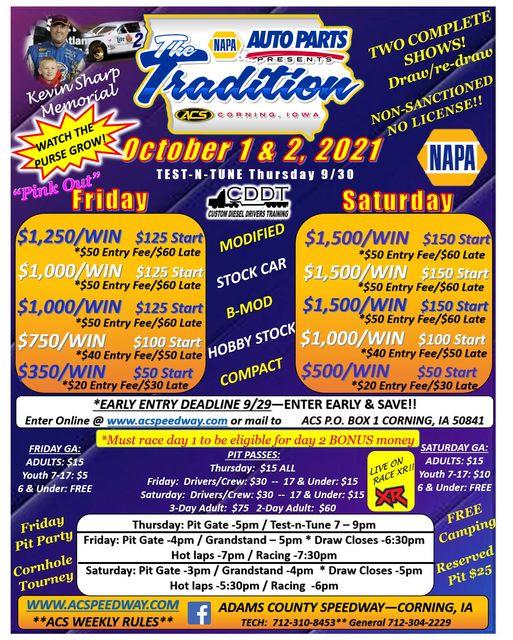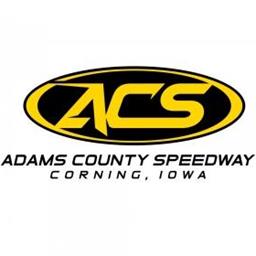 9/8/2021
Adams County Speedway
---
The NAPA Auto Parts "TRADITION" Returns to the Adams County Speedway Oct. 1st & 2nd!
The NAPA Auto Parts "TRADITION" Returns to the Adams County Speedway Oct. 1st & 2nd! PRE-ENTER TODAY by visiting www.ACSPEEDWAY.com and selecting the "Driver Registration" tab to enter for one day or two. This is a NON-SANCTIONED EVENT, following ACS Track Rules.
A Test-N-Tune will kick off the weekend on Thursday night Sept. 30th followed by two complete shows on Friday & Saturday night, capped off by the annual 30 lap "Tradition" Feature for Stock Cars including the original 1/2 way pit stop!
POWDER PUFF & MECHANICS RACES following Test-n-Tune on Thursday!!
$$$$$$$$Just like in 2020 Saturday nights PURSE WILL CONTINUE TO INCREASE from now until race day, spreading even more money throughout the field. Last years 2 day purse grew to in excess of $50,000 thanks to many sponsors and supporters. To become a Friend of the Tradition sponsor call Billy 712-304-2229, Tony 712-621-8061, or Cliff 712-370-5423.
FRIDAY--Custom Diesel Drivers Training Presents a "Pink Out" night PLUS a post race pit party featuring live music by Tyler Folkerts!!
SATURDAY come early and cash in on the 2nd annual "BAGS TOURNEY" sponsored by the ACS Hall of Fame Committee.
On Site CAMPING in 2021 will be FREE, located just outside of turn # 1. We ask that you Reserve a spot now to be guaranteed a spot come race weekend. Message the speedway to reserve yours today!
A limited # of concrete PIT STALLS will be available after 9/24. Contact us if you would like to be added to the waiting list. ACS drivers with a reserved season stall will have until 9/24 to Pre Enter to receive your normal stall at no added cost (no subleasing!). Those not pre-entered by that day will be open to rent for $25 for the weekend.
*Additional race day questions call 712-304-2229 after 5pm.
MAKE YOUR PLANS NOW TO BE AT THE ADAMS COUNTY SPEEDWAY OCT. 1ST & 2ND!!
Friday & Saturday night will be broadcast Live on XR ! See Less
Back to News