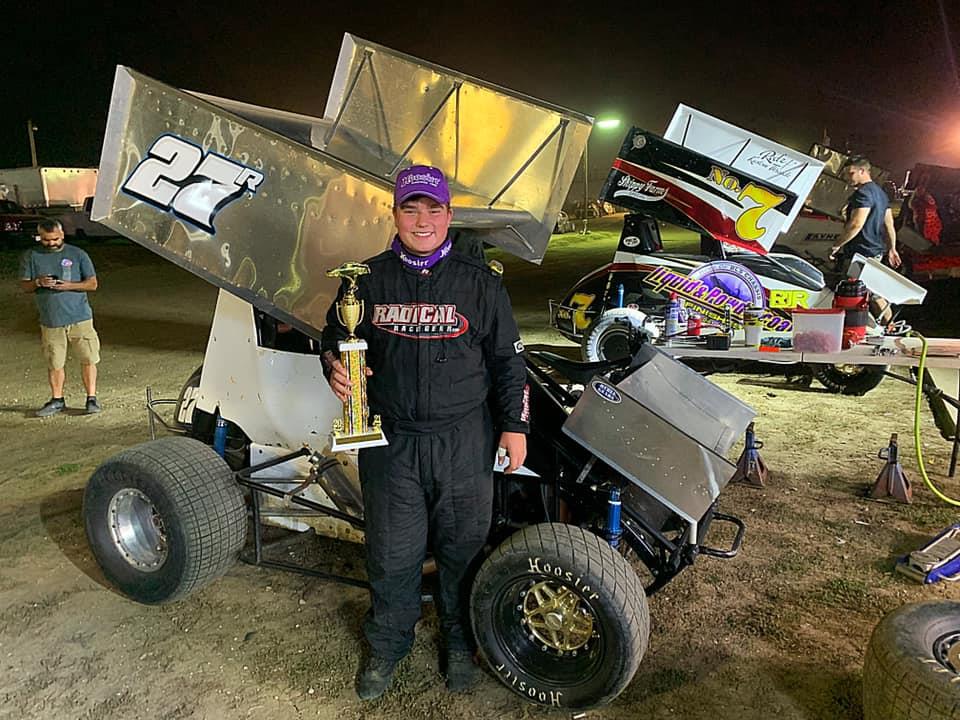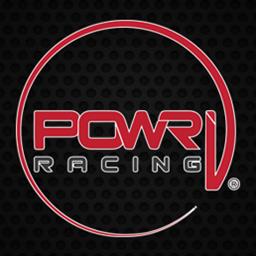 ---
Trice Roden Attains Career First Victory in POWRi MLS/MKLS Border Battle
Belleville, IL. (9/25/2021) Heading into the final event of the season, and what has become a yearly bragging-rights staple for two POWRi Lightning Sprint Series, Lucas Oil POWRi Midwest/Minn-Kota Lightning Sprint competitors would once again be back at I-35 Speedway for the 2nd Annual POWRi Lightning Sprint Border Battle. With the northern MKLS series holding the inaugural winning advantage in Alan Truscinski last year, this season would find rookie sensation Trice Roden celebrating in victory lane and bringing the series skirmish even in events victories earned.
Early racing action would find Bobby Layne and Trice Roden gaining the advantage to earn the heat racing victories with Mike Tindell and Chasity Younger earning a front-row grid for the feature event after an intermission red-draw that set the first few rows of the twenty-lap feature event with several drivers invading from the northern region including Jason Berg, Travis Surerus, Bryce Haugeberg, and Wesley Van Drunen.
Intense feature racing would find the 2021 POWRi MLS Rookie of the Year Trice Roden saving the final race of the season to post his greatest accomplishment to date by sweeping the night and claiming his first-ever POWRi series feature win. Racing from a fourth starting position Roden would finalize his eye-opening first-year campaign capturing the final checkers of the season ahead of series champion and runner-up Chase Fisher as Chasity Younger would be in the front pack all night placing third.
Sweeping the Border-Battle stage for the Midwest Lightning Sprints would find Mike Tindell placing fourth with Jeff Bard rounding out the Lucas Oil POWRi Midwest/Minn-Kota Lightning Sprints top-five finishers at I-35 Speedway in the final series event of the season.
Feature Results for the POWRi MLS at I-35 Speedway on September 25th:
1. 27R | Trice Roden | Montgomery City, MO | 4 | Heat Race Winner | Hard Charger (+3)
2. 22 | Chase Fischer | Jefferson City, MO | 5
3. 10 | Chasity Younger | St Joseph, MO | 2
4. 91 | Mike Tindell | Overland Park, KS | 1
5. 71 | Jeff Bard | Kansas City, MO | 7
6. 100 | Jason Berg | West Fargo, ND | 6
7. 22H | Bryce Haugeberg | West Fargo, ND | 9
8. 08 | Wesley Van Drunen | Fargo, ND | 10
9. 71E | Tony Layne | Kansas City, MO | 9
10. 7 | Tyler Johnson | Odessa, MO | 8
11. 01 | Bobby Layne | Kansas City, MO | 3 | Heat Race Winner
12. 9S | Travis Surerus | Fargo, ND | 12 | DNS
More information about the POWRi Lucas Oil Midwest Lightning Sprint can be found online at www.midwestlightningsprintsracing.com, or "Like" the POWRi Lucas Oil Midwest Lightning Sprints on Facebook.
Updates and more information regarding the POWRi Lucas Oil Minn-Kota Lightning Sprints including driver profiles, point standings, and series rules can be found on the POWRi Minn-Kota Lightning Sprint Series Facebook page.
Follow along for more information such as race recaps, updates, full results, and press releases online at www.powri.com, or on Twitter & Instagram at @POWRi_Racing, or on Facebook at POWRi. POWRi League rules, contingencies, forms, and payouts can be found under the info tab at the top of the POWRi website.
Back to News