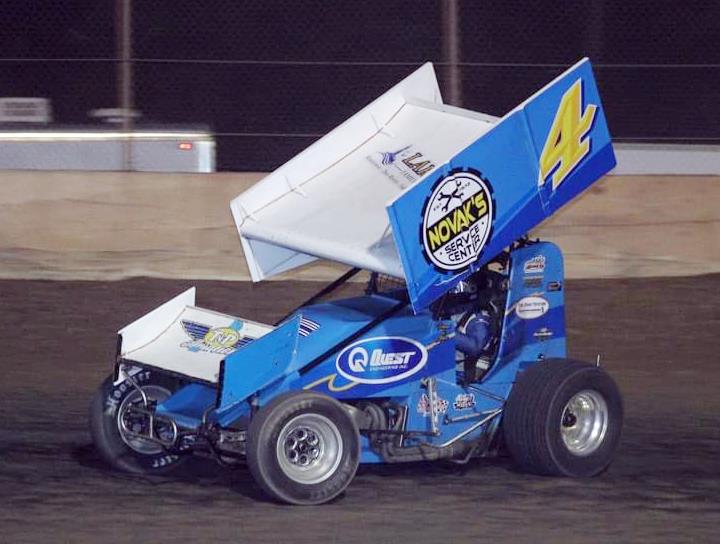 ---
Pokorski Motorsports' final Plymouth go around nets top-15 MSA result
(PEDAL DOWN PROMOTIONS) September 28, 2021 – Following a long and successful tenure of regular open-wheel racing competition in the Winged Super Modified and 360 Sprint Car divisions, the Pokorski Motorsports team closed the book on its 29-year run at The Plymouth Dirt Track at the Sheboygan County Fairgrounds in Plymouth, Wis., during the fourth annual Wisconsin Sprint Car Championship on Saturday, Sept. 25.
Pokorski, who began his racing career in 1993 in the Eastern Wisconsin Stock Car Winged Super Modified division, has earned a large chunk of his 46 A-main victories and two EWSC Winged Super Modified championships in 2003 and 2004 at the Plymouth track under the Pokorski Motorsports banner.
Saturday's 2021 Plymouth Dirt Track season finale saw Pokorski behind the wheel of the familiar blue No. 4 Pokorski Motorsports machine as he joined a field of 31 PDTR 360 Sprint Car drivers on hand for the event.
Pokorski started fourth in the third 10-lap 360 Sprint Car heat race and held the position throughout the event on a lightning fast track surface on the way to a fourth-place showing.
The 2014 Midwest Sprint Car Association Masters Series champion then started second in the 15-lap B main. Pokorski held the second spot in the early going before Kurt Davis slipped past to move the West Bend driver back to third on lap 11. Pokorski held on to finish third and claim a transfer spot to the 25-lap A main.
After lining up 19th in the 360 Sprint Car main event, Pokorski advanced to 17th place on lap 9. After a string of four consecutive caution flags, Pokorski restarted 15th on lap 18.
Pokorski then moved past Chris Clayton in the closing laps to secure a 14th-place showing in a race won by Jack Vanderboom.
"The car was really tight in hot laps," Pokorski said. "We made some changes for the heat race and it helped, but it wasn't enough to make the car fast or comfortable. We made even bigger changes for the B main and got a little closer. The car was just okay for the feature. Overall, it was a very average result for our team, but a great night of racing and good fall weather for the fans."
The Pokorski Motorsports team was in attendance for a Midwest Sprint Car Association event honoring Fuzzy Fassbender, Harry Neitzel and Rick Schmidt at the Dodge County Fairgrounds in Beaver Dam, Wis. on Friday, Sept. 24. However, persistent rain showers hit the track during engine warm ups, forcing the remainder of the event to be cancelled.
Pokorski Motorsports will hit the track for the final time for a pair of non-points Midwest Sprint Car Association 360 Sprint Car events at Beaver Dam Raceway in Beaver Dam, Wis. as part of the Wingless Nationals event, along with Wingless Sprint Cars and Legends, on Friday, Oct. 1 and Saturday, Oct. 2.
Paul Pokorski will take one more turn in the cockpit of the No. 4 Pokorski Motorsports 360 Sprint Car on Friday, Oct. 1 and Alex Pokorski will be behind the wheel as Pokorski Motorsports ends its 29-year run on Saturday, Oct. 2.
Spectator gates open at 4:30 p.m. with racing to start at 6:30 p.m. both nights.
Sponsors and supporters for the 2021 Pokorski Motorsports team are Petersen Septic Systems, Quest Engineering Inc., Goeden Auto Body, Goodwin Racing Engines, Hopf Farms, Kettle Moraine Landscaping, Novak's Service Center, Tisler Salvage Inc., Allied Bearing Corporation, RC Custom Design and Pedal Down Promotions
Pokorski Motorsports Sponsor Showcase – Novak's Service Center
Pokorski Motorsports would like to acknowledge the support of long-time sponsor Novak's Service Center of Manitowoc, which is celebrating its 49th year in business in 2021.
Novak's Service Center is a locally-owned, second-generation, family-owned, five-bay auto repair center, which has been serving customers in the Lakeshore area since 1972.
Novak's Service Center offers comprehensive auto repair services, including 4 x 4 services, brakes, car and truck care, domestic cars and trucks, electrical services, electronic services, engine and transmission, engine maintenance, expired warranty care, general service, heating and cooling services, import cars and trucks, quick lube services, tires, towing, transmission and undercar services.
Located at 1320 Washington St. in Manitowoc, Novak's Service Center is open from 7:30 a.m. to 5 p.m. Monday through Friday.
To schedule an appointment, call 920-684-5737 or visit www.novaks1320.com.
For more information on Pokorski Motorsports, check out Pokorski Motorsports on Facebook or visit www.pedaldownpromo.com.
Pedal Down Promotions is a full-service public relations and media services company devoted to helping its clients effectively communicate with targeted audiences through press releases, newsletters, profile and feature articles, website and social media content development, printed media, editing and layout, graphic design and book publishing services.
For more information on Pedal Down Promotions, email pedaldownpromotions@gmail.com, visit www.pedaldownpromo.com or call 920-323-7970.
2021 Pokorski Motorsports By The Numbers
Total Events – 27
MSA events – 27
A Main Victories – 0
B Main Victories – 1
Top Five A Main Finishes – 1
Top 10 A Main Finishes – 5
Heat Race Victories – 3
Final MSA Points Finish – 14th
Final PDTR 360 Sprint Car Points Finish – 15th
2021 Pokorski Motorsports Upcoming Schedule.
Friday, Oct. 1 – Beaver Dam Raceway, Beaver Dam, Wis.
Saturday, Oct. 2 – Beaver Dam Raceway, Beaver Dam, Wis.
---
Article Credit: Jeff Pederson - Pedal Down Promotions
Submitted By: Jeff Pederson
Back to News