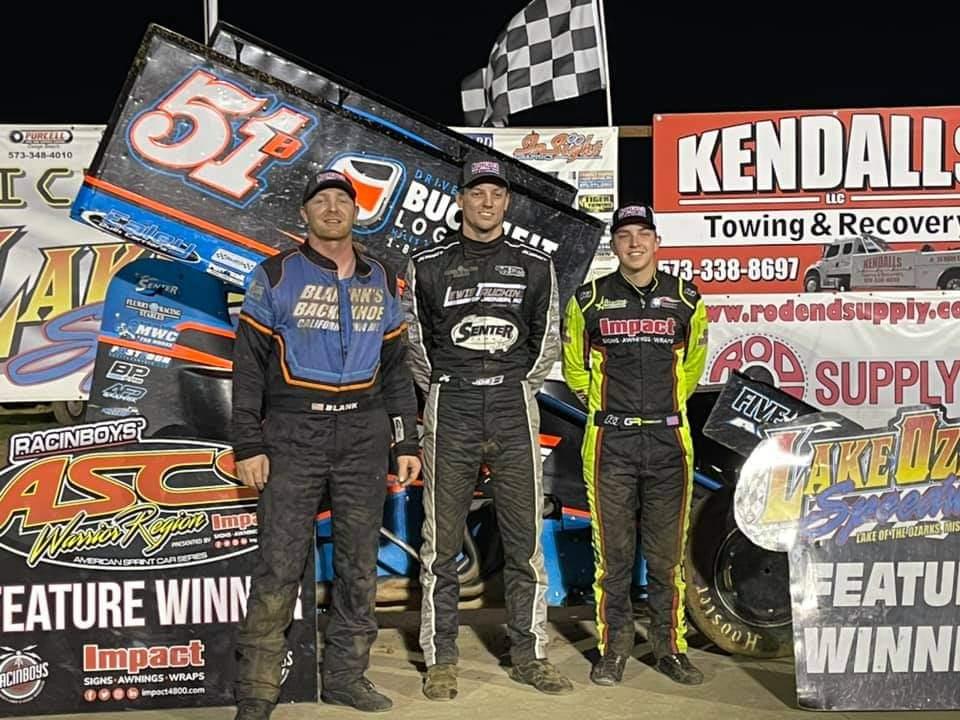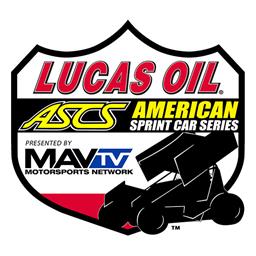 ---
Joe B. Miller Earns ASCS Warrior Win At Lake Ozark Speedway
Bryan Hulbert – ELDON, Mo. (October 9, 2021) Taking the lead on Lap 20 and never looking back, Joe B. Miller finally added his name to the list of winners with the Racinboys.tv ASCS Warrior Region presented by Impact Signs, Awnings, and Wraps at Lake Ozark Speedway.
Battling his way by Tyler Blank for the lead, the No. 51b was able to pull away by 2.479-seconds.
Taking second a lap after Miller took the lead, Gunner Ramey raced from seventh to second, and in doing so, is the 2021 ASCS Warrior Region Champion. Tyler Blank ended up third with Miles Paulus and Corey Nelson completing the top five.
Steven Russell was sixth from 11th, with Shain Kaiser, Kory Bales, Lane Warner, and Aiden Zoutte made up the top ten.
The 2021 season marks the 30th year of competition for the American Sprint Car Series. Spearheaded by the Lucas Oil American Sprint Car Series presented by the MAVTV Motorsports Network, the ASCS Nation also includes 11 Regional Tours that encompass both wing and non-wing competition.
For other news, notes, and information on any of the tours under the ASCS banner, log onto http://www.ascsracing.com, follow on Facebook, Instagram, and Twitter (@LucasOilASCS).
Race Results
ASCS Warrior Region
Lake Ozark Speedway (Eldon, Mo.)
Saturday, October 9, 2021
Heat 1 (8 Laps): 1. 98P-Miles Paulus[4]; 2. 51B-Joe B Miller[1]; 3. 5-Kory Bales[6]; 4. 0-Corey Nelson[7]; 5. 21K-Shain Kaiser[5]; 6. 41-Mackenzie Borchers[3]; 7. 14-Aidan Zoutte[2]
Heat 2 (8 Laps): 1. 97-Scotty Milan[2]; 2. 75-Tyler Blank[6]; 3. 11-Austin O'Neal[3]; 4. 21-Gunner Ramey[5]; 5. 89-Todd McVay[1]; 6. 91-Steven Russell[4]; 7. 122-Lane Warner[7]
A Feature (25 Laps): 1. 51B-Joe B Miller[3]; 2. 21-Gunner Ramey[7]; 3. 75-Tyler Blank[1]; 4. 98P-Miles Paulus[2]; 5. 0-Corey Nelson[8]; 6. 91-Steven Russell[11]; 7. 21K-Shain Kaiser[9]; 8. 5-Kory Bales[6]; 9. 122-Lane Warner[14]; 10. 14-Aidan Zoutte[13]; 11. 97-Scotty Milan[4]; 12. 89-Todd McVay[10]; 13. 11-Austin O'Neal[5]; 14. 41-Mackenzie Borchers[12]
---
Submitted By: Bryan Hulbert
Back to News