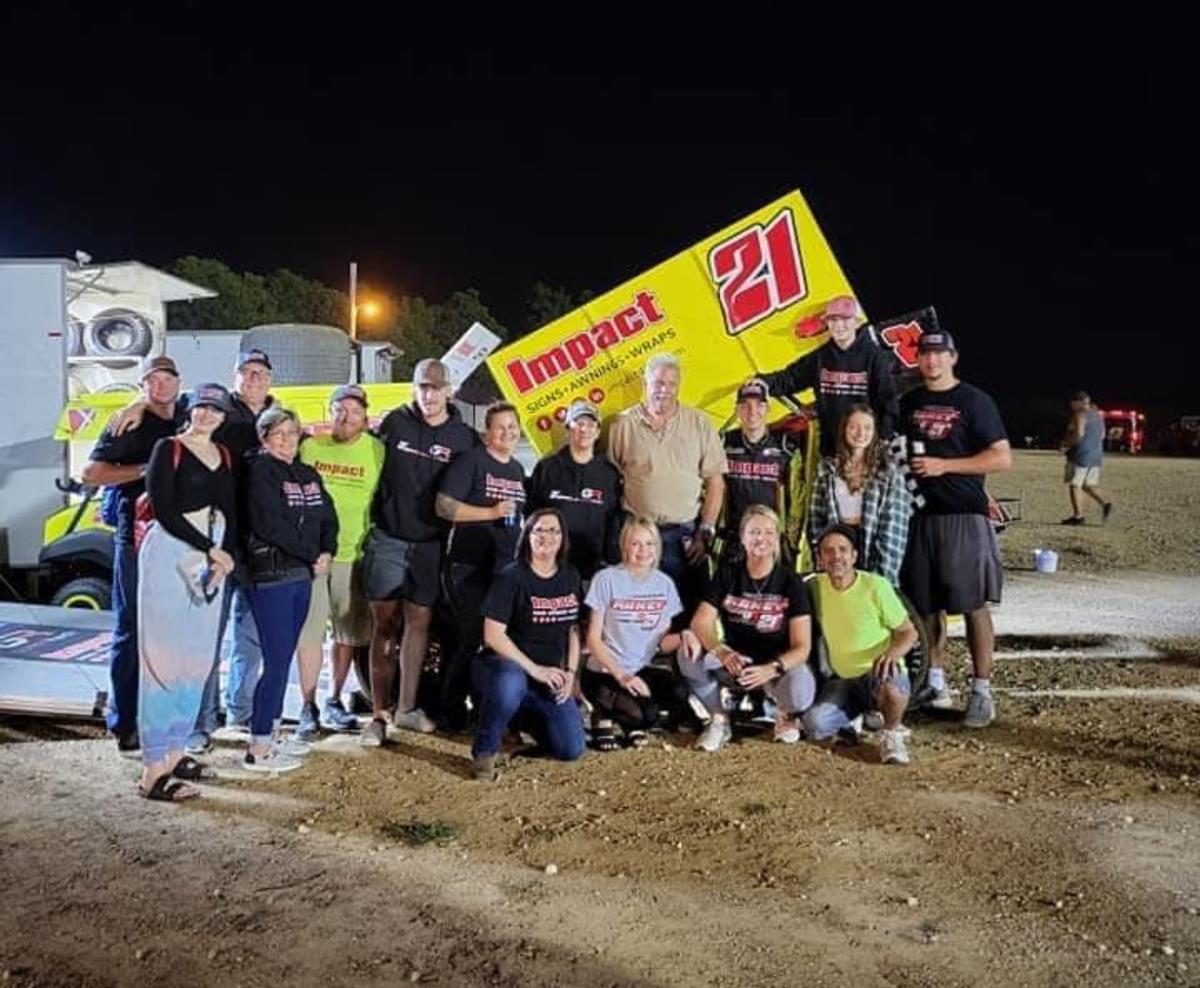 10/12/2021
Inside Line Promotions
---
Ramey Earns ASCS Warrior Region and Lake Ozark Speedway Championships
Inside Line Promotions – ELDON, Mo. (Oct. 12, 2021) – Gunner Ramey secured a pair of sprint car championships last Saturday thanks to a runner-up result at Lake Ozark Speedway.
Ramey tied a career-best sprint car finish with the second-place showing, which earned the Hard Charger Award and wrapped up the ASCS Warrior Region title as well as the track championship.
"It's definitely cool," he said. "This year is really my first full year. Last year I ran about 15 shows. To have a partial season and then now in my first full season to grab two championships is really cool and it gives us momentum going into next year."
The Terry Doogs Racing competitor began the night by advancing from fifth to fourth place in a heat race. He made the feature redraw, but pulled the second-highest number to line up on the inside of the fourth row in the A Main.
"I only passed one car in the heat race, but we made the redraw because there wasn't much passing in the heat races," he said. "I was the last car to make the top-eight redraw and we drew the No. 7.
"We were good the whole race, but we really came on the last half of the race. Thankfully they worked the track a little bit at intermission to make it better for the feature. There was a red on the initial start and then after that it went green to checkered. I got to fourth and was hoping I could catch back up to the leaders. They got to racing pretty hard and I clicked laps off and the next thing you know I was on their bumpers. The top four were going back and forth for about 10 laps. We were all racing pretty hard. We got to second and I tracked the leader down a little bit, but we needed to be there sooner or have a yellow to bunch us back up. It was a fun race and a good race.
"It's a good way to cap off the season around here. I felt like most nights we had the best car in a lot of these series races so it's good to have something to show for it."
Ramey will be off this weekend before ending his season Oct. 22-23 at I-30 Speedway in Little Rock, Ark., during the 34th annual COMP Cams Short Track Nationals presented by Hoosier Tires with the Lucas Oil ASCS National Tour.
QUICK RESULTS –
Oct. 9 – Lake Ozark Speedway in Eldon, Mo. – Heat race: 4 (5); Feature: 2 (7).
SEASON STATS –
32 races, 0 wins, 6 top fives, 12 top 10s, 20 top 15s, 27 top 20s
UP NEXT –
Oct. 22-23 at I-30 Speedway in Little Rock, Ark., for the 34th annual COMP Cams Short Track Nationals presented by Hoosier Tires with the Lucas Oil ASCS National Tour
MEDIA LINKS –
Twitter: https://twitter.com/gunnerramey_
Facebook: https://www.facebook.com/RameyRacing28
Instagram: https://www.instagram.com/gunnerramey_/
SPONSOR SPOTLIGHT – Mid-Mo Equipment
Mid-Mo Equipment, which is based in Columbia, Mo., buys and sells large equipment, including trucks and trailers, construction equipment and agriculture equipment. For more information, visit http://www.Mid-MoEquipment.com.
"I'm super thankful to have Mid-Mo Equipment and Bryant Paver on board this year," Ramey said. "It's a great partnership and I'm excited to represent them well."
Ramey would also like to thank Impact Signs, Awnings, Wraps, Retrieving Freedom, Starline Brass, Stax, G&T Farms, SureCoat Powdercoating, Ostrich Racing Engines, Embry Snow Removal, T.R. Welding, Next LED, Rockwell Security and Terry Doogs Racing for their continued support.
INSIDE LINE PROMOTIONS –
Inside Line Promotions specializes in affordable public relations and media management for motor sports drivers, teams, sponsors, tracks, series, events, organizations and manufacturers. ILP Founder Shawn Miller leverages professional journalism with new media technologies and social networking to improve your exposure and the return on investment for your sponsors.
To meet the media relations needs of your program by joining Team ILP, contact Shawn at 541-510-3663 or Shawn@InsideLinePromotions.com. For more information on Inside Line Promotions, visit http://www.InsideLinePromotions.com.
---
Article Credit: Inside Line Promotions
Submitted By: Shawn Miller
Back to News