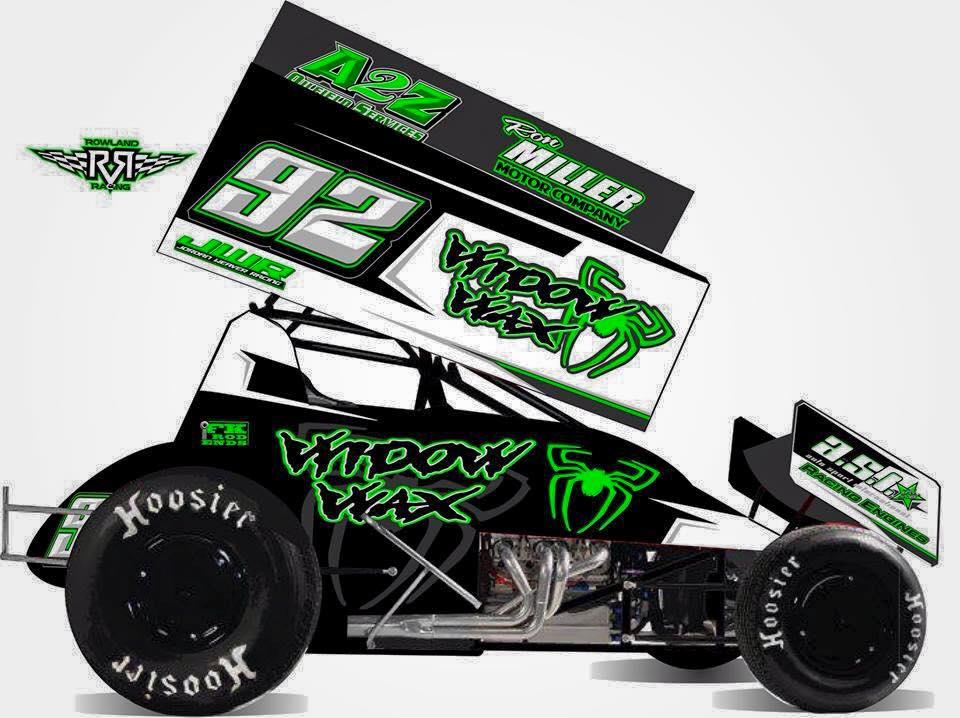 1/19/2015
Inside Line Promotions
---
Weaver Adds New Sponsor, Crew Chief in Preparation for Season on ASCS National Tour
Inside Line Promotions – WOODWARD, Okla. (Jan. 19, 2015) – This year is set up to be a big one for Jordan Weaver.
Widow Wax has joined the team as a primary sponsor for Weaver, who will chase the Lucas Oil ASCS National Tour for the first time.
"I've always wanted to do it and now that we have Widow Wax on board the time is right," she said. "We want to represent them well and the way to do that is to go on the ASCS National Tour."
Weaver will kick off the year Feb. 19-21 at East Bay Raceway Park in Tampa, Fla., for the Ronald Laney Memorial with the Lucas Oil ASCS National Tour. It will be the first of many new states she will compete in.
"I haven't raced there, but we're excited to announce that Jimmy Jones is our new crew chief," she said. "Jimmy has a lot of experience and he's been to most of the tracks so we're not going there totally blind. I think it's going to be really good for the team. I think the cars will be on point every time we hit the race track. I'm really excited he will be with us."
Weaver will compete at more than two dozen tracks in 14 states with the Lucas Oil ASCS National Tour in addition to the season opener in Florida.
"The goal is to be consistent," she said. "It's my first time running the ASCS National Tour. We're expecting some top fives and maybe get a win."
Weaver said she will also race in a variety of regional races.
"We are taking on a lot in 2015, but with the help of Widow Wax and Jimmy Jones I think we will grow each week as a team," she said. "I'm looking forward to the first green flag so we can get rolling."
UP NEXT –
Feb. 19-21 at East Bay Raceway Park in Tampa, Fla., for the Ronald Laney Memorial with the Lucas Oil ASCS National Tour
MEDIA LINKS –
Twitter: https://twitter.com/JordanWeaver92
Facebook: https://www.facebook.com/JordanWeaverRacing92
APPAREL –
Weaver has t-shirts for sale at her race trailer during each event she competes in this season.
SPONSOR SPOTLIGHT – Widow Wax
Widow Wax works closely with paint manufacturers and other OEM suppliers to develop some of the most advanced detailing products in the marketplace. Widow Wax provides superior detailing products that enhance the beauty and extended life of automotive surfaces to maximize value and driving pleasure. Widow Wax is fully committed to manufacture these products with the environment in mind, striving to offer products that are safe for customers and the environment. For more information, visit http://www.WidowWax.com.
"We are really excited that Widow Wax came on board for 2015," Weaver said. "I use their products on my vehicles and not only is everything top notch, it's also safe for the environment."
Weaver would also like to thank A2Z Oilfield Services, FK Rod Ends, Keizer Aluminum Wheels, ASI Racing Engines, Ron Miller Motor Company, Simpson Race Products and Arrowhead Oilfield Services for their continued support.
INSIDE LINE PROMOTIONS –
Inside Line Promotions specializes in affordable public relations and media management for motor sports drivers, teams, sponsors, tracks, series, events, organizations and manufacturers. ILP Founder Shawn Miller leverages professional journalism with new media technologies and social networking to improve your exposure and the return on investment for your sponsors.
To meet the media relations needs of your program and to join Team ILP, contact Shawn at 541-510-3663 or InsideLinePromotions@gmail.com. For more information on Inside Line Promotions, visit http://www.InsideLinePromotions.com.
---
Article Credit: Inside Line Promotions
Submitted By: Shawn Miller
Back to News