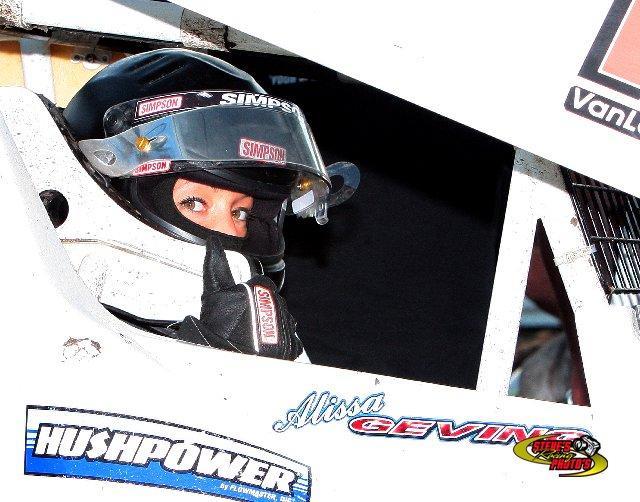 ---
Top ten finish advances Geving to fourth in Golden State Series standings
[i By Bill Sullivan, Media Relations for Chicko Motorsports]
[b PENNGROVE, CA (8-8-10) –] When she made the decision to race with the competitive Golden State Challenge Sprint Car Series Alissa Geving was well aware that the competition would be much tougher with the number of races, traveling and the caliber of competition. Despite the adversity she faced, Geving set a goal for herself to finish in the top five of the season point standings.
With one event left on the 2010 schedule, Geving has reached her goal. In fact, the 18-year-old Penngrove lady racer, who possess the skill and personality that any professional race team would enjoy having in their stable, took it one notch further. With Placerville Speedway hosting the King of California finale in two weeks, Geving is now fourth in the standings after her top ten finish at Ocean Speedway last Saturday night aboard her Chicko Motorsports #3x Maxim Sprint Car that carries the title sponsorship of Tillett Tool, Pit Stop USA and Auto Repairs Unlimited.
"It doesn't matter what I do, I always set goals for myself and if I don't reach them I'm not satisfied with my effort. It's the way I have always been," said Geving, who graduated with honors last year from Ursuline High School in Santa Rosa. "I knew I could get a top ten placement in this series but I set my sights on a top five and I've reached it. It's been a very challenging season but I've reached my goal and I'm happy about it. I can't wait for Placerville."
In the recent event at Ocean Speedway, Geving had a solid night of racing with California's premier series for 410 cubic inch powered sprint cars. A total of 23 cars were in competition for the event at the quarter-mile track based at the Santa Cruz County Fairgrounds in Watsonville, California.
In qualifying, Geving turned the seventh fastest lap of the night with a 12:073 second lap. The top qualifying position set the tone for a successful night for Geving's entire team that has come together with a series of strong runs in the final weeks of competition. In her heat race, Geving took home a fourth place finish which secured a spot in the dash later in the program where she finished 8th.
In the 30-lap feature event, Geving raced within the top ten positions the entire race. When the checkered flag waved she finished 8th overall. The finish marked her seventh top ten finish of the season. With the stellar run Geving advanced to fourth in the series point standings where she sits behind leader Kyle Larson, Brent Kaeding and Evan Suggs. She is currently 18-points in front of former series champion Jonathan Allard.
"Ocean was a really good night for us," added Geving. "The entire team came together so well. The car was set up great the whole night and I loved every lap out there. These last few weeks have been really good for us. I'm looking forward to going back to Placerville in two weeks. We use to struggle up there but now we have it figured out and we've had good runs there in our past two visits."
In her last Golden State Challenge event at Placerville Speedway Geving drove from 16th to 11th in the feature event. Prior to that back in March she made a charge from the 15th starting position to finish 9th at one of the tightest, toughest tracks on the Golden State Challenge Series tour.
With the Golden State Challenge Series taking one week off from action, Geving and her Chicko Motorsports team will take the opportunity to return to Petaluma Speedway to compete in Saturday's All Pro Series event that features 360 sprint cars. Geving is a two time Petaluma Speedway champion that always enjoys returning to her home track where her father and grandfather raced prior to the start of her successful racing career.
"It's always fun to come back and race at home," said Geving. "We're looking forward to it."
Chicko Motorsports would like to thank their current dedicated marketing partners including, Tillett Tool, Pit Stop USA, Auto Repairs Unlimited and Matt Cordeiro Enterprises. Additional associate sponsors and promotional considerations include K&N Filters, Napa Auto Parts, Flowmaster Mufflers, Hodgin and Son Tree Service, Allstar Performance, Santa Rosa Auto Parts, Jeremy's Chair Repair, Afex Graphics, Simpson Racing Products, 21st Century Health Club, Vanlare Steering Repair, Pro Shocks, ALC Machine and JW Web Design.
To learn more about Alissa Geving and her Chicko Motorsports Team can learn more at their website at www.chick-o-motorsports.com. Alissa Geving is seeking additional sponsorship for the remainder of the 2010 season and driving opportunities for the post season. Those interested in sponsorship opportunities can contact team owner Gary Geving at: gary3x@yahoo.com.
---
Submitted By: Bill Sullivan
Back to News