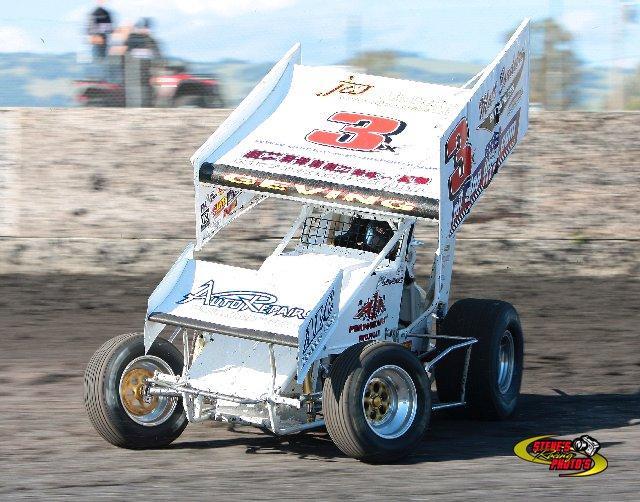 ---
Geving returns to Petaluma Speedway to bring home 10th career victory
By Bill Sullivan, Media Relations for Chicko Motorsports
PENNGROVE, CA (9-20-10) – With the 2010 Golden State Challenge Series behind her, Penngrove's Alissa Geving and her Chicko Motorsports sprint car team are competing in select events throughout Northern California as the racing season begins to wind down. Last Saturday night Geving returned to her home track of Petaluma Speedway took home the victory in the All Pro Series winged sprint car feature event.
"It's always fun to come back and race at home, I really miss this place," said Geving, a two time Petaluma Speedway Champion that made history here two years ago as the youngest female to ever win such a title. "It was nice to come back on the last night and see a new champion be crowned, I can't complain about the win either. I'm always happy to get one of those."
After battling within in the top three position in the early laps of the race, Geving powered her Tillett Tool, PitStop USA sprint car into the lead of the 25-lap feature race when she skillfully avoided a multi-car collision that broke out on lap 12 of the event between early race leader Billy Aton and Mike Henry and Mike Benson. As the three drivers mixed it up in turn three, Geving avoided getting caught up in the incident and took a lead she would never relinquish for the remainder of the race.
Once in front, Geving was chased to the line by Geoff Ensign who finished second over Bradley Terrell and Brett Rollag. While Geving won the race, Terrell became the new track champion. Back in 2009, both Geving and Terrell dueled for the point lead for the early half of the season at Petaluma Speedway before Geving advanced in the numbers to win her second straight title.
"I really want to congratulate Bradley on his championship here tonight, I kept up on his progress through the year and he really worked hard for this," said Geving. "I have to thank the whole team tonight for coming back here and giving me a great car to drive again. It's always great to come home and get a win."
Prior to the feature event on Saturday, Geving clocked the 5th fastest lap of the night in qualifying with a 13:054 second lap that clocked her at a top speed of 103:417 miles per hour. In heat race competition she finished in third prior to starting on the inside of the third row for the feature event where she quickly drove into the top three.
Saturday's win was Geving's 10th career victory as she continues to follow in the footsteps of her father Gary Geving and grandfather Leroy Geving. The season ending victory capped off a year of triumph and tribulation for Geving, who was recently named the 2010 Golden State Challenge Series Rookie of the Year. Geving is the highest finishing female in the history of the Golden State Challenge, finishing fourth in the overall standings.
Chicko Motorsports will take the next week off from competition as they prepare for the upcoming Fall Nationals at Silver Dollar Speedway in Chico Oct 1 and 2. Following that event, the team's schedule remains unknown.
Chicko Motorsports would like to thank their current dedicated marketing partners including, Tillett Tool, Pit Stop USA, Auto Repairs Unlimited and Matt Cordeiro Enterprises. Additional associate sponsors and promotional considerations include K&N Filters, Napa Auto Parts, Flowmaster Mufflers, Hodgin and Son Tree Service, Allstar Performance, Santa Rosa Auto Parts, Afex Graphics, Simpson Racing Products, 21st Century Health Club, Vanlare Steering Repair, Pro Shocks, ALC Machine, Sullivan Images Media and JW Web Design.
To learn more about Alissa Geving and her Chicko Motorsports Team can learn more at their website at www.chick-o-motorsports.com. Alissa Geving is seeking additional sponsorship for the remainder of the 2010 season and driving opportunities for the post season. Those interested in sponsorship opportunities can contact team owner Gary Geving at: gary3x@yahoo.com.
---
Submitted By: Bill Sullivan
Back to News