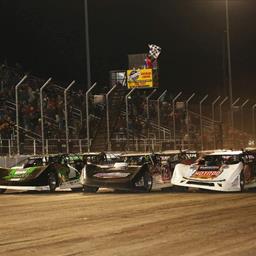 ---
Something for everyone on 81 Speedway schedule in 2023
Are you a winged sprint car fan?... We got you.
Oh… you prefer late models? Ok, we have those too.
Don't worry modified fans, you know we love you.
But you want to see the 4-cylinder midgets? Let's do it!
Stock cars? Check! National tours? Check! Weekly racing? Of course!!!
With the release of the 2023 81 Speedway schedule, you'd be hard pressed to find a dirt race fan who can't find something they like coming to the 3/8-mile Park City, KS oval. Diversity was key in driving this year's schedule of events built by John Allen and the FOE Enterprises crew. National and regional tours pepper the schedule all season long, while the traditional weekly racing series will see a revamped look as well.
"Robust is the first word that comes to mind when looking over the schedule for next year", commented J.R. Sartain. "We really tried to shake things up, and keep in mind that we are an entertainment business first. I believe our schedule is about as diverse as it gets in dirt track racing."
"Next season is really going to be something special," claimed track promotor John Allen. "We're working on more concession and restroom options to accommodate the crowds for the bigger shows, but we'll get it done and I'm really excited for 2023."
Headlining the season is the World Racing Group with three different touring appearances at 81 Speedway. The long-anticipated return of the "Greatest Show on Dirt", the NOS Energy Sprint Car Series comes in the form of two events to bookend the season on April 8th and October 13th. Not to be outdone, after a highly successful event in 2022, the CASE Construction World of Outlaws Late Models return for a double header June 23rd & 24th. Rounding out the WRG slate is a visit from the Xtreme Outlaw Midget series on May 6th, joining forces with the Midwest Wingless Racing Association on the same night.
That's not all for national tours though… The USMTS Modified series will see a major shakeup to their series schedule which results in a triple header April 20-22. The ASCS National tour will double dip in 2023, bringing their show to town on a Saturday night for the first time since FOE Enterprises bought the Speedway, and will do so not just once but twice on June 17th and July 22nd.
Regional series events will still see a healthy dose of action as well. The URSS Sprint Car series comes to town three times in 2023. They help open the season on April 1st before taking on the OCRS Sprint Cars May 13th and appear for the final time on August 19th. Also returning twice in 2023 are the ever popular Sooner Late Models competing on June 10th and September 16th. The ASCS Sooner Region Sprint Cars also make an appearance on September 23rd.
Local racing action will see a few specials of their own. Two enduros grace the schedule with the Godfather 150 taking place March 15 and the 3rd annual Twister City Enduro happening on October 7th. Returning for the second year in conjunction with the Twister City Enduro is the Crossland Construction Super Stock Shootout. A Stock Car special event worth between $3-5K to win is also being planned with additional information to come soon.
Finally, weekly racing series action returns to 81 Speedway in 2023, but with change in the wind as well. All 6 weekly racing series divisions see between 11-13 races on the schedule. Another change sees the newly created 316 A-Mod division take the place of the Rookie Modified division as well (more detailed information on the 316 A-Mod division will come soon).
"As far a scheduling goes, we really felt the need for change for a few different reasons. Weekly racing divisions and drivers are no doubt the lifeblood of 81 Speedway, and we acknowledge it's getting harder for local racers to make 15-20 shows per year. The economy right now is tough, and we all have family activities and other interests we like to participate in too. This schedule gives our teams that opportunity while also giving them a breather at times so they can regroup and keep at it. We want to see more drivers able to make every show and fight for a championship at season's end," said J.R. Sartain. "Another advantage it gives us is to continue focusing on ending shows in a timely manner. Rather than five or six divisions every night, most nights we will run four with a few exceptions. That's not just a benefit to the racers and employees, but more importantly our fans."
For a complete breakdown and printable copy of the 81 Speedway schedule, please visit us at https://www.81speedway.com/schedule/ (schedule subject to change).
For more information about 81 Speedway, and to keep up with all the action and news in 2023, you can stay in touch at 81speedway.com or by searching for 81 Speedway on Facebook.
---
Article Credit: Erick Chesterman
Submitted By: Erick Chesterman
Back to News