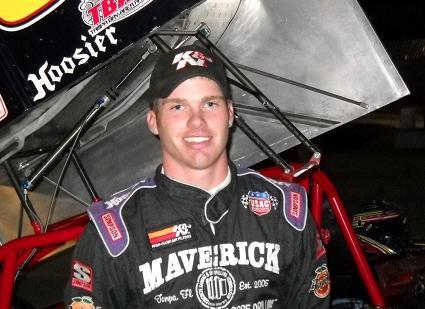 ---
Troy DeCaire Tops Strong Month of May with Feature in Sprint Car & Midget Magazine
TAMPA, FL – After recently relocating to Indiana, two-time TBARA champion Troy DeCaire ran at the front of every major pavement sprint car race in Indiana for the month of May, posting a higher average finishing position than any other driver.
"The first thing I would like to say is that this was an amazing SpeedWeek for me," said DeCaire. "It's not an exaggeration to say I could have won have every race, and at the very least I've almost won every Must See Racing Xtreme Sprint Series winged race so far. And when someone as well respected as Dave Argabright takes the time to write a profile on me for Sprint Car & Midget magazine that is really an honor."
Troy's race results for the month of May in Indiana are as follows:
• Winged Sprint Spectacular – 9th
• King of the Wings – 7th
• Must See Racing 60 – 2nd
• Little 500 – 6th
"The King of the Wings was a tough one to lose," continued DeCaire. "If you're a pavement winged sprint car driver, this is a race you really want to win. Everyone wants to be the King of the Wings – and I almost was. The Must See Racing 60 at Anderson Speedway was a lot of fun, but also frustrating. I was riding in second and hoping to make a late race run for the win, and I got the caution I was looking for, but then they put a lapped car in between me and the leader. And I had the Winged Sprint Spectacular checkers in my sight until the very last turn of the race when the driver behind me ended my night."
DeCaire ended his month of May on a strong note with the most prestigious pavement sprint car race in the country – the Little 500 at Anderson Speedway.
"I was blessed this year in that Don Wilshe of BioBased.US secured the Beast chassis that Dave Steele drove to victory lane last year," continued DeCaire. "My Florida car owner George Rudolph prepped the car and we bolted in a fresh 410 from Dick Fieler and were good to go. I started fairly deep in the field, but figured if I could stay on the lead lap until the last 150 laps I would be in good shape. From about halfway through the race until the very end I was running in the top five. I was in fourth when I got tangled with a lapped car and then the push truck cost me a few laps until I could get restarted. I had an issue with the push truck in the pits earlier, and without that I would have been on the same lap as Shane Cottle but at the end of the day finished 6th, but I think third was realistic, if not second."
Troy DeCaire returns to Florida this weekend to run with the TBARA at the high banks of New Smyrna Speedway.
About Troy DeCaire
Racing since the age of four, Troy DeCaire has been winning races and championships since he was old enough to hold a steering wheel in his hands. After graduating to full-blown sprint cars, and competing with what is arguably the toughest pavement sprint car series in the country while still a teenager, DeCaire proved to be a quick study, picking up the series championship in 2007 and 2008. In 2009, DeCaire also added a wingless series championship to his resume. To learn more about Troy DeCaire, please visit his new website at www.troydecaire.com.
Back to News