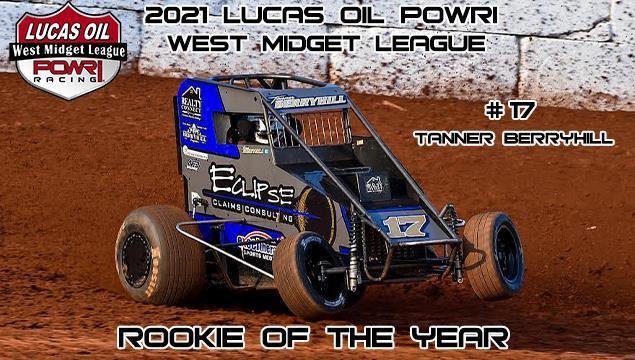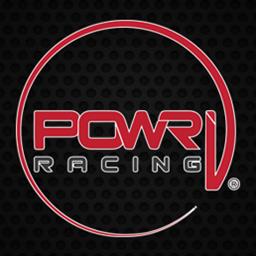 ---
Tanner Berryhill Tops 2021 POWRi West Midget League Rookie of the Year Honors
Belleville, IL. (11/9/2021) Splitting on-track time between two distinct driving divisions with successes in each, Tanner Berryhill continues to climb the rungs of racing accomplishments by capturing the Lucas Oil POWRi West Midget League presented by Realty Connect 2021 Rookie of the Year Award.
"It's been a fun rookie season full of learning both on and off the track. It's extremely special to win this rookie of the year award. This is my first season full time since 2014 and also first on dirt so it feels nice to get back in the swing of things" said Berryhill on his successful season.
Leading several marquee races including Ironman at Federated Auto Parts I-55 Raceway and the Donnie Ray Crawford Sooner State 55 at Port City Raceway, Bixby Oklahoma competitor Tanner Berryhill would show signs of greatness forthcoming all season with three podium finishes within the first six races entered.
Entering the beautiful Berryhill Properties, Eclipse Claims Consulting, Realty Connect, Axcel Therapy Sports Medicine, Spike Chassis, Stanton SR-11x racing engine, #17 into eighteen feature events in 2021, Berryhill's best on-track performances were a pair of runner-up showings at I-44 Riverside Speedway (5/15) and Valley Speedway (7/17).
Notching an impressive eight top-five finishes within his first season of competition, Berryhill would earn twelve feature runs placed inside the top-ten as well as achieving four heat racing wins throughout the year.
"Based on the experience I've gained behind the wheel and wrench I'm looking forward to using what I've learned and taking it to the chili bowl and into next year. None of this would've been possible without my great partners - Eclipse Claims Consulting, Realty Connect, Berryhill Properties" added Tanner.
The full 2022 Lucas Oil POWRi West Midget League presented by Realty Connect schedule is currently being finalized and will be released in the upcoming weeks. Follow along for more information such as race recaps, updates, full results, and press releases online at www.powri.com, or on Twitter & Instagram at @POWRi_Racing or on Facebook at POWRi. POWRi League rules, contingencies, forms, and payouts can be found under the info tab at the top of the POWRi website.
Photo Credit: High Fly'n Photos
Back to News