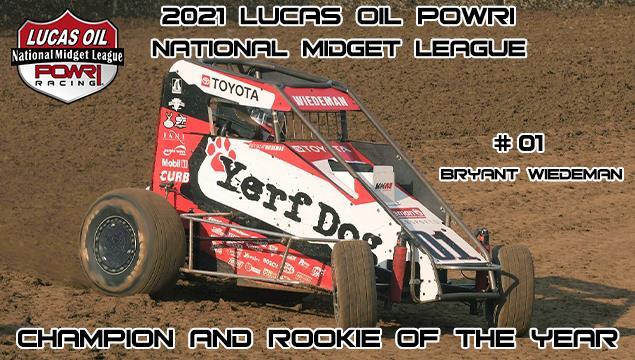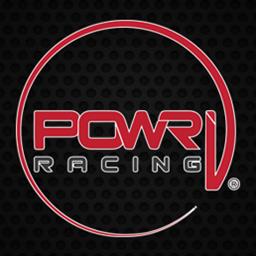 ---
Bryant Weideman Wins 2021 Lucas Oil POWRi National Midget League Honors
Belleville, IL. (11/9/2021) Witnessing rarified greatness in 2021, the Lucas Oil POWRi National Midget League would see Colby, Kansas wheelman Bryant Weideman clench both the outright series championship as well as rookie of the year honors in an outstanding show of open-wheel excellence through a year-long showing of perseverance.
"First, I would just like to thank my family, mainly my mom and dad. It means a lot to me the sacrifices they make to let me do what I love. I'd also like to thank the whole KKM organization for letting me race for them" Weideman noted about his championship season.
Entering into thirty-one Lucas Oil POWRi National Midget League events in 2021, Weideman would wheel his Keith Kunz-Curb Agajanian Motorsports, Yerf Dog, Coleman Powersports, Toyota Racing Development, IWX Motor Freight, Bullet by Spike Chassis, Speedway Toyota Racing Engine, #01 midget to twenty-eight top-ten finishes with eighteen placements inside the top five.
Earning seven heat race wins, Bryant would also notch three b-feature wins that seen him score top-five feature runs in each event. Attaining the season championship by a six-hundred-point margin of victory through persistent consistency.
Capturing his first career feature win at Spoon River Speedway in September, Weideman would excel when it mattered most with the championship glory on the line. Sweeping the final weekend of racing in his home state of Kansas in November, Bryant Weideman would earn three feature victories in his rookie of the year winning campaign.
"This truly does mean a lot to my career I would have never guessed I'd win a championship in my first year of midgets and I feel like it will help out a lot to have a championship on my resume" added the 2021 POWRi National Midget champion Weideman.
The full 2022 Lucas Oil POWRi National Midget League Schedule is currently being finalized and will be released in the upcoming weeks. Follow along for more information such as race recaps, updates, full results, and press releases online at www.powri.com, or on Twitter & Instagram at @POWRi_Racing or on Facebook at POWRi. POWRi League rules, contingencies, forms, and payouts can be found under the info tab at the top of the POWRi website.
Back to News