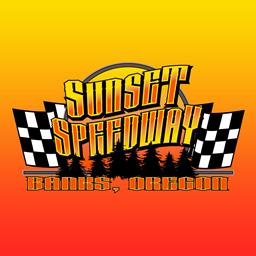 8/17/2018
Sunset Speedway Park
---
Shane Forte Bounces Back To Win At Banks In Night For Of Speedweek
Shane Forte Bounces Back To Win At Banks In Night For Of Speedweek
By Ben Deatherage
(Photo Courtesy of Dryden Racing Media)
Banks, Oregon- The Interstate Sprint Car Series Week of Speed rolled into Sunset Speedway Park on Thursday, August 16th. It marked the one and only time the ISCS group would visit the "Banks Bullring" in 2018. Twenty-five drivers filled the pits representing the states of Oregon and Washington.
In the main event Tanner Holmes seized the lead right off the bat. With just one stoppage occurring, on lap five, it made it a long green flag run for all parties involved. The Jacksonville teenager, of Holmes, had his hands full towards the end of the race with both Jake Helsel and Shane Forte were knocking on the door to try and make it around him for the top spot.
On lap nineteen Helsel, of Monroe, Washington, made a move on Holmes to take control of first place only to lose it himself in the second corner of the twentieth circuit. Shane Forte, from Junction City and racing for car owners Hedge and Kelly Carter, threaded the needle under Helsel to obtain the coveted position. After having the misfortune in destroying a car the night before on the last lap while battling for the triumph, Forte held on the remainder of the distance to win his first ISCS Week of Speed feature and became the fourth different winner in as many nights. It is also the second occasion that Shane Forte has won with the ISCS series in 2018.
Camden Robustelli, of Medford, made a late surge towards the front and ended his evening second while Tanner Holmes crossed the line in third. Cottage Grove's Kinzer Cox came forward in the second half of the main to grab fourth with Jake Helsel completing the top five, in fifth.
Qualifying was divided into four groups with Kyler Barraza from Roseburg, Ferndale, Washington's Ashleigh Johnson, Tyler Thompson of Harrisburg, and Camden Robstelli getting fast times. Kyler Barraza set a new track record with a 12.389 second breaking the previous one of 13.186 set by Ariel Biggs on September 22nd, 2012. Heat race wins went to Lincoln City's Allison Journey, Scott Fox who now resides in Newberg, Boring teenager Christian Osborne, and Jake Helsel. Kinzer Cox was the Travis Rutz Hard Charger Award winner for passing nine cars in the main event.
The Interstate Sprint Car Series Week Of Speed continues on Friday, August 17th, and Saturday, the 18th at Grays Harbor Raceway in Elma, Washington. The ISCS series would like to thank their series sponsors/marketing partners BC Motorsports, Highline Performance, NWSprintCarHistory.com, Champion Racing Oil, and Hoosier Racing Tires. For the latest news and updates regarding the Interstate Sprint Car Series be sure and visit their Facebook page.
Race Results:
ISCS Week Of Speed Race #4
Interstate Sprint Car Series Race #9
Thursday, August 16th, 2018
Sunset Speedway Park
Banks, Oregon
Group One Qualifying: 1. 87-Kyler Barraza; 2. 21W-Jake Wheeler; 3. 3B-Ian Bandey; 4. 33-Bill Rude; 5. 1K-Kinzer Cox; 6. 4J-Allison Journey
Group Two Qualifying: 1. 0-Ashleigh Johnson; 2. 71-Jake Waddell; 3. 17-Shane Forte; 4. 12-Steven Snawder; 5. 18H-A.J. Harbaugh; 6. 3-Scott Fox
Group Three Qualifying: 1. 7-Tyler Thompson; 2. 18T-Tanner Holmes; 3. 94-Blaine Cory; 4. 66-Brett McGhie; 5. 42-Christian Osborne; 6. 38-Eric Bowers
Group Four Qualifying: 1. 25S-Camden Robustelli; 2. 14B-Bailey Sucich; 3. 1W-Mike Wheeler; 4. 44-Jake Helsel; 5. 1-Bailey Hibbard; 6. 9J-Bert Johnson; DNQ 4-Justin Tracy
Heat One: 1. 4J-Allison Journey; 2. 1K-Kinzer Cox; 3. 87-Kyler Barraza; 4. 33-Bill Rude; 5. 3B-Ian Bandey; DNS 21W-Jake Wheeler
Heat Two: 1. 3F-Scott Fox; 2. 26F-Shane Forte; 3. 71-Jake Waddell; 4. 12-Steven Snawder; 5. 18H-A.J. Harbaugh; 6. 0-Ashleigh Johnson
Heat Three: 1. 42-Christian Osborne; 2. 18T-Tanner Holmes; 3. 94-Blaine Cory; 4. 7-Tyler Thompson; 5. 38-Eric Bowers; 6. 66-Brett McGhie
Heat Four: 1. 44-Jake Helsel; 2. 9J-Bert Johnson; 3. 1W-Mike Wheeler; 4. 25S-Camden Robustelli; 5. 1-Bailey Hibbard; 6. 14B-Bailey Sucich; 7. 4-Justin Tracy
A Feature: 1. 17-Shane Forte; 2. 25S-Camden Robustelli; 3. 18T-Tanner Holmes; 4. 1K-Kinzer Cox; 5. 44-Jake Helsel; 6. 7-Tyler Thompson; 7. 71-Jake Waddell; 8. 33-Bill Rude; 9. 94-Blaine Cory; 10. 12-Steven Snawder; 11. 0-Ashleigh Johnson; 12. 1W-Mike Wheeler; 13. 14B-Bailey Sucich; 14. 42-Christian Osborne; 15. 87-Kyler Barraza; 16. 1-Bailey Hibbard; 17. 18H-A.J. Harbaugh; 18. 66-Brett McGhie; 19. 4J-Allison Journey; 20. 3F-Scott Fox; 21. 9J-Bert Johnson; 22. 4-Justin Tracy; DNS 3B-Ian Bandey; DNS 38-Eric Bowers; DNS 21W-Jake Wheeler
Current ISCS Week Of Speed Points (Top Ten):
1K-Kinzer Cox 362; 2. 26F-Shane Forte 354; 3. 7-Tyler Thompson 352; 4. 18T-Tanner Holmes 347; 5. 44-Jake Helsel 330; T 14B-Bailey Sucich 330; 7. 25S-Camden Robustelli 325; 8. 87-Kyler Barraza 322; 9. 0-Ashleigh Johnson 316; 10. 21W-Jake Wheeler 313
---
Submitted By: Ben Deatherage
Back to News