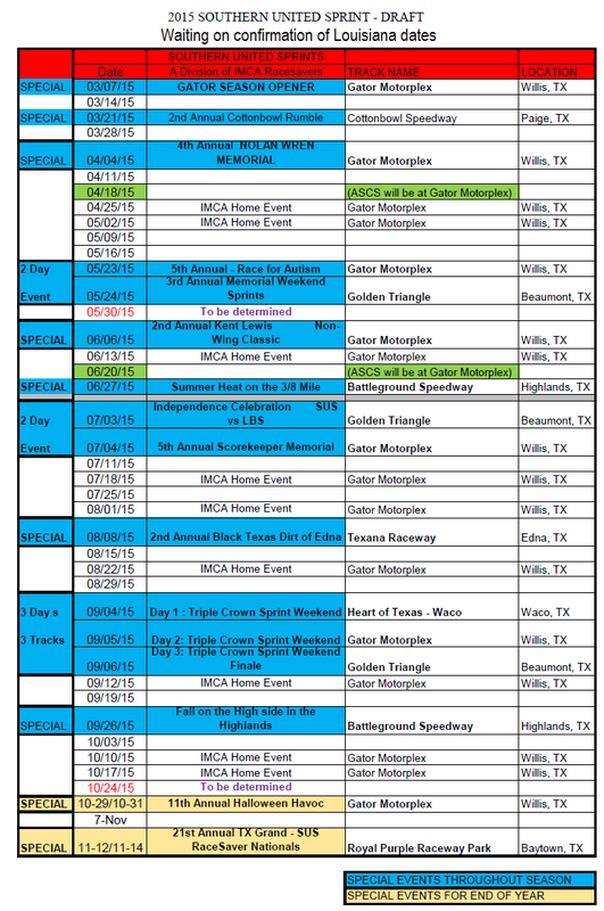 ---
Southern United Sprints 2015 Season
The Southern United Sprints will be running as a division of IMCA Racesaver Sprints in 2015.
Registration for IMCA/SUS: $150
This gets your IMCA Membership & SUS License, along with qualifying you for 3 points funds, SUS points fund, IMCA Regional Points, IMCA National Points.
IMCA membership for 2015 includes a $50,000 excess medical insurance policy ($5,000 deductible) which covers you at any IMCA sanctioned event. This excess medical coverage goes into effect after the $5,000 deductible has been met, per the terms and conditions of the policy, as a result of an IMCA sanctioned racing accident, up to $50,000. This excess medical coverage is over the track insurance and any other valid and collectible insurance that you,the IMCA member, may have. A $5,000 accidental death, dismemberment and paralysis policy is also included for IMCA sanctioned events, or for travel to or from IMCA sanctioned events. The policy period is from 1/1/15 to 12/31/15.
Crew Members may also purchase the same insurance policy for $60.
What Does This Mean For S.U.S. ?
We will still be running our series as it has been ran in the past.
Heats - Draw for Position
B-Mains - Heads Up Racing
Feature - Passing Points from Heat races will determine the top 12 drivers with a top 8 Re-draaw.
How will Points payout work?
S.U.S. will continue to pay a points fund from the $10 draw fee.
IMCA Registered Drivers will qualify for IMCA - SUS Points Fund
IMCA Registered Drivers may qualify for IMCA National Points Fund
We have a full schedule with several big shows and tracks.
If you have any questions about S.U.S. or IMCA RaceSavers, feel free to give Randy Waller a call at 936-537-5265. Email: RandyW@conroecnc.com
www.southernunitedsprints.net
---
Submitted By: Randy Waller
Article Media
Back to News