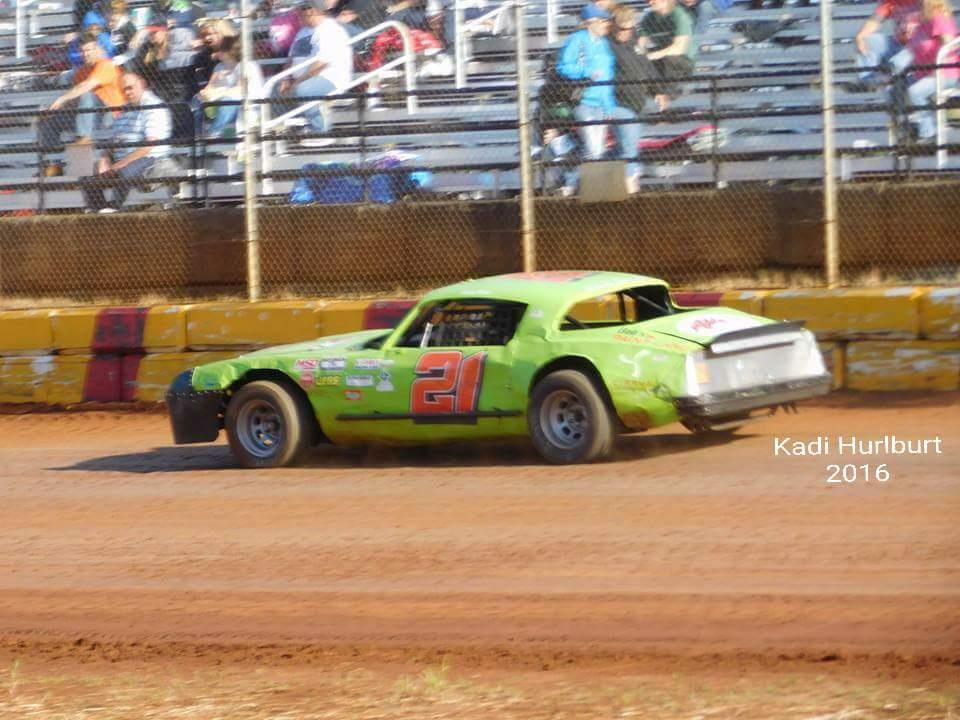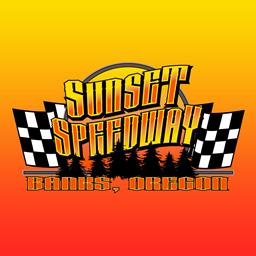 5/2/2016
Sunset Speedway Park
---
Successful Season Opener and Bobby Morley Memorial Event
Moxie Media & Promotions, Josh Warbis
Photo by Kadi Hurlburt
The 30th year anniversary season opener and Bobby Morley Memorial race was a HUGE success.  With the grandstands packed and people still coming in the front gate as heat races started you could tell the 2016 season is going to be one for the record books. Saturday night gave the crowd some serious racing action and had the crowd on their feet while watching the NW Dwarf cars, IMCA Sport Mods, NW Extreme Late models / Super Late Models & The Bridgeport Logistics Street Stocks.

Opening ceremonies for the number #23 Bridgeport Logistics Street Stock Driver Bobby Morley was amazing. His Nephew Chase led the parade laps in his Quarter Midget as Bobby's father Marty Holmason drove Bobby's car. You could tell from the response of the racers and fans at Sunset Speedway, that Bobby Morley will be loved and missed by all.

The NW Dwarf feature was a battle, starting off with a B main the top four transferred to the A main. Josh Rogers in his #18 car took the top spot followed by #54 Greg Long, #2o Ted Rees and #33k of Andy Lemmons

 Jake VanOrtwick started on the pole in the A main with Ryan Martinez on the outside of the front row, VanOrtwick would hold the lead tell lap 13 when Shane Youngren made bold moves in the #18. Youngren and Martinez, the 2015 Dwarf car champion, would battle for the number one spot. On lap 20 the red flag dropped for a roll over down the front straight of James Brinster #23. James was alright, but his car was towed off the track. The re-start came and the #18 of Youngren took the lead and didn't look back.

IMCA Sport Mod saw a great battle all night, fast time would go to #04 Michael Melton who set it in hot laps of 16.640. Trophy dash win would go to the #33 of Archie Somers; in his interview Archie stated that it was his first trophy in 67 years. The feature saw even more excitement between Brandon Penney #00 and the #04 of Michael Melton. Melton would take his first win of the year leading 24 of the 25 lap main.

The NW Extreme Late models feature had some wild action. Fast time was set by #22s Jimmy Schram 15.661; he would also go on to win the trophy dash. When the main event came around it was Jerry Schram and Steve Moore who battled it out. #16 of Schram Ran the bottom while #8 of Moore was on his right rear side by side for their green, white, checkered, 35 lap main event. With 8 laps to go Schram started to pull out to a 3 car lead ending up going flag to flag for the win!

The Bobby Morley Memorial/Bridgeport Logistics Street Stocks feature was one for the ages. Not a single fan sat down over the 35 lap main. The fans were treated to an epic race. The 11x of Don Schott pulls out with a two car lead while the rest of the field side by side behind him. On lap 5 Brian Roden climbs into the 2nd position, with Schott and Roden pulling away.  Roden would work on the rear bumper of Schott for the next 4 laps. Roden made the move to the inside of Schott at the line to take the lead on lap 9. For the next 6 laps Roden would start to pull away until the caution came out on lap 19.   During the yellow Roden would pull into the hot pits to fix a flat tire which gave the top spot back to the 11x of Schott. At the restart it would put Schott on the inside and the 21 of Travis Koch on the outside front row, green flag drops, Travis Koch went door to door with Schott into turn 1 and 2 drag race down the back stretch side by side coming out of turn 4 with Koch still on the outside of Schott, Koch would take the top position into turn 1. Caution would once again come out on lap 25. Restart Koch pulled a two car lead the battle for 2nd now was between Schott and the #5 Marc Farrar with Farrar taking over pushing Schott to 3rd.  One lap to go Marc Farrar would challenge for the lead and moved to the inside of Koch coming out of turn 2, side by side into 3 and 4 the margin of victory came down to .047 giving the win to 21 Travis Koch.  

FULL RESULTS:
IMCA Sport Modifieds: 1. 04 Michael Melton 2. #00 Brandon Penney 3. #68 John Henry 4. #33 Archie Somers
NW Dwarfs: B-Main: 1. #18x Josh Rogers 2. #54 Greg Long 3. #2o Ted Rees 4. #33k Andy Lemmons 5. #48 Roger Moore 6. #77o Kevin Hicks 7. #78o Brian Hicks 8. #08 John Grabow 9. #76xx Kylee Dorie 10. #29T Jake Tupper 11. #01o CW Wright 12. #16 Clayton Parsons
A-Main: 1. #18 Shane Youngren 2. #9o Ryan Martinez 3. #46o Guy Tow Sr. 4. #5o Danny Altom 5. #53v Jake VanOrtwick 6. #47x Shawn Dorie 7. #777 Dennis Liebig 8. #72k Kyle Frelich 9. #54 Greg Long 10. #2o Ted Rees 11. #33k Andy Lemmons 12. #94 Jeremiah Hester 13. #8k Chris McCleary 14. #23 James Brinster 15. #18x Josh Rogers 16. #37o Guy Tow Jr.
NW Extreme Late Models / Super Lates: 1. #16 Jerry Schram 2. #8 Steve Moore 3. #22s Jimmy Schram 4. #76 Jason Johnson 5. #88 John Gamell 6. #23 Celeste Hardesty
Bridgeport Logistics Street Stocks: 1. #21 Travis Koch 2. #5 Marc Farrar 3. #14 Brian Roden 4. #7 Doug Pitsch 5. #3 Earl Claypool Jr. 6. #23 Marty Holmason 7. #11x Don Schott 8. #71 Benny Sauter 9. #18 Justen Case 10. #10 James Baker 11. #1x Sid Schott 12. #95 Tim Jenner 13. #02 Rod Lowe 14. #12 Jared Haynes 15. #04 Joey Tardio 16. #2 JC Miller 17. #88 Corey West 18. #47 Robert Watts
Sunset Speedway is excited for the upcoming weekend. May 7th is "BUD LIGHT LIME-A-RITA LADIES NIGHT" All Ladies 18+ will get into the races for $5.00. The weather forecast is looking to be outstanding. We will be featuring the IMCA Modified, IMCA Sport Mods, Pure Stocks, Micro 600 open/ Micro 600 restricted and 4-Bees.
Special Thanks to all of our 2016 Season Sponsors, without each and every one of you the success of the Best Bull Ring on the West Coast wouldn't be possible! It's never too late to be a sponsor, if you would like to be a sponsor of Sunset Speedway please contact us today! Thank you to Jim's Thriftway, Baseline Pawn, Finishline Graphics, Budweiser, Maletis Beverage, Sunset Park Association, T & G Trucking, Tommy's Transmissions, Tracy's Complete Exhaust, Bridgeport Logistics, LLC, RS Race Products, Speedmart, PGH Excavating, Hoosier Racing Tire, Checkered Flag Asphalt, Dancin Bare Gentlemen's Club, Rockauto.com, Schram Brothers Excavating, LLC., 98.7 The Bull, Driver Websites, Rockstar Energy Drinks.
---
Submitted By: Nikki Gamell
Back to News