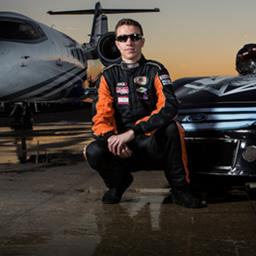 ---
Kevin Donahue wins the Grant Fritz Memorial Race
The 75 lap race was one of the most exciting races I have watched in a while. Kevin really earned this race and that is what makes it so special to the Donahue Team. Yes, he raced hard, kept his cool and raced to the front like a Pro, but it is what everyone doesn't know that makes this really cool.
Kevin trains hard every day with running, biking, swimming and weight lifting. He doesn't have to have a trainer helping him, he does it because he wants to and he has the strength and determination to do it on his own. Kevin is now 100% self-sufficient in the shop, too. He works not only on his car but his Brother and Sister's car too. Not because he has to, but because he knows the team can't race without his help.
The best part of this win and what the fans and fellow racers didn't see is what Kevin did to win this race. His car was put into the wall at Mt. Lawn a few weeks ago and the chassis is toast but he had an idea. With the season coming to an end and the budget being almost nonexistent, he felt he can still race the car and be competitive. Kevin and I sat down and discussed the geometry of the car and what was really needed to be fast. After a week of long days and nights in the shop, Kevin had the car nearly perfect. Not perfect when it comes to measurements against what the Chassis was built to, but perfect to what he needed to be fast.
Kevin decided all of the settings; ride heights, tire pressures, camber, caster, cross and everything else that goes into a setup. After practice, he decided on a tire change and prior to qualify, he made a carburetor change. Everything he did was because he wanted to do it. No monkey see, monkey do here. Kevin did what he has always wanted to do and that was do it the way he felt would work.
I am very proud of seeing my son becoming a real man. Kevin is so true and kind at heart, I don't think he has a jealous or bitter bone in his body. With a sport so full of the opposite, it is refreshing to see a young man prosper in it. Kevin is a true Race Car driver, and in my opinion, is a testament to the sport. Congrats Kevin.
Jim Donahue
---
Submitted By: Jim Donahue
Back to News