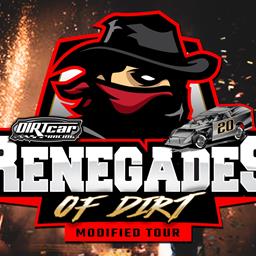 3/31/2020
Renegades of Dirt Modified Tour
---
Hill Hoping For Breakout Sophomore Season On 2020 Renegades of Dirt Tour!
Renegades of Dirt PR
March 29th, 2020
www.renegadesofdirt.com
For Immediate Release:
Hill Hoping For Breakout Sophomore Season On 2020 Renegades of Dirt Tour!
(Middlebourne, WV) – The 2020 season for the nations most wanted modifieds is only nineteen days away. Thus, will begin a campaign that Renegade of Dirt "Rookie" Daniel Hill has anxiously awaited for since the last checkered fell on 2019. A 'revenge' season so to speak. For Hill a chance to return to the many tracks he competed on for the first time a year ago when embarking on the highly competitive Renegade Tour. Here's why a hopeful Hill is poised for a break out season on the series in 2020.
Daniel Hill is no stranger to victory lane. Often a favorite and front runner weekly at Tyler County Speedway. No matter what he's piloted he's had success at the ¼ mile dirt oval in Middlebourne, WV. For several years Hill entered Fastrak Crate Late Model competition at the 'Bullring' where he found immediate prosperity that parlayed into a National Fastrak Weekly Championship back in 2015.
It was a late fall opportunity in 2017 to participate in a Renegade of Dirt Mod race at Atomic Speedway for Dave Groves that fueled a new fire for the former Greenwood, WV native. With friends Derek Doll and Shawn Jett recently getting behind the wheel of a Modified, Hill strapped in one full time too in 2018. Much like his debut in Fastrak, Hill grabbed checkereds early and often on board the family owned #8 UMP Modified. Daniel dashed to seven wins and eighteen top 10's in just twenty four starts that led him to win yet another national weekly title. This time Hill garnered top honors of the AMRA Modified weekly championship in 2018.
In 2019, Hill set out with a new goal on the Renegades of Dirt Tour. However, bad luck would ensue. From the get go Hill was dealt touring gremlins that haunted him all season. From being in the wrong place at the wrong time to his six first time venues or even mechanical failures while running in the top five and ten, lady luck just wasn't on his side.
"We started the season at Fayetteville, NC with a really fast race car, but we got caught up in an early race incident. The black cloud kind of followed us to Tyler County Speedway, WV where we were running in the top three before we cut a tire down. The following race at Bedford, PA I was scheduled to start on the pole and was unable to compete in the A-main due to an engine issue. As disappointing as the results were, we really were still pretty optimistic because of just how fast the car had been" stated Hill. "Fortunately, things turned around at the Mega 100. After a long weekend of hard work, against the best field of modifieds of the year, resulted in a fourth place finish. A July win at the prominent Dickson Classic and closing the season out with a win on Hillbilly 100 weekend has us excited for 2020." continued Hill.
Hill was hit with the reality that a run at the championship wasn't in the 2019 cards. Mechanical woes relegated Daniel to miss one of the tours racing events in May which forced him behind the proverbial points eight ball by mid season. A resilient team didn't give up though as they powered back up the standings to finish 2019 a respectable seventh overall while gaining valued experience.
It wasn't the season Hill had hoped for, but it wasn't a total loss. The team gained knowledge gathered by touring across the East with the divisions best all the while figuring out what makes improvements to the car in only his second season behind the wheel of a UMP modified. Along the way he even earned his first career Renegade of Dirt Win at Tyler County during the annual "Dickson Classic." One of his five wins in 2019 in only twenty two starts. Bringing his two year total to an impressive twenty one first or second places finishes in just forty six modified starts.
Hill also comes from one of the most well known racing families in the region. Grandpa Earl led the area for many of years amassing dozens of wins while father Bobby left his mark in the Mid-Ohio Valley's Late Model scene also. All three have been track champions at the 'Bullring'.
Put it all together and the third generation racer Daniel Hill is perhaps the lead candidate for a break out season on the 2020 Renegade Tour. The thirty one year old veteran will be entering just his third season in a Modified and his second campaign with the Renegades of Dirt.
Poised for big things, Hill adds. "When the Renegades of Dirt schedule came out in 2019, I knew it was going to be a learning experience for dad and I. Out of the eleven tracks on the schedule, I had raced at two, only one in a modified. Racing at six new tracks in 2019 really helped us acquire a lot of data and experience to build on. We also worked with a lot of smart people this off-season to make our Rocket by Ruhlman Race Car faster. I really look forward to getting back to the race track. We've made a good deal of changes to our car and I'm really optimistic that they will bring additional speed" concluded Hill.
Hill also is always quick to point out the help he receives. "We couldn't have done it without the help of KH Motorsports, Dave Groves, FK Rod Ends, Jack's Recycling, Tom's Tire and Wheel, Jenkin's Auto Parts, Barnes Trucking, Tye Twarog Racing, ML Suspension, Slick's Auto Detailing and our family and friends for all of their continued support." The Hill Family continues living its storied racing legacy. One that Daniel hopes will read Renegades of Dirt Champion in 2020.
For more information regarding the Renegades of Dirt Modified Tour visit the Renegades of Dirt online at www.renegadesofdirt.com. You can also call Renegade Offices anytime for further information @ 304.771.5051. Like us on Facebook at www.facebook.com/rodconnect.
– End of Release –
Back to News