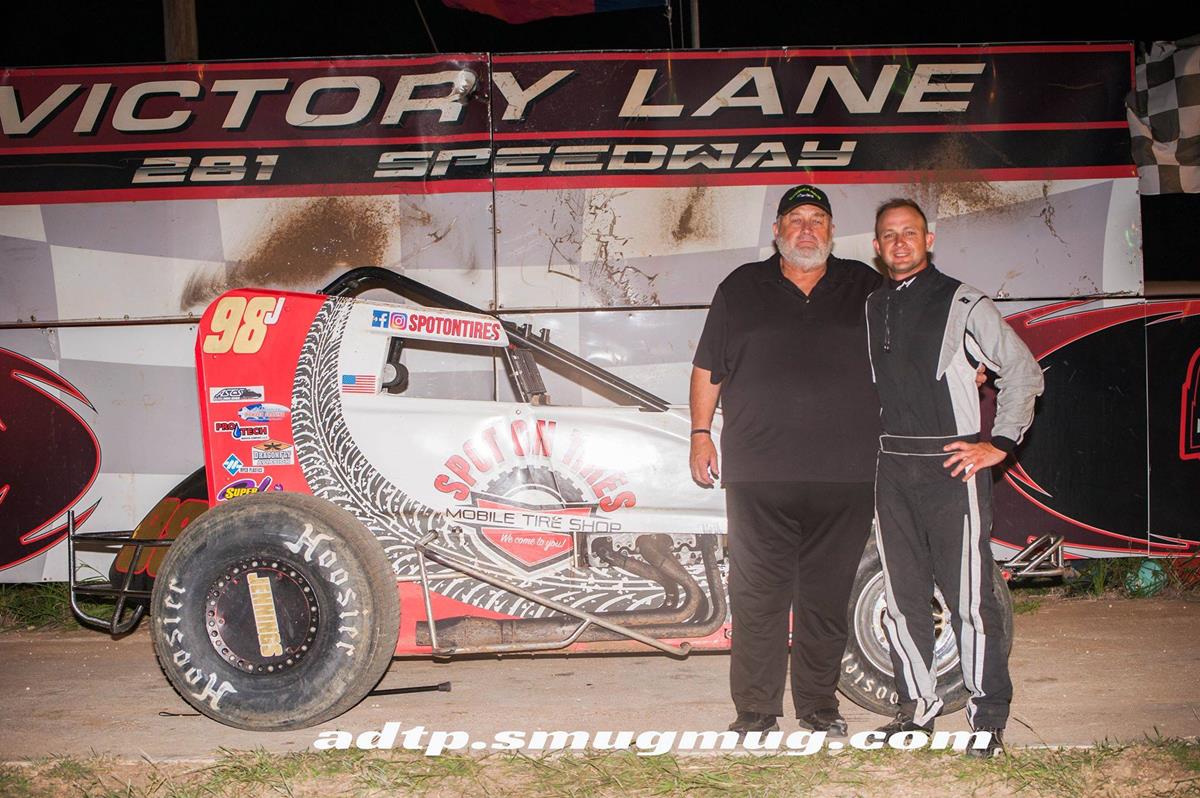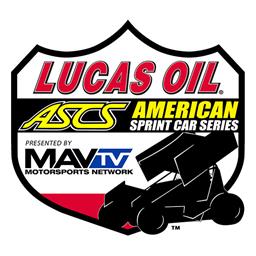 ---
Jarrod Jennings Grabs First Career ASCS Elite Non-Wing Victory At 281 Speedway
Bryan Hulbert – STEPHENVILLE, Texas (June 21, 2019) Adding his name to the record books on Friday night, Jarrod Jennings wheeled to his first career victory with the ASCS Elite Non-Wing Series presented by Abilene Powder Coating at 281 Speedway.
The first of a two-day affair, the 26 car field was broken down into a 16 car A-Feature in order to set the field for Saturday night. Positioning himself into the dash to set the top six for Saturday night, Jennings was chased to the line by Jason Howell with Bryan Debrick, Craig Oaks, and Nathan Moore making up the top five. The final lock-in to the Saturday pole dash was Kade Taylor who moved from 10th to sixth.
Justin Fifield, Dillon Burks, Gary Floyd, and Stephen Smith completed the top ten.
Racing Saturday night at 281 Speedway gets underway at 7:00 P.M. (CT) with Factory Stocks and Limited Modifieds on the card. More information on 281 Speedway can be found online at http://www.281speedwaybycspromotions.com.
For other news, notes, and information on the American Sprint Car Series, from the National Tour to any of the nine Regional Tours that make up ASCS Nation in 2019, log onto http://www.ascsracing.com, follow on Facebook, on Instagram, and on Twitter (@LucasOilASCS).
Race Results:
ASCS Elite Non-Wing
281 Speedway (Stephenville, Texas)
Friday, June 21, 2019
Heat 1 (10 Laps): 1. 983-Jarrod Jennings, [4]; 2. 48D-Gary Floyd, [2]; 3. 44-Jason Howell, [3]; 4. 1-Paul White, [1]; 5. 3S-Stephen Smith, [5]; 6. 21-Michelle Melton, [6]; 7. 07J-Chris Clark, [8]; 8. 14-Kelly Lockey, [7]; 9. 52-J.D. Fry, [9]
Heat 2 (10 Laps): 1. 7D-Shon Deskins, [4]; 2. 7-Kade Taylor, [1]; 3. 02-Dillon Burks, [5]; 4. 48-Nathan Moore, [2]; 5. 57M-Keith Martin, [3]; 6. 6-Christian Moore, [6]; 7. 12T-Jason Tyer, [7]; 8. 00-Jaden Brown, [8]; (DNS) P1-MATTE WHITE,
Heat 3 (10 Laps): 1. 49-Justin Fifield, [2]; 2. 91-Craig Oakes, [3]; 3. 10-Bryan Debrick, [4]; 4. 82-Joshua Hanna, [5]; 5. 48N-Pete Elkins, [6]; 6. 114-Todd Loveit, [7]; 7. 54-David Sherry, [8]; 8. (DNF) 57-Chase Parson, [1]
A Feature: 1. 983-Jarrod Jennings, [1]; 2. 44-Jason Howell, [4]; 3. 10-Bryan Debrick, [3]; 4. 91-Craig Oakes, [5]; 5. 48-Nathan Moore, [7]; 6. 7-Kade Taylor, [10]; 7. 49-Justin Fifield, [8]; 8. 02-Dillon Burks, [11]; 9. 48D-Gary Floyd, [6]; 10. 3S-Stephen Smith, [14]; 11. 82-Joshua Hanna, [12]; 12. 57M-Keith Martin, [16]; 13. 114-Todd Loveit, [15]; 14. (DNF) 1-Paul White, [9]; 15. (DNF) 7D-Shon Deskins, [2]; 16. (DNF) 48N-Pete Elkins, [13]
---
Submitted By: Bryan Hulbert
Back to News