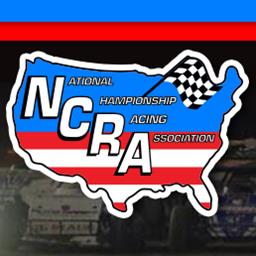 NCRA-National Championship Racing Association
Series Information
NCRA formed in 1971 to bring area tracks together
Until 1971, there existed no type of organization in the Kansas-Oklahoma-Texas area to bring together the vast potential of modified and super modified track operations. In February of 1971, nine successful track operators from this region gathered in Oklahoma City to determine if they could formulate an organization that would benefit each member while contributing to the good of racing as a whole. From this meeting the National Championship Racing Association was formed.
Charter member tracks were Oklahoma City Fairgrounds Speedway, Tulsa Speedway, 81 Speedway, Hutchinson, Kansas (Merrick Racing), Enid Speedway, Lawton Speedway, Amarillo Speed Bowl, Devil's Bowl Speedway and Shreveport, La.
G.W. Elkins of Amarillo was elected President, with Dick Carson of Tulsa chosen to assist as Vice-President. Tulsa printing company executive Bob Walker was selected for the post of Executive Secretary. Board members elected were Bud Carson, Art Couch, Lanny Edwards, Cotton Farmer, Bill Hall, Jack Merrick, and Jim Powell.
Following organization, officially sanctioned NCRA Nationals races were scheduled for each member track. A guaranteed purse for the ten events amounted to $50,000 to insure the participation of the finest drivers and cars. Fans at each track would thereby have an opportunity to see the top drivers and cars from each of the other tracks.
Now over 40 years later the NCRA has changed with the times and is sanctioning races in Kansas, Nebraska, Texas and Oklahoma. 81 Speedway owner C. Ray Hall is now the sole owner and promoter of NCRA and has grown the series sanctioning races in various classes over the years. In 2015 the NCRA will will begin its 44th season and currently sanctions 360 sprints, late models, modifieds and sport mods.
Website created to preserve NCRA history
The idea for for an NCRA History website was born from discussions held between current NCRA Public Relations staff member David Smith, Jr. and former NCRA Statistician John Rittenoure.
We realized there was a wealth of NCRA history going back to 1971 and we did not want the accompishments of those early day heros, and the promoters who had the forsight to further the cause of area racing, to be forgotten.
This is our attempt at keeping that history alive for everyone to enjoy.
This site is a work in progress that will never be finished. Information will continually be added over time. We hope you enjoy looking back at the early years of NCRA.
John Rittenoure, David Smith, Jr.