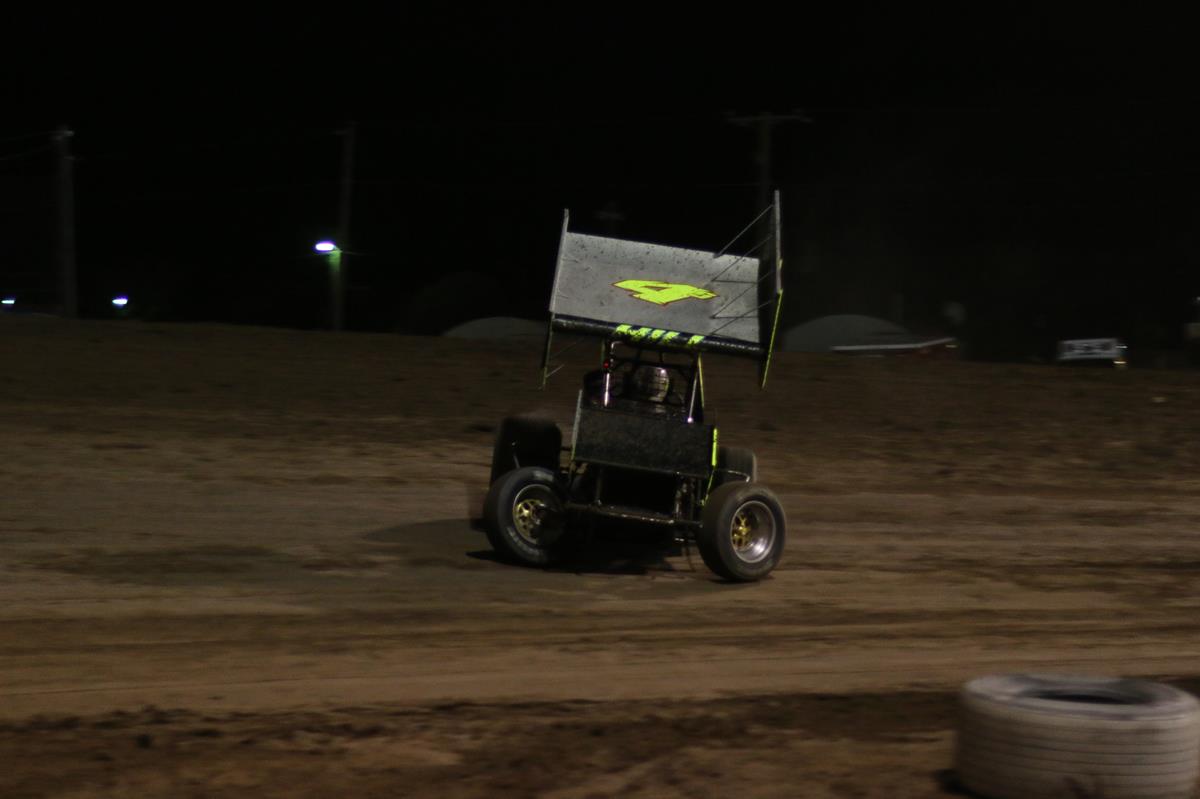 5/2/2017
---
Hill Rallies From 22nd to 14th at Southern New Mexico Speedway
(Image Credit: Donald Iverson - Classick Motorart)
26 Promotions – Las Cruces, NM – (May 2nd, 2017) – Spencer Hill made the three-and-a-half-hour trip south to Southern New Mexico Speedway in Las Cruces, New Mexico, where 25 Lucas Oil POWRi WAR 305 Sprint Series cars checked in for the second race of the season.
Hill's night got underway with Heat race action where he started 3rd, Hill fought a tight racecar causing him to fall back to 6th.
"We were just too tight from the drop of the green," Hill explained. "I pulled my wing forward as far as I could but the damage in track position was already done and I had to settle in for 6th."
Hill had his work cut out for him as he started 22nd in the 25-lap Feature. He made his way up to 13th, but short green flag runs throughout the first half of the race interrupted Hill's progression.
"By the halfway point in the race, I was knocking on the door of the top 10 battling Rick Ziehl and James Mosher," said Hill. "But another red flag would halt us before I could complete the pass."
Under red, the crew made small adjustments to the 4s machine in hopes of allowing Hill to continue his march forward.
"I really struggled with consistency when we went back green," he said. "I don't know if the tires glazed over or if we went the wrong way on the adjustments, but I just didn't have the same momentum I had before that."
Hill fell back a couple positions in the last half of the race crossing the finish line 14th.
"It definitely wasn't my best showing but I'm still really proud of the hard work that my BSE Technical Services 4s team put in all night," he said. "We struggled more than we should have but were still able to roll it back in the trailer with a top 15 finish. I also would like to thank all my friends and family that came down to support me this weekend, that was really special."
Hill will be back in action for the third race of the Lucas Oil POWRi WAR 305 Sprint Series season May 13th at Southern New Mexico Speedway.
Spencer Hill would like to thank BSE Technical Services, VP Racing Fuels, SEH Motorsports, Hassell Racing, 26 Promotions and Bell Helmets for their continued support.
Results:
Heat: 3rd -> 6th
Feature: 22nd -> 14th
Links:
Facebook: https://www.facebook.com/SpencerHillRacing
Twitter: https://twitter.com/Spencer_Hill4
Instagram: https://www.instagram.com/spencer_hill4
Website: http://www.spencerhill-racing.com
---
Article Credit: 26 Promotions
Back to News