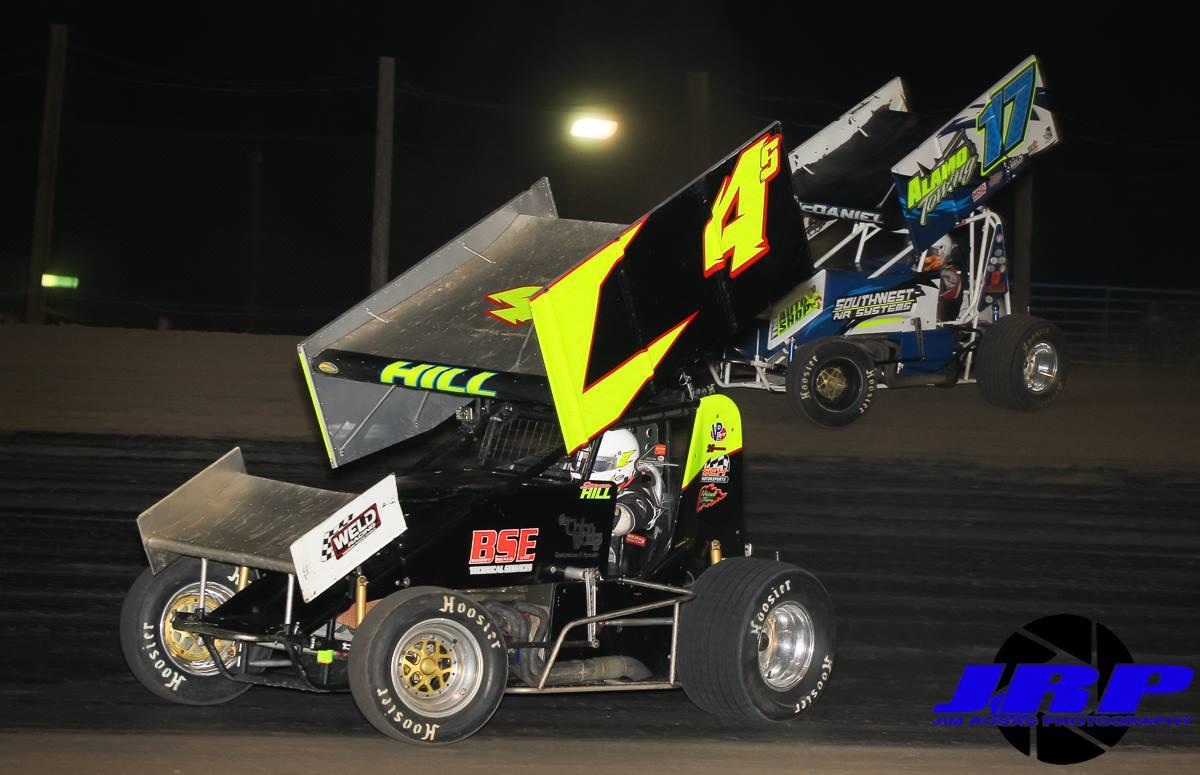 7/25/2017
---
Hill Earns Third Top Ten of POWRi WAR 305 Winged Sprint Season
(Image Credit: Jim Rosas Photography)
26 Promotions – Las Cruces, NM – (July 25th, 2017) – The Lucas Oil POWRi WAR 305 Winged Sprint Series season has not gone as Spencer Hill and the BSE Technical Services team had planned at the beginning of the year.
After mechanical issues two weeks ago, Hill is looking to turn the corner on this season and build to a strong finish.
"Two weeks ago, at Southern New Mexico Speedway, we struggled all night with motor issues which was super frustrating," said Hill. "We spent the entirety of the night chasing down what the issue was but unfortunately could not resolve the problem."
Hill was still able to battle from deep in the field to finish twelfth with the sick motor.
Back at Southern New Mexico Speedway this past Saturday, Hill and team hoped to have the mechanical issues behind them.
Hill was scheduled to start on the pole but spun when the yellow flew for a bad start causing him to have to restart in the back.
"That was a huge bummer for us because the main event line ups are based on a passing points system and I would automatically be at a huge deficit to start the night," explained Hill. "I raced hard, but was only able to come back to a fifth-place finish on a hammer down track."
Hill's heat race finish meant he would have some work to do in the feature as he lined up fifteenth for the twenty-five-lap race.
"The track started laying down rubber pretty quick, and I went to work on the bottom right on the tail tank of Don Grable," he said. "As other cars moved around looking for moisture, I stayed glued to the bottom and worked my way meticulously through the spread-out field."
With no cautions slowing down the action, Hill was able to bring home a tenth-place finish.
"I made a huge error in the heat race, which really put us in a difficult situation leading into the main event. My guys didn't give up on me though, and came together to give me a great hot rod to move forward on a track that wasn't conducive to very much passing," said Hill. "I can't thank Bobby, Ceil, Jim, and my dad enough for working as hard as they did this week to give me this opportunity. Unfortunately, we just have not had the year that reflects the hard work everyone has put in. The good news is there is still time to turn things around though, and that starts in two weeks here again at Southern New Mexico Speedway."
Spencer Hill would like to thank BSE Technical Services, VP Racing Fuels, SEH Motorsports, Hassell Racing, 26 Promotions and Bell Helmets for their continued support.
Results:
Heat: 1st -> 5th
Feature: 15th -> 10th
Links:
Facebook: https://www.facebook.com/SpencerHillRacing
Twitter: https://twitter.com/Spencer_Hill4
Instagram: https://www.instagram.com/spencer_hill4
Website: http://www.spencerhill-racing.com
---
Article Credit: 26 Promotions
Back to News