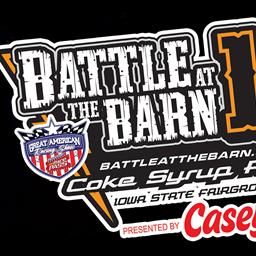 1/5/2019
Battle at the Barn
---
All eyes focus on Des Moines for the Casey's Battle at the Barn XII Presented by Speed Shift TV
January 10th and 11th will be here before we know it. The Midwest temps will be cold, but action inside the Jacobson Exhibition Center at the Iowa State Fairgrounds will be hot as always. Racers in 29 classes from ages 3 to 73 will compete on the lightning fast syrup concrete for the always popular "Barn Door" trophy and champions at the Barn.
Action kicks off the weekend Friday January 10th with pits opening at 9am. General Admission gates will open at 1:30pm and an open practice session for all classes will take the track from 1:30pm – 6:00pm. 1st Round Heat Races. The Toby K's Hideaway "Night Caps" will see 5 Features, based on lap times, to end the night.
Saturday morning pit gates will open once again at 9am. General Admission doors will open at 11am, with an open practice from 11:00 – 1:30pm. Heat Races will start at 2pm with Features at 5:30pm.
This year we once again will utilize My Race Pass for all event Timing and Scoring. All entries, line up, results and live timing will be in the palm of you hand via the My Race Pass app. Scoring of all classes and all races will use the Westhold Corporation Transponders. We will have transponders available for ret at the event for $20.00. You will have to purchase a mounting pouch for the transponder to be placed in while on you race machine.
Registration will also be online thru My Race Pass. You will be able to take advantage of early online registration if completed by 12/24/19 11:59pm. Please click here, https://www.myracepass.com/register/?n=19781&reg=2314 to register and pay for the event. It is strongly recommended that you complete the online registration to save you time the day of the vent and money. Remember when registering online, you must pay the entry fee to complete your entry, if not, it will not be confirmed and will be subject to a late fee if paid after 12/24/19. All youth classes will be required to prove date of birth with a copy of their birth certificate.
All information for the event is available at battleatthebarn.com
We hope to see everyone in January for the Casey's Battle at the Barn XII Presented by Speed Shift TV.
Event Info
Friday January 10th
9:00am Pits Open
1:30pm General Admission Seating Open
1:30pm - 6:00pm Open Practice, All Divisions
6:30pm 1st Round Heat Races
Admission Prices:
Pit Passes
$45.00 Two (2) Day Pit Pass
$25.00 One (1) Day Pit Pass
General Admission Grandstands
$25.00 Two (2) Day Ticket
$10.00 Friday Only Ticket
Kids 8 and Under are free
Saturday January 11th
9:00am Pits Open
11:00am General Admission Seating Open
11:00am - 1:00pm Open Practice, All Divisions
1:30pm 2nd Round Heat Races
5:30pm Feature Events
Admission Prices:
Pit Passes
$25.00 One (1) Day Pit Pass
General Admission Grandstands
$15.00
Kids 8 and Under are free
Times, Classes and Prices are subject to Change
Article Media
Back to News