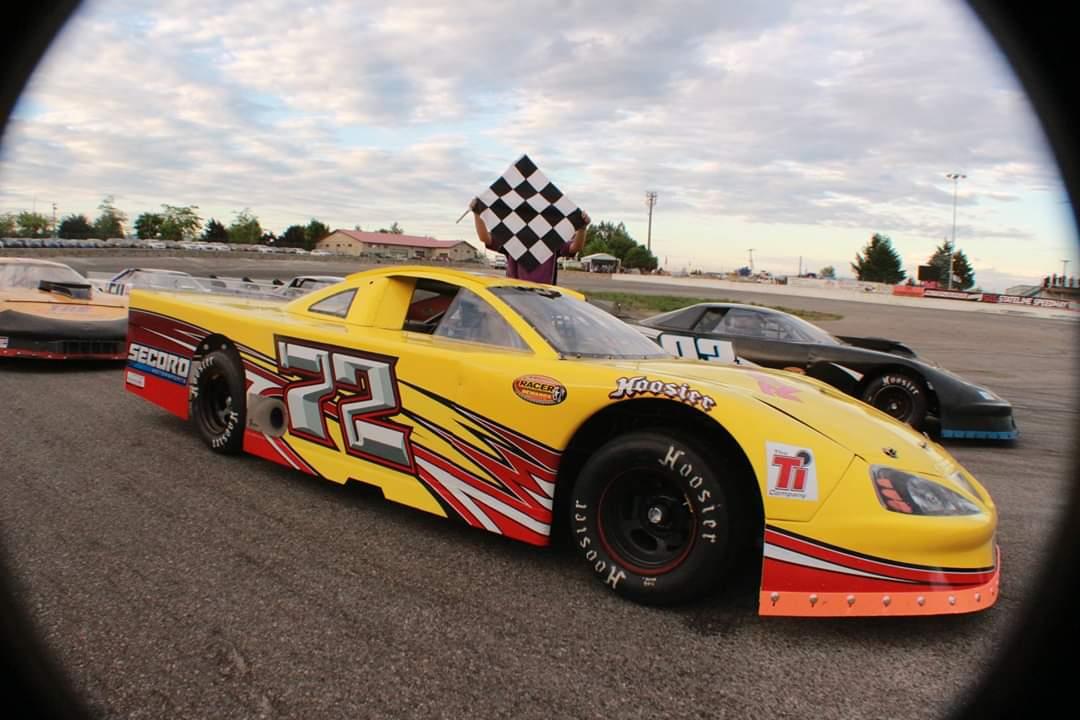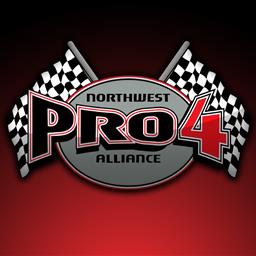 6/18/2019
Northwest Pro4 Alliance
---
Secord Snaps Cold Streak at Stateline
Secord Snaps Cold Streak at Stateline
Seth Blanton
Saturday June 15th, the Northwest Pro4 Alliance stopped at Stateline Speedway for the second race of the season. Seven teams from California, Oregon and Washington made the tow to Post Falls, Idaho for the Lucas Oil Twin 25's.
In qualifying Stayton, Oregon native Joe Bowers put his #55+ car on top of the speed charts. #72 Eddie Secord, #03 Steve Thompson, #4 Brad Morrison and #54 Trace Thompson rounded out the top five.
All seven cars would compete in a 10 lap heat race with rookies #54 Trace Thompson and #69 Cody McDonald falling to the rear. Leading the field to the green flag was an all Moses Lake, Washington front row with Brain Cole starting on the pole, and Morrison to his outside.
On the start, Morrison set sail to the lead, taking Secord with him. Secord would stay hot on the tail of Brad Morrison but never would make the pass on the #4. In victory circle, Morrison noted that he was not sure if he could hold Eddie Secord off for 25 laps.
The first of two 25 lap features had the same starting lineup as the ten lap heat. Just as the heat, Morrison set sails on the lead, taking Secord with him. The one and only yellow would fly only a few laps in, as the #03 of Steve Thompson last power on the track. Thompson was forced to retire his car for the remainder of the race.
Morrison and Secord would battle for the lead on the restart, but Secord quickly got by for the lead. Next to set his sights on Morrison was quick qualifier Joe Bowers. Bowers would get around Morrison, but would not have time to run down Secord. Secord would take the field to the checkered flag.
The second 25 lap feature would be a complete invert from the first 25 lap event. Steve Thompson would start on the poll with Brian Cole to his outside. Before the green, Trace Thompson brought his #54 into the pits with radio issues. Trace would rejoin the field after going laps down.
After retiring early in the first feature, Steve Thompson led all 25 laps of the second main event. Brad Morrison came across the line in second, followed by Secord. After winning the first main event, and third in the second main, Eddie Secord would be crowned the overall winner of the Lucas oil Twin 25's. This would be the first Northwest Pro4 Alliance victory in several years.
Round three of the Northwest Pro4 Alliance Challenge Series will be at the famed Yakima Speedway on July 20th.
---
Article Credit: Seth Blanton
Article Media
Back to News