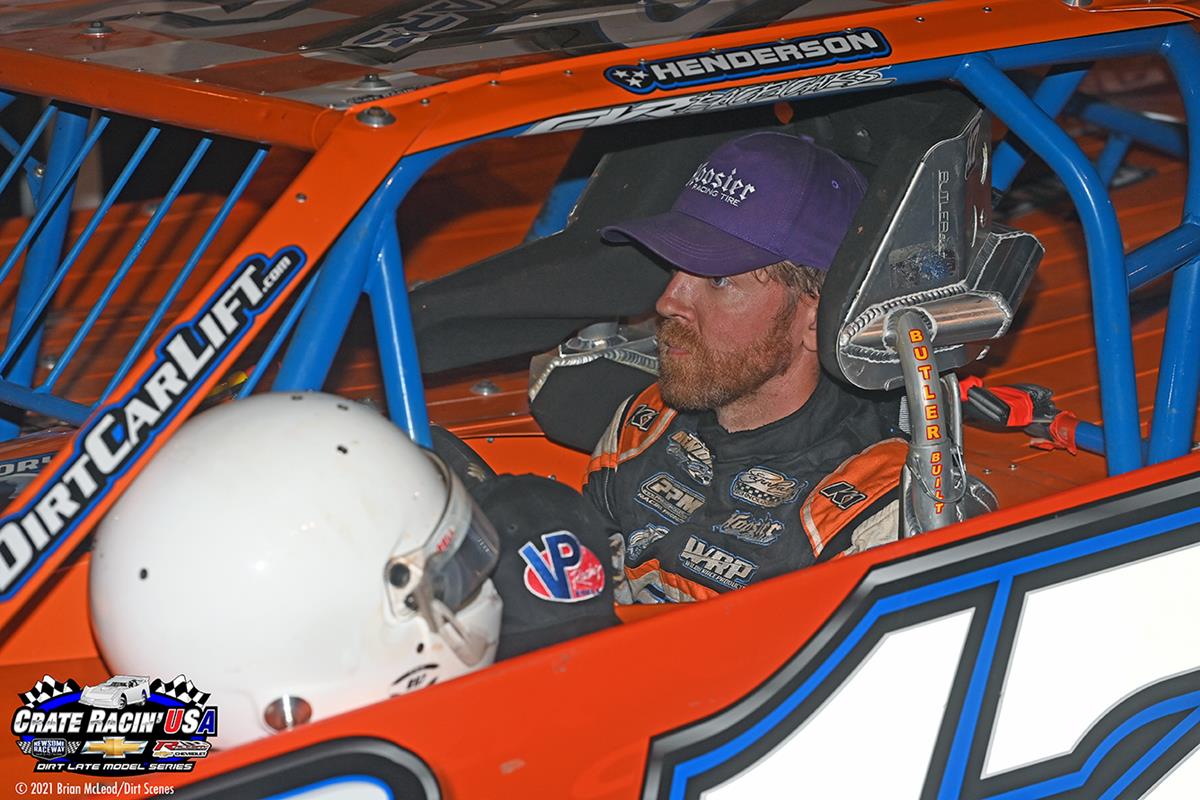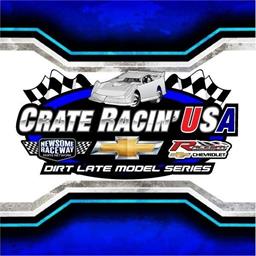 9/4/2021
Crate Racin' USA Dirt Late Model Series
---
Henderson Completes Sweep at North Alabama
TUSCUMBIA, Ala. (Aug. 28) — Three appearances. Three feature starts. Three wins. Those are the impressive statistics that have made Lenoir City, Tenn., driver Matt Henderson the leading winner this season on the Newsome Raceway Parts-sponsored Crate Racin' USA Dirt Late Model Series.
It was news which appeared to surprise the driver of the CVR Race Cars house car after he led every circuit to claim the checkered flag on the second night of the King of Crate weekend doubleheader Saturday night at 3/8-mile North Alabama Speedway. The win was worth $2,500 to Henderson, and marked the third victory on the touring series in which he paced every circuit.
He swept both ends of the annual affair, and was dressed in the traditional bright red and gold "King's Crown" for victory lane ceremonies after pacing Jimmy Thomas, Randall Beckwith, Jadon Frame and Jason Welshan to the stripe at the high-banked facility.
"That's wild," Henderson said when told he was the circuit's leading winner despite not competing with the organization on a regular basis. "It's probably also good for the series to not have a lot of repeat winners besides me. I can't say it's sunk in yet that we've won three races in three starts, but years ago when I'd come to these races, I remember showing up just wanting a small chance to win, let alone to even dream about having a dominant car and winning two in the same weekend."
Including Henderson, eight different drivers have won feature events on the touring series this season. The list also includes Austin Horton, Joseph Joiner, Christian Hanger, Jimmy Thomas, Pearson Lee Williams and Oakley Johns. The only other driver with multiple victories besides Henderson is Wil Herrington, who has visited the winner's circle twice on the regular touring series.
Henderson accomplished his weekend sweep in dominant fashion, leading every lap on both nights. As a matter of fact, all three events he's won on the touring series this year have been flag-to-flag journeys. His first win happened April 23 in the season-opening event at Talladega Short Track in Eastaboga, Ala.
A Great Season Gets Better
Handling the driving chores for two different operations, including a Luke Crass-fielded entry in steelhead Late Model competition, Henderson has won a dozen races across the region and is in the midst of perhaps his finest season. His Chip Vineyard-led CVR Race Cars house car team is cranking on all cylinders, and there's a noticeable level of cameraderie and determination among team members.
"It's probably not set in that we just won two races, but it will after we get home," Henderson said. "We'll meet at the shop, and Chip [Vineyard] and I will talk about where we should have been better. It's usually more detailed when you're running well, because you can end up arguing and discussing the smallest things when you're winning. When you go out there and run a distant fifth, you know you're coming home having to make major changes in your program."
Loss of Brakes No Hindrance
While Henderson's car was clearly the one to beat, the trip to the winner's circle wasn't without its own brand of excitement. Oakley Gillespie's low-groove approach didn't stick on one lap, and his machine went up the track into the left-front corner of Henderson's machine, damaging sheet metal and damaging a brake line, causing the race leader to lose his stopping power while preparing for the critical late-race trips around the high-banked oval.
"It broke a brake line," Henderson said. "Five years ago, I don't win that race. I'd have been too mad. Now I'm a little older and perhaps it's maturity, but I just want to win races. It's just a result of past experience, and if you do enough stupid stuff over the years to cost yourself victories, eventually it teaches you not to do it.
"We had no front brakes, but to be honest I think that might have helped me," Henderson said. "Our car was a little tight, and I think having no brakes freed the car up and probably assisted our situation."
While team members loaded the car in the pit area's dimly-lit pit area, Henderson glanced over at the sheet metal damage on his car.
"Usually when you lead every lap and win the race, your car doesn't look like it's headed for the scrapyard when the night is over," Henderson said. "That's not the case tonight. We'll get that fixed back at the shop, and start looking toward next weekend."
Henderson completed the required distance in his CVR Race Cars entry with support from Stanco Equipment, Vision Wheel, Discount Tire, Bilstein Shocks, R. Stuart Timber, Race Logic Chassis School, KND Safety, Matco Tools by Toomey, Vineyard Enterprises, Crossroads Turf Farm and Hendren Racing Engines.
Coming Next
Facing Henderson and his crew, along with the rest of the competitors on the Adam Stewart-managed touring circuit, will be the $20,000-to-win Chevrolet Performance World Championship scheduled Sept. 3-5 at Cochran (Ga.) Motor Speedway. Last year a whopping 57-car field turned out for the 75-lap contest, and another large gathering of entries is expected for this year's edition.
Henderson was fast qualifier last year, but got involved in a heat race incident with Michael Page, and was never again a major factor in the lucrative event. He's looking forward to another shot at the big prize.
"I never feel bad going anywhere with this very solid team, and I know we'll work all day and night on this car until we pull out of the shop to head to Cochran," Henderson said. "I'm never confident to say we're gonna win, but I always feel like we're prepared no matter where we race. I'm really looking forward to it."
About Crate Racin' USA
The economical Chevrolet Performance 602 and 604 Circle Track Engine is utilized by competitors in the various divisions presented by Crate Racin' USA. It's in stock and available for free, next-day delivery from Newsome Raceway Parts in Hartsville, S.C.
Each engine is built and sealed at the factory to prevent any expensive modifications. To place an order, call 1-877-497-3624.
For more information and rules, visit the organization's website at www.crateracinusa.com, or follow our extensive social media programs on Facebook, Twitter and Instagram.
Newsome Raceway Parts, a division of Raceway Chevrolet in Hartsville, S.C., is the title sponsor of Crate Racin' USA. E-Z-GO Golf Carts is the title sponsor of the newly-established E-Z-GO $100,000+ Challenge.
Chevrolet Performance is an official sponsor of the organization, along with Advanced Laser & Machine, Cruise with the Champions, Hoosier Racing Tire, KRC Power Steering, Knowles Race Parts and Bodies, My Race Pass, VP Racing Fuels and Lubricants and Willy's Carburetors.
Official chassis sponsors include Warrior Race Cars, Rocket Chassis and CVR Race Cars.
King of Crate (Night Two): 1. Matt Henderson, 2. Jimmy Thomas, 3. Randall Beckwith, 4. Jadon Frame, 5. Jason Welshan, 6. Brad Skinner, 7. Bryant Marsh, 8. Bryson Mitchell, 9. Evan Ellis, 10. Shane Stephens, 11. Chase Walls, 12. Jake Knowles, 13. Jesse Lowe, 14. Matthew Brocato, 15. Mike Combs, 16. Tanner Collins, 17. Oakley Gillespie, 18. Mitchell Holloway, 19. Corey Posey, 20. Seth McCormack, 21. Justin McRee, 22. Morgen Lambert, 23. Troy Dixon, 24. Mike Henn.
Current points standings: 1. Jimmy Thomas, 932 points; 2. Jason Welshan, 906; 3. Jake Knowles, 904; 4. Tanner Collins, 884; 5. Mike Combs, 752; 6. Troy Dixon, 684; 7. Colton Leyendecker, 568; 8. T.J. Brittain, 384; 9. Jadon Frame, 372; 10. Brad Skinner, 322; 11. Matt Henderson, 300; 12. Christian Hanger, 281; 13. Jake Rainey, 270; 14. Mark Whitener, 260; 15. Austin Horton, 256; 16. Pearson Lee Williams, 240; 17. Logan Palmer, 236; 18. Wil Herrington, 230; 19. Cody Martin, 228; 20. Heath Carr, 224.
Total entries: 36
Boyd-Bilt Fabrication Fast Qualifier: 14.571 seconds
Lap leaders: Matt Henderson 1-40
Margin of victory: 0.718 seconds
Cautions: 5
KRC Power Steering B-mains: Jesse Lowe, Jason Welshan
---
Article Credit: Brian McLeod
Back to News