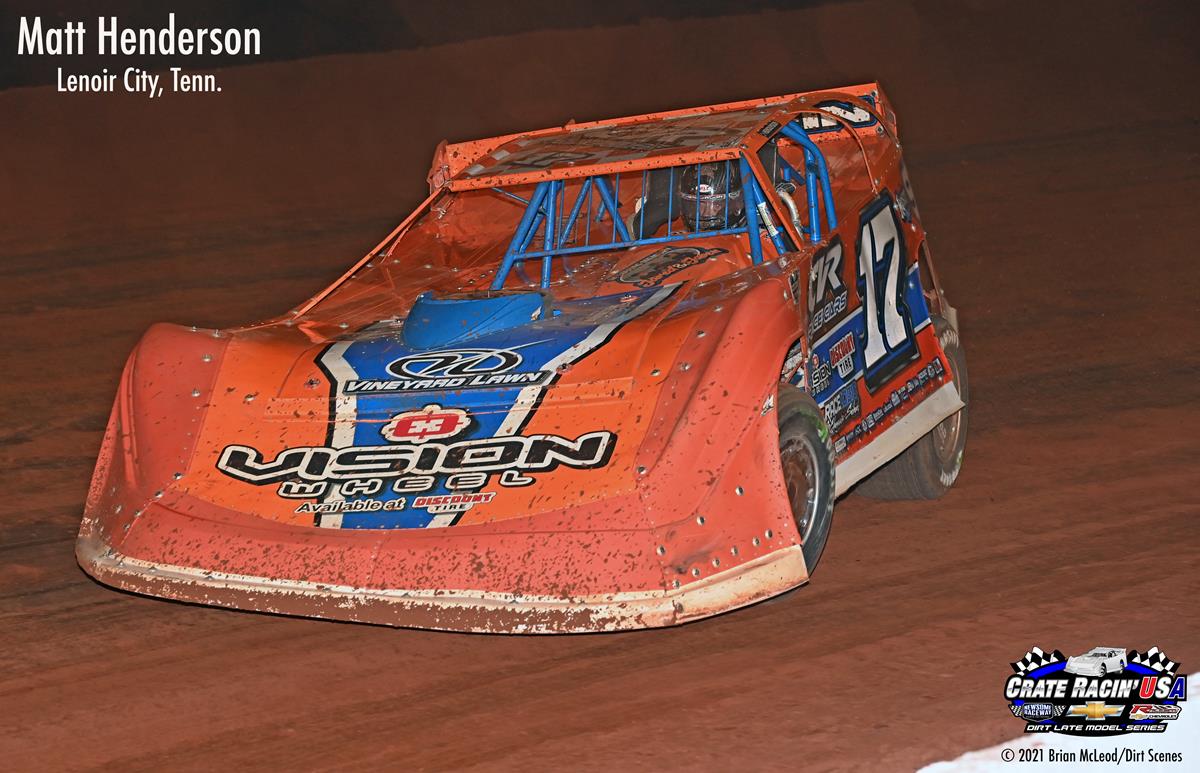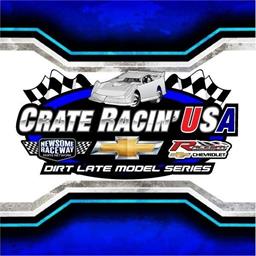 10/1/2021
Crate Racin' USA Dirt Late Model Series
---
Sizzling Henderson Grabs Another at TST
EASTABOGA, Ala. (Oct. 1) — It's a pretty safe bet that Lenoir, Tenn., driver Matt Henderson might look back one day and classify his 2021 racing campaign as a dream season, at least to this point of the 34-year-old driver's successful and still-evolving racing career.
Just to make sure, Henderson tallied his 14th victory of the campaign in various events—including his fifth win on the Newsome Raceway Parts-sponsored Crate Racin' USA Dirt Late Model Series Friday night in a 37-lap event that paid $3,700 to win and opened the two-race Red Farmer Tribute weekend at the high-banked facility. The CVR Race Cars house car juggernaut rolls on, and the Chip Vineyard-directed road show has now claimed five wins in five starts on the Adam Stewart-managed touring series.
Oh, and don't forget that Henderson has also set fast time and led every lap in each of his five appearances on the touring circuit for Chevrolet Performance Circle Track Engines-equipped machines. The popular series is one of the leading organizations amid the nation's Crate Late Model landscape, and Henderson is leading the win column and edging steadily higher in the points standings despite his comparatively low number of starts. He's definitely not a contender for the championship due to missed races earlier in the season, but has accumulated 500 points and sits eighth in the current standings.
"Yeah, I do look at that considering we've started five races and won five races on the tour," Henderson said when asked whether or not he realized that running the full schedule might have placed him at this juncture in the thick of a series points battle that pays $10,000 to its champion. "I couldn't have done it because I promised Luke Crass, who owns the other car I've been driving, that I'd run his steelhead car this season. I committed to that before the end of last year, and that all happened before this ride in the CVR house car. Luke and I have become very good friends while I've been driving for him, and we have enjoyed success together, and I'll never regret the way it's turned out. After tonight, we're seventh or eighth in points on this series with only five starts, so that does make you think about what might have happened had we run the full schedule."
Henderson Led the Distance
Henderson started from the pole and led every circuit at the high-banked track, leaving behind a scattering herd that raced hard for position on a character-laden surface. Several exchanges of position among the top contenders occurred through the night, and side-by-side racing was evident.
Longtime track regular Tim Busha emerged from a sizzling battle with Jimmy Thomas to become the runnerup in his Brent Rhodes-owned machine, and tried the top side during the final nine circuits to pass the race-leading Henderson. He settled for a second-place showing over 13th-place starter Jadon Frame, current series points leader Jimmy Thomas and Josh Adkins.
It was only Busha's sixth race of the season while running a part-time schedule, and he's got just a handful of starts in a crate engine-equipped machine in his career.
"I'm gonna have to race more to get in shape, that's for sure," Busha said. "I felt like we were as good as the leader, but the bottom was dominant and it was wet. We had a really good race for a long time with the No. 22 car [Thomas], but those guys were pulling more gear than me. I tried the outside for a long time, and when the last caution came out I knew I was gonna have to hit the cushion hard for a lap or two if I wanted to get past the No. 22. We raced hard and clean all night, and there was a time or two under caution that we'd roll down the backstretch and we'd be looking over and smiling and giving each other the thumbs-up. He raced me very clean, and it was fun."
Burning Desire, Borrowed Power
Henderson competed in the event after suffering at least second-degree burns on his left arm and hand, producing blisters which made it difficult for him to even don his driver's suit.
"I wasn't even sure I was going to able to wear my gloves," Henderson said, revealing ugly burn blisters on his hand. "It was pretty painful all night. The overflow on the radiator got me in the pit area when we were working on the car, and it's blistered up my wrist pretty bad. I'm gonna go back to the pits and relieve some of the pressure after we finish with tech inspection."
The Lenoir City, Tenn-based team has two engines available, and neither one could be readied in time for the weekend due to recent postrace teardowns after scoring recent victories. Team sponsor Jamie Stanley of Stanco Equipment rescued the group with a motor, and Henderson took it to the winner's circle.
"He [Stanley] gave me a brand new motor to use, so we were running on borrowed horsepower tonight," Henderson said.
The race winner completed the event with sponsorship from Stanco Equipment, Vision Wheel, Discount Tire, Bilstein Shocks, R. Stuart Timber, Race Logic Chassis School, KND Safety, Matco Tools by Toomey, Vineyard Enterprises and Crossroads Turf Farm.
The next event for the touring series is Oct. 2 at the same facility. The second portion of the Red Farmer Tribute weekend will be a 60-lapper paying $6,000 to the winner.
Race Notes: Two races over two nights make up the inaugural Red Farmer Tribute weekend, and the winning purses for the twin events—$3.700 and $6,000— add up to $9,700 to win. Of course, Farmer is well known for his long-time F97 number on the doors of his race cars… Oxford, Ala., driver Jason Hiett drove a car normally piloted by local competitor David Kay… Jadon Frame, who tends to race steadily forward in his frequent appearances with the series, advanced from 13th to third in the 27-car field… Current series points leader Jimmy Thomas has repeatedly stated his team's goal to post top-five finishes in their chase for the series title, and he nabbed another one with a fourth-place showing after reaching as high as second position during the 37-lap distance… Jason Welshan, Jake Knowles and Tanner Collins all showed up with new sheet metal on their cars, and all three were joking around during conversation after the event that it's rarely a good idea to do so coming into a weekend doubleheader at the third-mile track. "I swear I'm not putting no more new sheet metal on my car this year," Welshan said. "I'm gonna bang out the dents in mine every single race for the rest of the year, and what you see sitting there will be what's sitting there for the season finale at Needmore Speedway [in Norman Park, Ga.] when the schedule ends in November," Welshan said. For his part, Knowles paid a sweet tribute to his mother Cindy Dalton Knowles with his new wrap scheme, using a pink and white combination for October's annual Breast Cancer Awareness Month. His mother has been dealing with the disease and has been receiving chemotherapy treatments for close to a year…
Red Farmer Tribute (Night One): 1. Matt Henderson; 2. Tim Busha, 3. Jadon Frame, 4. Jimmy Thomas, 5. Josh Adkins, 6. Jason Welshan, 7. Jason Hiett, 8. Tyler Stevens, 9. Jake Rainey, 10. Dillon Tidmore, 11. Tanner Collins, 12. Mike Combs, 13. Benjamin Cranford, 14. Chase Oliver, 15. Kasey Hall, 16. Monte Skinner, 17. Pete Cochran, 18. Jake Knowles, 19. Troy Dixon, 20. Oakley Gillespie, 21. Sam Seawright, 22. T.J. Brittain, 23. Caden Mullinax, 24. Jimmy Elliott, 25. Jimmy Sharpe, 26. Michael Isbell, 27. Red Farmer.
Crate Racin' USA Dirt Late Model Series (current points): 1. Jimmy Thomas, 1,100 points; 2. Jason Welshan, 1,048; 3. Jake Knowles, 1,046; 4. Tanner Collins, 1,030; 5. Mike Combs, 892; 6. Troy Dixon, 808; 7. Colton Leyendecker, 563; 8. Matt Henderson, 500; 9. Jadon Frame, 466; 10. T.J. Brittain, 440; 11. Jake Rainey, 377; 12. Mark Whitener, 342; 13. Austin Horton, 340; 14. Brad Skinner, 322; 15. Wil Herrington, 320; 16. Christian Hanger, 281; 17. Jimmy Elliott, 272; 18. Trynt Lloyd, 262; 19. Ty Ellis, 254; 20. Heath Carr, 249.
Total entries: 39
Boyd-Bilt Fabrication Fast Qualifier: Matt Henderson, 13.627 seconds
Lap leaders: Matt Henderson 1-37.
Margin of victory: 1.375 seconds
Cautions: 5
KRC Power Steering B-main winners: Josh Adkins, Jimmy Sharpe, Jadon Frame
About Crate Racin' USA
The economical Chevrolet Performance 602 and 604 Circle Track Engine is utilized by competitors in the various divisions presented by Crate Racin' USA. It's in stock and available for free, next-day delivery from Newsome Raceway Parts in Hartsville, S.C.
Each engine is built and sealed at the factory to prevent any expensive modifications. To place an order, call 1-877-497-3624.
For more information and rules, visit the organization's website at www.crateracinusa.com, or follow our extensive social media programs on Facebook, Twitter and Instagram.
Newsome Raceway Parts, a division of Raceway Chevrolet in Hartsville, S.C., is the title sponsor of Crate Racin' USA. E-Z-GO Golf Carts is the title sponsor of the newly-established E-Z-GO $100,000+ Challenge.
Chevrolet Performance is an official sponsor of the organization, along with Advanced Laser & Machine, Cruise with the Champions, Hoosier Racing Tire, KRC Power Steering, Knowles Race Parts and Bodies, My Race Pass, VP Racing Fuels and Lubricants and Willy's Carburetors.
Official chassis sponsors include Warrior Race Cars, Rocket Chassis and CVR Race Cars.
---
Article Credit: Brian McLeod
Back to News