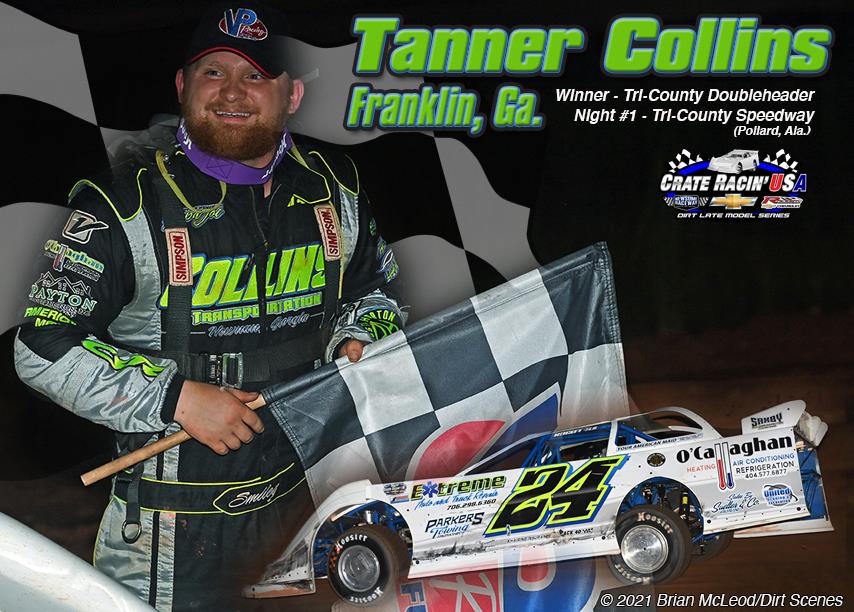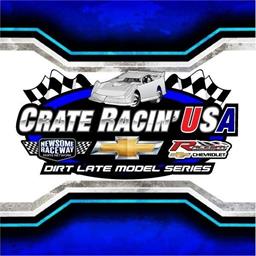 10/9/2021
Crate Racin' USA Dirt Late Model Series
---
Tanner Collins is Tops at Tri County
POLLARD, Ala. (Oct. 8) — Heading into a Newsome Raceway Parts Crate Racin' USA Dirt Late Model Series doubleheader weekend at Tri-County Speedway, Tanner Collins of Franklin, Ga., had never made an appearance at the Chuck Day-owned facility that's located near Flomaton, Ala.
"Never even laid eyes on the place before this weekend, but I'm liking it pretty good right now," he said with a good-natured smile after claiming a $2,500 victory in a 40-lap main event Friday night at the 3/8-mile oval. "It's a track where you run straight off the corner for only a split second, and then you're turning right back down. It's a pretty unique track, and it's round enough that it seems like you're always turning."
Trailing Collins across the stripe in his maiden voyage at the facility were Jimmy Thomas, Stephen Brantley, 13th-place starter Jake Knowles and Jason Welshan.
It was Collins' first victory of the season on the touring circuit, which is managed by Adam Stewart. He claimed his first career win on the series Oct. 3, 2020, at third-mile Talladega Short Track in Eastaboga, Ala., and based on that victory later decided to run the full schedule this year. He's currently the leading competitor for the Rookie of the Year title, and is one of four drivers who's been embroiled in a season-long chase for the $10,000 series championship.
"I've been wanting one of these wins all year long, and we finally got one," Collins said. "We've been qualifying good just about everywhere we go, but then the car has been too freed up come feature time. Tonight the car was on kill all night, from hot laps to qualifying to the main event. It was exactly what we needed, and when we needed it."
Collins, who started from the pole in a 21-car field, turned back a strong effort from third-starting Thomas, who is the current series points leader. Thomas moved into second place in the early laps and was able to issue repeated challenges for the top spot, but a rash of caution flags interrupted his attack.
"The cautions were just killing me," Thomas said. "We were able to get a pretty good run on him [Collins] a few times on the early restarts, but we'd run two or three laps and have another yellow flag. It was hard to keep the momentum we needed, but our car did get a little bit better. We're gonna have to work on it a little bit for tomorrow night's race here, but we weren't very good in hot laps tonight, so it's positive that we improved as much as we did. Just got to keep working on it."
Thomas was a constant factor, and was never more than three to four car lengths behind the leader. He was especially troublesome on restarts, although Collins, who was armed with a new right-rear tire bolted on for the feature, was able to pull away from his challenger by a couple car lengths after two or three laps.
"I knew Jimmy Thomas was there, and he's definitely been fast all season, but I wasn't sure exactly how close he would be," Collins said. "Once the tire came around, our car had a lot more traction nearing the end of the race, but I could feel Jimmy [Thomas] was right there with me, and I'd get a little nervous. I tried to drive as hard as I possibly could to keep him behind us."
Collins wheeled a Rocket XR1 with sponsorship from Extreme Auto & Truck Repair, Nutt Roofing, Plant Wasted, Payton Construction, O'Callaghan's Heating & Air Conditioning, Platinum Towing & Recovery, Parker's Towing, Walley Home Service, Janney Custom Homes, Your American Maid, Saxly Building Inspection, Austin Horton Speed Shop and United Grading & Excavating, among several others.
The touring series will complete its two-race weekend at the facility with a 50-lap event Oct. 9, which will pay $3,000 to the winner.
RACE NOTES: The semi-banked oval is a uniquely-shaped facility that most drivers say requires more turning than most racetracks, and the absence of long straightaways keeps competitors on their toes. "You're always looking left with your head turned in that direction, and it's just a different feeling than most places," said Odenville, Ala., driver Mike Combs, who is listed fifth in the current series points standings. "A lot of tracks you come off the corner and look straight ahead as you're going down the straightaway, but here it's just for a quick moment, and then you're having to turn the car left again. There isn't much straightaway. It feels a little weird, and it takes some time to get used to it."… The track was built by Chuck Day and his crew, and his son Isaiah Day remembers the phone call that notified him that his father had decided to build a dirt track. "My Dad owned this land, and it's a 38-acre tract of property," the younger Day said. "He called me one day and said 'Hey, we're fixin' to build a racetrack.' There was a gully on the property, and I came over here and he was sitting on a grader and riding in circles around that gully. That's how he designed the original shape of this place." The relatively new track has been reconfigured since it was first built, and is now approximately 20 feet wider and 70 feet longer on each end, measuring somewhere between a quarter-mile and 3/8-mile in length. "We've changed it up and did a lot of grader work on it over last winter to enlarge it a little bit, and we really haven't measured it again," Day said… Long-time asphalt competitor Jeremy Pate made his first-career start on dirt, kicking off a "new" career. He got involved in a multicar melee between turns three and four, and was listed 18th. Pate was a teenager when he started racing on a regular basis at paved tracks in the Florida Panhandle region, including Five Flags Speedway in Pensacola, Fla. He's now 44 years old, and racing-related friendships with both Bubba Pollard and Hunt the Front's Joseph Joiner has him contemplating a foray into dirt racing. "It's the first time since the 90s that I've been a rookie," Pate said, laughing. "Bubba [Pollard]…I've known him for years from pavement racing, and his family now operates Senoia (Ga.) Raceway. Joseph [Joiner] drove my Outlaw Stock earlier this season on pavement at Five Flags, and now they're all telling me I should go dirt racing. We are looking at the Crate Racin' USA organization pretty closely as a possible place to do some racing on dirt. Asked about the extent of his experience on dirt ovals, the personable driver smiled again: "Experience? Well, I drove this car in the yard before we loaded it in the trailer this morning. And I do have a small dirt track we built in my backyard for go-karts. Does that count?"… Local competitor Stephen Brantley started fourth on the grid and was able to issue a challenge for the lead on the high side during the earlier stages. He also engaged Jimmy Thomas in a side-by-side duel for the second spot at various stages on restarts. He never could make the outside maneuvers stick. "Had I realized I had third covered on them restarts, I might have moved to the top and stayed there a little while longer," Brantley said. "Maybe if I'd driven in a little deeper and a little straighter, we could have made it work. Our car was a little snug on the bottom, so we're going to have to work on it a little bit before tomorrow night's race."… New Orleans, La., driver Benny Boudreaux made an unexpected appearance in a national touring series event, and has previously been mostly inactive this season. "I think we've raced only one time in a weekly show at Whynot Motorsports Park near Meridian, Miss.," he said… Shannon Martin and Bailey Martin both competed in the 40-lapper. The father/son duo competes on a regular basis at the track. The younger Martin is a fourth-year Late Model driver who competes on a weekly basis at the 3-year-old speedplant in a Rocket XR1 entry fielded by track owner Chuck Day… Jake Knowles improved nine positions in the feature event after starting 13th in a 21-car field…
Tri-County Speedway (Night One): 1. Tanner Collins, 2. Jimmy Thomas, 3. Stephen Brantley, 4. Jake Knowles, 5. Jason Welshan, 6. J.C. Wilson, 7. Monte Skinner, 8. Steven Jernigan, 9. Austin Franklin, 10. D.G. Hawkins, 11. Mike Combs, 12. Troy Dixon, 13. Josh Huss, 14. Isaiah Day, 15. Bo Slay, 16. Benny Boudreaux, 17. Bailey Martin, 18. Jeremy Pate, 19. Parker Bell, 20. Ken Cartwright, 21. Shannon Martin.
Crate Racin' USA Dirt Late Model Series (current points): 1. Jimmy Thomas, 1,296 points; 2. Jake Knowles, 1,234; 3. Jason Welshan, 1,232; 4. Tanner Collins, 1,212; 5. Mike Combs, 1,034; 6. Troy Dixon, 960; 7. Colton Leyendecker, 563; 8. Matt Henderson, 525; 9. Jadon Frame, 524; 10. T.J. Brittain, 440; 11. Jake Rainey, 402; 12. Mark Whitener, 342; 13. Austin Horton, 340; 14. Jimmy Elliott, 334; 15. Brad Skinner, 322; 16. Wil Herrington, 320; 17. Christian Hanger, 281; 18. Sterling Freeman, 271; 19. Trynt Lloyd, 262; 20. Cruz Skinner, 260.
Total entries: 21
Boyd-Bilt Fabrication Fast Qualifier: Tanner Collins, 13.828 seconds
Lap leaders: Tanner Collins 1-40.
Margin of victory: 0.983 seconds
Cautions: 7
About Crate Racin' USA
The economical Chevrolet Performance 602 and 604 Circle Track Engine is utilized by competitors in the various divisions presented by Crate Racin' USA. It's in stock and available for free, next-day delivery from Newsome Raceway Parts in Hartsville, S.C.
Each engine is built and sealed at the factory to prevent any expensive modifications. To place an order, call 1-877-497-3624.
For more information and rules, visit the organization's website at www.crateracinusa.com, or follow our extensive social media programs on Facebook, Twitter and Instagram.
Newsome Raceway Parts, a division of Raceway Chevrolet in Hartsville, S.C., is the title sponsor of Crate Racin' USA. E-Z-GO Golf Carts is the title sponsor of the newly-established E-Z-GO $100,000+ Challenge.
Chevrolet Performance is an official sponsor of the organization, along with Advanced Laser & Machine, Cruise with the Champions, Hoosier Racing Tire, KRC Power Steering, Knowles Race Parts and Bodies, My Race Pass, VP Racing Fuels and Lubricants and Willy's Carburetors.
Official chassis sponsors include Warrior Race Cars, Rocket Chassis and CVR Race Cars.
---
Article Credit: Brian McLeod
Back to News