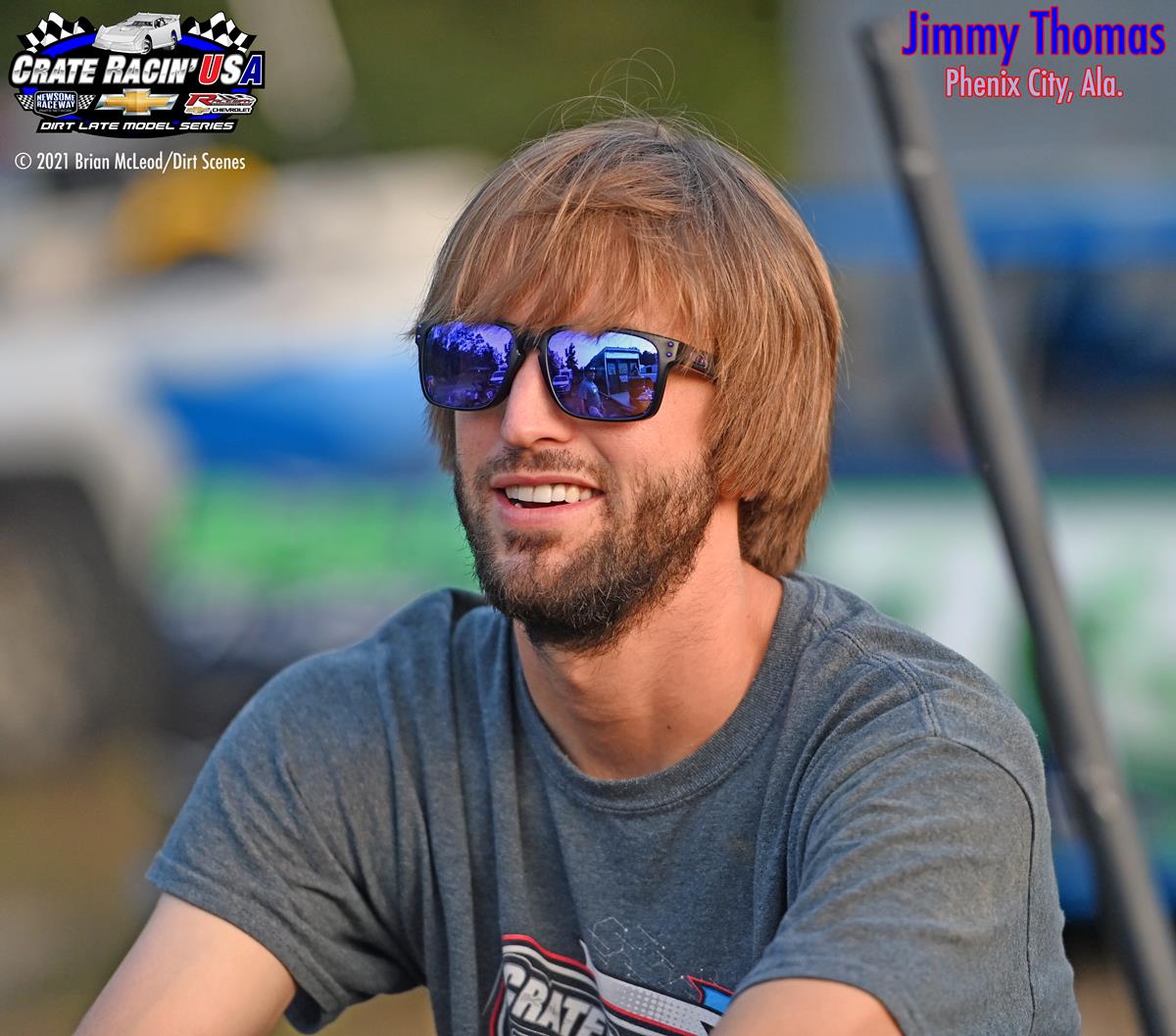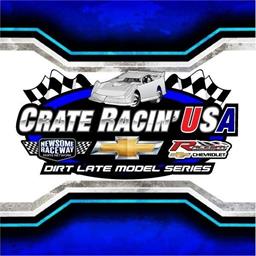 10/15/2021
Crate Racin' USA Dirt Late Model Series
---
Thomas Gets Third Series Win in Tri-County Main
POLLARD, Ala. (Oct. 9) — The Newsome Raceway Parts-sponsored Crate Racin' USA Dirt Late Model Series campaign is winding toward its conclusion with five races remaining on the schedule, and Jimmy Thomas has taken direct aim on the touring circuit's $10,000 championship with his third victory of the season in a 50-lap event Saturday night at Tri-County Speedway.
The Phenix City, Ala., driver earned $3,000 for a green-to-checkered win over a 21-car field after taking the point on the high side from pole position starter Tanner Collins during an early duel for the top spot among the two front-row starters. Thomas' car held enough grip on the top side, and he was able to complete the pass on the opening circuit en route to the winner's circle.
Thomas went on to secure the victory over Stephen Brantley, Jason Welshan, Collins and Bo Slay. Collins, who was the event's fast qualifier with a lap clocked at 13.756 seconds, fell back to fifth at one point, but was able to sneak past Slay to nab fourth during the late stages in a race that was slowed four times by caution flags.
Thomas appears to have found his stride during the stretch run of the season, having won two of the past three events on the tour. His team is focused, and he's slightly pulling away in a four-way points battle for the $10,000 series championship involving fellow competitors Jason Welshan, Jake Knowles and Tanner Collins. Just 92 points separate the top four in the standings.
"I feel like our team is 100 percent focused right now," Thomas said. "You have to be when you're racing for a championship and you've got a points lead. We always focus on presenting a good, professional image, but you absolutely have to stay focused when you're leading the points. There's very little margin for error at this point of the season. I think our team's approach comes from being involved in a racing family. I've been raised in that atmosphere, and I think that has helped me a lot."
Once out front, Thomas made very few mistakes. He used the top side early, emerging as the leader from a side-by-side battle with Collins on the opening circuit, and led the rest of the way as the final 38 circuits were completed without interruption.
"The car was off in hot laps, and we threw the fence at it and finally come up with what we needed to find," Thomas said. "The driver probably left a lot out there in time trials, but after the last hot lap session we had before the feature, I knew we had a car to beat. I knew we had something the way the car would hammer the top."
While Thomas commanded the top spot through the middle stages, third-starting Brantley never disappeared from the leader's pace, and held tight to the second spot about three to four car lengths behind the leader. Thomas pulled slightly away after clearing lapped traffic in the closing stages, and crossed the stripe 1.107 seconds ahead of Brantley.
"I'd like to have finished one spot better, but it feels absolutely good to finish that close to the national points leader [Thomas]," Brantley said. "He didn't drive off from me, and I'm just glad to finish second to him. Our car has been a little bit tight come feature time here lately, but the track changed a little bit tonight and the car came to me."
The race drew 21 entries, many of them based in the local region. Brantley is among that collection of drivers who compete with the Crate Racin' USA Weekly Racing Series, and felt the opportunity to participate in a national touring event provided a measuring stick for his team's efforts. A member of the Air National Guard, Brantley has to select his best spots for racing.
"I usually run right here at this track during their weekly shows, but my schedule has to be a pick-and-choose situation due to my schedule with the National Guard," he said. "Unless you can run your car every single weekend, you don't know how you size up. Races like this one gives us a chance to see how we size up against the national touring drivers."
A single heat race was held, while the top 10 qualifiers were locked into the main event. Monte Skinner of Saraland, Ala., claimed the checkered flag in the heat.
Thomas completed the required distance in a Scorpion Race Cars-chassied machine that carried sponsorship from Five Star Chrysler Dodge, High Roller Recovery, Sugar Land and Wimmer's Wrecker Service.
Next Events
The touring series will now head to Boothill Speedway in Greenwood, La., for the inaugural Battle at Boothill that was rained out earlier this season, and rescheduled to Oct. 14-16. A practice session will be held on Thursday, followed by time trials and heat races on Friday night. All B-mains and the 60-lap main event will be contested on Saturday.
The race offers $10,000 to the winner, and is also part of the inaugural season for the E-Z-GO $100,000 + Challenge, which is separate from the regular touring series and offers $5,000 to its overall champion.
Also remaining on the E-Z-GO slate is a Nov. 5-6 event at Magnolia Motor Speedway in Columbus, Miss., along with the Nov. 19 portion of the Earlybird doubleheader weekend at Needmore Speedway in Norman Park, Ga., which will close out the season for the Eastaboga, Ala-based sanctioning organization.
RACE NOTES: Four drivers [Jimmy Thomas, Jason Welshan, Tanner Collins and Jake Knowles) who've been battling all season for the series championship finished in the top six at the conclusion of the 50-lapper… Fast qualifier Tanner Collins couldn't find the necessary traction on the top side, and faded to fifth after getting hung out on an early restart. He also gave up the top spot to eventual winner Jimmy Thomas during a first-lap battle for the position. "My right-rear tire wouldn't fire off at the start of the race, and Jimmy [Thomas] was pretty good up there on the high side," Collins said. "The top just wasn't there for us tonight. Everyone blows the marbles up there, and you can't get any traction."… Shannon Martin arrived early at driver registration both days due to his duties as an employee for track owner Chuck Day. Martin was responsible for watering the track surface, among other tasks… Bo Slay's top-five finish was accomplished despite some sheet metal damage received after contact with an infield tractor tire… Steven Jernigan ran near the leaders during the earlier stages of the first night's feature, but got shoved off the track and broke his car's left-front A-frame in the process. "The car wasn't no good after that, but it was running pretty well before that happened," Jernigan said. He made repairs and returned the next night to post an eighth-place finish in the weekend-closing event… Monte Skinner's two weekend appearances boosted him into the top 20 in the series points standings… Rome, Ga., driver Jake Knowles posted a sixth-place finish, and wasn't overly happy with his results. He attributed his car's performance to a lack of experience at the facility. We've never been to this track before this weekend, and that makes it harder to know what's wrong," Knowles said. "We're just off on something right now. We were decent last weekend [at Talladega Short Track in Eastaboga, Ala.], and we were decent last night, but not so good tonight. I guess we just missed it."…
Tri-County Speedway (Night Two): 1. Jimmy Thomas, 2. Stephen Brantley, 3. Jason Welshan, 4. Tanner Collins, 5. Bo Slay, 6. Jake Knowles, 7. J.C. Wilson, 8. Steven Jernigan, 9. Parker Bell, 10. Josh Huss, 11. Jeremy Pate, 12. Isaiah Day, 13. Mike Combs, 14. Troy Dixon, 15. Shannon Martin, 16. Bailey Martin, 17. Hayden Franklin, 18. Monte Skinner, 19. Benny Boudreaux, 20. Shep Lucas, 21. D.G. Hawkins.
Crate Racin' USA Dirt Late Model Series (current points): 1. Jimmy Thomas, 1,396 points; 2. Jason Welshan, 1,326; 3. Jake Knowles, 1,322; 4. Tanner Collins, 1,304; 5. Mike Combs, 1,108; 6. Troy Dixon, 1,032; 7. Colton Leyendecker, 563; 8. Matt Henderson, 525; 9. Jadon Frame, 524; 10. T.J. Brittain, 440; 11. Jake Rainey, 402; 12. Mark Whitener, 342; 13. Austin Horton, 340; 14. Jimmy Elliott, 334; 15. Brad Skinner, 322; 16. Wil Herrington, 320; 17. Monte Skinner, 296; 18. Christian Hanger, 281; 19. Sterling Freeman, 271; 20. Trynt Lloyd, 262.
Total entries: 21
Fast Qualifier: Tanner Collins, 13.756 seconds
Lap leaders: Thomas 1-50.
Margin of victory: 1.107 seconds
Cautions: 4
About Crate Racin' USA
The economical Chevrolet Performance 602 and 604 Circle Track Engine is utilized by competitors in the various divisions presented by Crate Racin' USA. It's in stock and available for free, next-day delivery from Newsome Raceway Parts in Hartsville, S.C.
Each engine is built and sealed at the factory to prevent any expensive modifications. To place an order, call 1-877-497-3624.
For more information and rules, visit the organization's website at www.crateracinusa.com, or follow our extensive social media programs on Facebook, Twitter and Instagram.
Newsome Raceway Parts, a division of Raceway Chevrolet in Hartsville, S.C., is the title sponsor of Crate Racin' USA. E-Z-GO Golf Carts is the title sponsor of the newly-established E-Z-GO $100,000+ Challenge.
Chevrolet Performance is an official sponsor of the organization, along with Advanced Laser & Machine, Cruise with the Champions, Hoosier Racing Tire, KRC Power Steering, Knowles Race Parts and Bodies, My Race Pass, VP Racing Fuels and Lubricants and Willy's Carburetors.
Official chassis sponsors include Warrior Race Cars, Rocket Chassis and CVR Race Cars.
---
Article Credit: Brian McLeod
Back to News