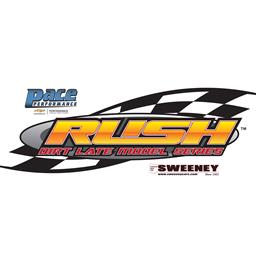 7/16/2021
RUSH Late Model Series
---
MIKE EPLER WINS HIS 1ST CAREER PACE RUSH LATE MODEL RACE AT THE HILL; BREYTON SANTEE WINS 1ST OF 2021 IN RUSH LATE MODELS AT RACEWAY 7; KOLE HOLDEN V
MIKE EPLER WINS HIS 1ST CAREER PACE RUSH LATE MODEL RACE AT THE HILL; BREYTON SANTEE WINS 1ST OF 2021 IN RUSH LATE MODELS AT RACEWAY 7; KOLE HOLDEN VICTORIOUS FOR THE 1ST TIME IN 2021 IN RUSH SPORTSMAN MODS AT PITTSBURGH
By Marcie Barlow
July 16, 2021 FOR IMMEDIATE RELEASE
(Pulaski, PA)...It was a busy weekend for Pace Performance RUSH Racing Series together with Sweeney Chevrolet Buick GMC competitors as the Late Models, Sportsman Modifieds, Pro Mods, Stock Cars, and Karting Series were all in action. Jeremy Wonderling victory at McKean County Raceway closed him to within one-point of Kyle Hardy in the Pace National Weekly Series Championship, while Mike Epler picked up his first ever RUSH victory at The Hill Speedway. Breyton Santee was also able to pick up his first win of 2021 in the RUSH Late Models at Raceway 7. Kole Holden was able to break into victory lane for the first time this season in the RUSH Sportsman Modified action.
The Pace Performance RUSH Late Models competed at Ransomville Speedway for the first time since 2019 as part of "The Ones That Left Us To Early 30" event put together by RUSH racer T.J. Downs in memory of his mother on Friday night.
Paul Grigsby and Austin Allen led the field to the green; however, a crash involving seven competitors slowed the action. Allen took the lead when the action resumed with David Pangrazio in second and Steve Dixon in third. Pangrazio and Dixon both got by Allen on lap three. Pangrazio hit lapped traffic on the 11th circuit, which allowed him to pull away from Dixon. On a lap 19 restart Dixon got by Pangrazio on the high side of the track and took over the top spot. Just one lap later Pangrazio would bring out the caution when he hit the turn one wall and retired to the pits. Dixon went on to lead the remainder of the event to score the $1,500 paycheck- his second overall RUSH Late Model win of 2021. Dusty Waters, Jon Rivers, Jeremy Wonderling and Paul Grigsby completed the top five.
Second year competitor Mike Epler visited victory lane for the first time in his career last Friday evening at The Hill Speedway. Epler led the 20-lap main event from start to finish to score the win over Jared Keeney, Darin Horton, Joe Lane and Steve LeBarron.
Pace Performance RUSH racing action at Raceway 7 saw the Late Models and Sportsman Modifieds in action. Breyton Santee and Matt Latta raced side-by-side for the first five laps of the Late Model main event until a lap five caution flew for a competitor, who had slowed in front of the duo; Santee was able to clear the slower moving vehicle but Latta was not. Latta clipped the competitor and also hit the front stretch wall to bring out the caution. Santee went on to lead the remainder of the event and held on to a 5.015 second advantage at the checkered flag. Billy Henry, Cory Sines, Jim Rasey and Steve Hollabaugh completed the top five.
Kyle Martell and Ayden Cipriano led the season high 19-car field of RUSH Sportsman Modifieds to the green, but it didn't take long for fourth place starter Chas Wolbert to claim the top spot. While Wolbert continued to lead, veteran Garrett Krummert overtook Martell for the second spot as lap six was completed. At the halfway mark it was Wolbert with a 1.395 second advantage over Krummert. Wolbert weathered one final caution and went on to score his second victory of the 2021 season at the Conneaut OH oval. Krummert came home in the runner-up position with Martell, Justin Shea, and Rob Kristyak completing the top five.
Joe Martin scored his third Pace Performance RUSH Late Model feature win Friday evening at Dog Hollow Speedway. Martin jumped into the lead at the start, weathered early challenges by Noah Brunell and Michael Duritsky, Jr. and two cautions later in the main event to claim the win. Duritsky was second followed by Joe Moyer, who came from the tail after an early race spin, in third. Brunell and Greg Carrico finished fourth and fifth respectively.
On Saturday night, the Pace Performance RUSH Late Models and Pro Mods were in action at the McKean County Raceway. Jeremy Wonderling and Kurt Stebbins led the 19-car field to the green. Wonderling led the first circuit but was soon challenged by Steve Dixon by lap three. At the halfway point it was Wonderling leading with Dixon, Dusty Waters, John Waters, and Austin Houser following in positions two through five. With five to go, the lapped car of Eddie Coast got sideways and made contact with Wonderling; which gave Dixon one final opportunity to challenge for the lead. Wonderling held on and went on to score his second MCR victory in two tries this season. Dixon settled for second with John Waters finishing third. Jason Knowles and Houser completed the top five.
Veteran Dennis Lunger, Jr. weathered several cautions to pick up the victory in the RUSH Pro Mod main event. Lunger bested Adam Ashcroft, CJ Irons, Critter Hemphill and Al Brewer for his second MCR win in as many races and sixth overall of 2021.
After three consecutive rainouts, the Delaware International Speedway was finally able to get an event in on Saturday evening. Derek Magee and Matt Hill lead the field to the green with Nick Davis and Joe Warren battling for the third and fourth spots. Hill claimed the top spot on lap six but the caution flag soon came out and provided Magee with the opportunity he needed to reclaim the top spot. A final caution on lap 12 tightened up the field but Magee was unable to wrestle the top spot away from Hill, who went on to score his first victory of the season at DIS. Magee, Davis, Trevor Collins and Warren rounded out the top five.
Pittsburgh's Pennsylvania Motor Speedway hosted both the Pace Performance RUSH Late Models and the RUSH Sportsman Modifieds Saturday night. In Late Model action Logan Zarin took the lead on lap five and went on to score a 1.373 second victory over Daryl Charlier for his first win of 2021. Zach Morrow, Zach Gunn and Ben Policz rounded out the top five.
Youngster Kole Holden was the victor in the 15-lap Sportsman Modified main event for his first win of 2021. Holden won by 0.457 seconds over Hovis Auto & Truck Supply Weekly Series points leader Justin Shea, Tony Tatgenhorst, and teenagers Ben Easler and Ayden Cipriani.
Fulton Speedway was also in action Saturday evening. Sean Beardsley took the lead when the Pace Performance RUSH Late Model main event got underway. By lap five, Beardsley had a straightaway lead while Kevan Cook, Chris Fleming, Harry Halliday and Chad Homan battled for spots two through five. Beardsley went on to score his first RUSH win since June 9, 2018 at Fulton. Fleming finished in second. Homan took the third position over Cook. Halliday was fifth in his first race since 2019.
The lone Pace RUSH Stock Car event took place at Dog Hollow Speedway Friday evening. Jeremy Zufall score his third consecutive and fourth overall win of the season over Bob Torquato.
Winners in RUSH Karting action at the Stateline Speedway this week were: RUSH Rookie: Bexley Smith; Junior #1: Ryan Chase; Junior #2: Julian Hultin; RUSH Adult: Nate Dickerson.
Mother Nature scored the win in Pace Performance RUSH weekly action at Eriez Speedway on Sunday. In addition, the RUSH Sprint Car event scheduled at Sharon Speedway as part of the Justin Snyder's "Support To The Troops" event on Sunday, July 11 was rained out. The RUSH Pro Mod event that was scheduled for Thursday, July 8 at Genesee Speedway was rained out.
Potomac Speedway was closed last week and racers at the Stateline Speedway, Genesee Speedway and Bradford Speedway also enjoyed a night off. The RUSH Late Models also had the evening off at Woodhull Raceway and Winchester Speedway.
The Pace Performance RUSH Sportsman Modified Series will begin their racing at Expo Speedway on Thursday. This event is the 2021 kickoff of the Hovis Auto & Truck Supply Touring Series and will pay $800 to win. On Friday RUSH Sportsman Modified competitors will be in action at Lernerville Speedway and on Saturday they will be in completion at Sharon Speedway.
On Saturday, the Pace Performance RUSH Late Model Touring Series sponsored by Flynn's Tire and Born2Run Lubricants will compete at the Sharon Speedway in the inaugural "Bill Forney Memorial". The main event will pay $3,199 to win. The RUSH Sprint Cars and Sportsman Modifieds are also on the card. The RUSH Sprints will then run their third Tri-City Raceway Park race of the season on Sunday night.
Weekly Pace Performance RUSH Late Model action is scheduled for Raceway 7, Dog Hollow Speedway, The Hill Speedway and Potomac Speedway this Friday night. Saturday night weekly action continues at Delaware International Raceway, Fulton Speedway, Genesee Speedway, Pittsburgh's Pennsylvania Motor Speedway, Stateline Speedway, Winchester Speedway and Woodhull Raceway. Bradford Speedway will be in action both on Thursday and Sunday evening with the RUSH Late Models and the RUSH Pro Mods. The Pace Performance RUSH Late Models will have the night off at Eriez Speedway.
RUSH Racing Series is brought to you by Pace Performance together with Sweeney Chevrolet Buick GMC along with the support of Hoosier Tire, Bilstein Shocks, Sunoco Race Fuels, Bazell Race Fuels, Insinger Performance, MSD Performance, Holley Performance Products, Hovis Auto & Truck Supply, Born2Run Lubricants, Flynn's Tire & Auto Service, FK Rod Ends, Schoenfeld Headers, Jones Racing Products, TBM Brakes, Performance Bodies & Parts, Racing Electronics, Wrisco Industries, Frankland Racing Supply, Landrum Performance Spring, Ontime Body & Graphic, Zarin Truck & Automotive, Sherwood Wheels, Alternative Power Sources, Precise Racing Products, Stop-Fyre, Lincoln Electric, Velocita-USA, Waterstone Mortgage Hermitage, CrateInsider.com, and Wedge Motorsports.
E-mail can be sent to the RUSH Racing Series at info@rushracingseries.com and snail mail to 4368 Route 422, Pulaski, PA 16143. Office phone is 724-964-9300. The RUSH Racing Series website is www.rushracingseries.com. Like our various Facebook page and Twitter accounts by searching for the appropriate divisions.
---
Article Credit: Marcie Barlow
Submitted By: Mike Leone
Back to News