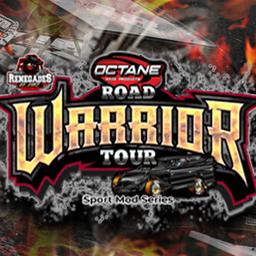 The Road Warrior Sport Mod Tour
Series Information
About The Road Warrior Tour!
The 2021 Road Warrior Sport Mod Series is a working alliance among Mid-Ohio Valley area race tracks to raise purse, marketing and stand on a solid set of rules for the Sport Mod division. The goal is to increase exposure for the drivers among the division while maintaining a family first and competitive racing series.
The Road Warrior Tour is governed by its member tracks, not any one individual. Its sole purpose it to provide a spotlighted stage for the Sport Mod division. The Road Warrior Tour allows each track to handle their own event 100%; Including procedures, format, technical inspection and payout.
The Road Warrior Tour will follow a mandated & area adopted rule-book which is the same as current area sport mod rules at its member tracks. Racers will compete at their discretion and member racers will receive points for show-up and feature results accordingly. As the end of the season a points fund will be awarded as well as contingencies from series sponsors and tour trophies.
The series has been established for the racers to received added money, support, recognition and fun. Anyone competing or behaving outside the intent of the series and its rules will be removed from competition and/or suspended from competing with the RWT in the future.