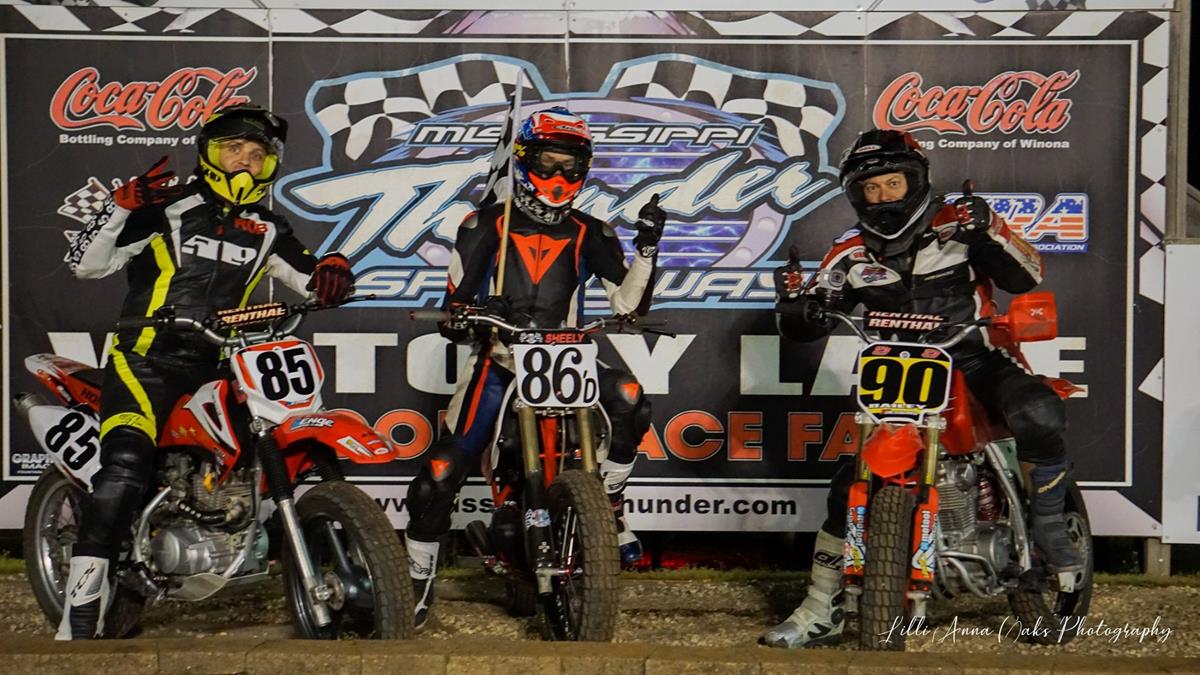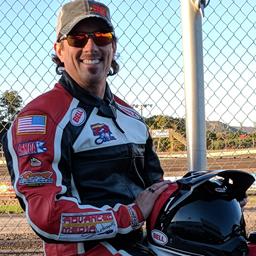 ---
SHAWN SHEELY SHINES AT INAUGURAL OUTLAW MADDOG $ERIES RACE
Mississippi Thunder Wings & Karts Summer Series Welcomes Flat Track Cycles
By 2020 MADDOG $ERIES Reporter
FOUNTAIN CITY, WI (Saturday May 30, 2020) – Minneapolis speedster Shawn Sheely stepped across the Mighty Mississippi and brought with him all the speed for which he's become know. As the defending 2019 A.M.A. District 23 (State of Minnesota) Maddog Champion, the competition knew they had their work cut out for them if they were to unseat the current Champ; but Sheely was ready for every challenge and turned in an absolutely flawless performance to win the opening round of the MTS 2020 MADDOG $ERIES presented by Advanced Media Solutions!
Despite tense times in the metro area of MN, seven racers from the west side of the Mississippi River joined a sole Wisconsin representative to provide some entertaining Maddog Motorcycle action during the Mississippi Thunder Wings & Karts Summer Series program. Competition on the lightning-fast LIGHTNING SPEEDWAY provided fans with the opportunity to watch four qualifying heat races and the all-important Main event; by the time the checkered flag had waived to wrap up the night, Sheely was heading home with the winner's bounty money compliments of his clean-sweep – winning both of his heat races and the 12-lap main.
"This has got to me one of my favorite tracks for the Maddog," smiled Sheely after the main event win, "It's a quick little track and had some fun challenges tonight!"
The main event opened with father-son duo Dan and Zach Bailey entering turn one side-by-side in a battle for the first Main Event 'holeshot' of the series. The outside line for Zach's Honda was a bit quicker, giving him the official 'HoleShot Award' and as Dan's #90 slipped slightly on the dry-slick down low, Sheely seized the opportunity and wedged his #86'D between the two family members as second heat-race winner Robert Pretts pulled his #85 to the extreme outside giving the fans a four-wide battle for the lead out of turn two!
Sheely completed the pass for the lead on the back straight while Pretts and fourth heat-race winner D. Bailey spent the remainder of the 12-lap main battling side-by-side for second. "I made gearing changes to the bike after every single session," explained Pretts after his eventual third place finish, "after hot laps, my first heat and my second heat. Got better all night long."
North Mankato, MN's Adam Schmidt worked past the younger Bailey for an eventual fourth place finish, just one spot off the podium. Bailey, Mark Toso, Matt Johnson, & Trisha Dahl completed the field.
The MTS 2020 MADDOG $ERIES presented by Advanced Media Solutions returns to the MTS LIGHTNIGHT SPEEDWAY for Round #2 of the 8 race series on Saturday June 6th followed by Round #3 on Saturday June 13th before heading to The FLYING DUTCHMEN'S MOTORCYCLE CLUB 3/8-Mile Oval for District 23 action on June 20th & 21st!
---
RESULTS – May 30, 2020
2020 MADDOG $ERIES
A Feature 1 (12 Laps): 1. 86D-Shawn Sheely[1]; 2. 90-Dan Bailey[8]; 3. 85-Robert Pretts[2]; 4. 65-Adam Schmidt[3];
5. 526-Zach Bailey[5]; 6. 63-Mark Toso[6]; 7. 756-Matt Johnson[4]; 8. 144-Trisha Dahl[7]
Heat 1 (6 Laps): 1. 86D-Shawn Sheely[3]; 2. 65-Adam Schmidt[1]; 3. 756-Matt Johnson[2]; 4. 144-Trisha Dahl[4]
Heat 2 (6 Laps): 1. 85-Robert Pretts[2]; 2. 526-Zach Bailey[1]; 3. 63-Mark Toso[3]; 4. 90-Dan Bailey[4]
Heat 3 (6 Laps): 1. 86D-Shawn Sheely[2]; 2. 756-Matt Johnson[3]; 3. 65-Adam Schmidt[4]; 4. 144-Trisha Dahl[1]
Heat 4 (6 Laps): 1. 90-Dan Bailey[1]; 2. 85-Robert Pretts[3]; 3. 63-Mark Toso[2]; 4. 526-Zach Bailey[4]
---
Article Credit: 2020 MADDOG $ERIES Reporter
Submitted By: Dan Bailey
Back to News