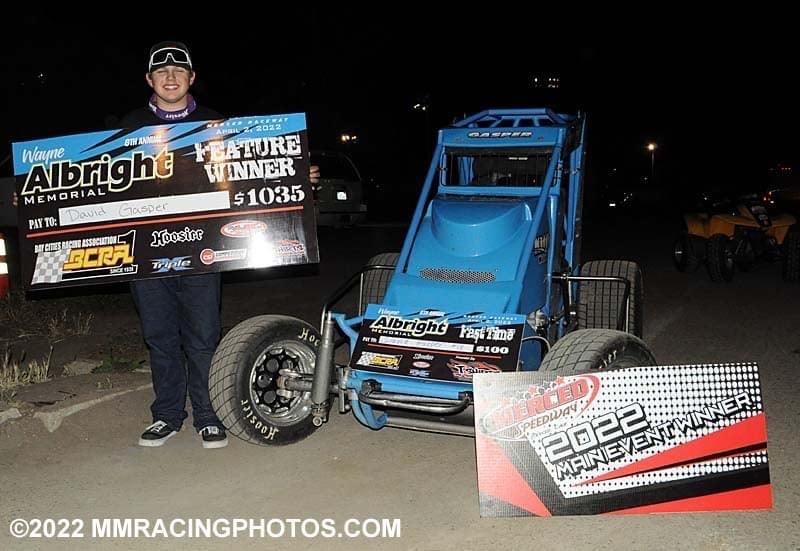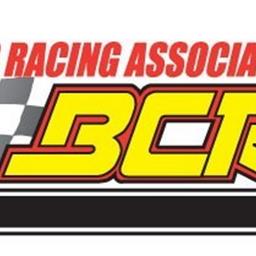 4/4/2022
Bay Cities Racing Association Lightning Sprints
---
GASPER WINS ALBRIGHT MEMORIAL
04-02-22....Merced CA....David Gasper from Santa Barbara won the 8th running of the "Wayne Albright Memorial" BCRA/CLS Lightning Sprint Civil War series $1,035 to win main event Saturday night at Merced Speedway. The defending California Lightning Sprint Champion dominated the event by posting fast time, winning his heat and main event. Defending Bay Cities Racing Association Lightning Sprint Champion Dakota Albright, son of Wayne, finished second after leading the first 9 laps. Palmdale's Eric Greco Jr. raced a solid third. The event is held in memory of Wayne Albright, a longtime BCRA member who won championships and was a big supporter of the club and all around great guy.
At the start of the 25 lap main event polesitter Dakota Albright raced out to the early lead ahead of Eric Greco Jr. but a crash in turn three brought out the red flag when several cars tangled resulting in a couple that turned over. All drivers were unhurt in the accident and some managed to get going again. Once racing got back underway Albright lead over Greco Jr. and David Gasper. Most of the field was using the inside groove in the early going with Cody Nigh one of a couple trying the highline. Then third running Gasper decided to give it a try and a lap or two later he raced by Greco Jr. on lap 6. Three laps later he raced around leader Albright to take the lead. By midway action was all over the track with side by side racing seen throughout the field. A couple of drivers making moves were Will Browne from Glendora who started 16th and Nigh who started 10th. A good battle late saw Aguilera and Browne duel for the fourth spot. In the end Gaper was the class of the field sweeping the nights racing in qualifying and heat race action and now the main event. Albright stayed close and finished a hard fought second. Greco Jr. was consistent throughout running third. Browne was impressive in his 16th to 4th run considering he has less than a handful of starts in the Lightning Sprint class. Harlee Aguilera went from 7th starting position to race 5th at the checkered flag. Nigh improved his position four places to race 6th. 9th starting Greg Dennett raced seventh followed by Hunter Kinney, Tim Kinser and Pat Kelly in the top 10.
Two eight lap heat races were run with longtime BCRA competitor Steve Roza leading the first one until sixth starting Gaper made quick work of the field and went on to win it by a half lap. Greco Jr. raced second followed by Aguilera, Scott Kinney, Nigh, Josef Ferolito, Roza, Browne and Kelly. The second heat went to Albright who used his outside starting spot to his advantage to win it by a straight-away. Matt Land raced up from his sixth starting spot to race second followed by three time "Wayne Albright Memorial" winner Bobby Michnowicz. H. Kinney raced fourth followed by Dennett, Brandon Leedy, Tyler Gerdes, Kinser and Danielle Clauson-Sevo. Gasper was the fastest in qualifying where he raced around the 1/4 mile banked clay oval in 13.135 seconds which started out his sweep of the event. This race was round 1 of 5 of the BCRA vs. CLS Lightning Sprint - Civil War series.
Extra money was raised for this special race through sponsorship's from numerous donors in memory of Wayne Albright. Wayne was a life long race fan who was very involved with the BCRA up until his passing in 2014. His accomplishments include BCRA Championships in the Midget Lite division and is a member of their Hall of Fame. This race has been run in his honor every year since his passing. Thanks to everyone involved at Merced Speedway for hosting it all these years and I look forward to the 9th annual next season.
Next race for the BCRA Lightning Sprints is April 16th at Placerville Speedway. Round 2 of the BCRA vs CLS - Civil War Series is on August 26th at Silver Dollar Speedway in Chico CA.
SUMMARY:
04-02-22 - "Wayne Albright Memorial" - BCRA/CLS Lightning Sprints - Round 1 Civil War Series - Merced Speedway, Merced, CA.
A Feature 1 (25 Laps): 1. 18-David Gasper[4]; 2. 35JR-Dakota Albright[1]; 3. 8G-Eric Greco Jr[2]; 4. 8-Will Browne[16]; 5. 17F-Harlee Aguilera[7]; 6. 45-Cody Nigh[10]; 7. 47-Greg Dennett[9]; 8. 25K-Hunter Kinney[6]; 9. 37-Tim Kinser[12]; 10. 03-Pat Kelly[15]; 11. 91-Matt Land[3]; 12. 343-Tyler Gerdes[14]; 13. 14-Steve Roza[13]; 14. 3F-Brandon Leedy[11]; 15. 21K-Bobby Michnowicz[5]; 16. 11S-Danielle Clauson-Sevo[17]; 17. 18F-Josef Ferolito[8]
Heat 1 (8 Laps): 1. 18-David Gasper[6]; 2. 8G-Eric Greco Jr[5]; 3. 17F-Harlee Aguilera[2]; 4. 9-Scott Kinney[4]; 5. 45-Cody Nigh[3]; 6. 18F-Josef Ferolito[8]; 7. 14-Steve Roza[1]; 8. 8-Will Browne[9]; 9. 03-Pat Kelly[7]
Heat 2 (8 Laps): 1. 35JR-Dakota Albright[2]; 2. 91-Matt Land[6]; 3. 21K-Bobby Michnowicz[5]; 4. 25K-Hunter Kinney[7]; 5. 47-Greg Dennett[4]; 6. 3F-Brandon Leedy[3]; 7. 343-Tyler Gerdes[1]; 8. 37-Tim Kinser[8]; 9. 11S-Danielle Clauson-Sevo[9]
Qualifying 1: 1. 18-David Gasper[7]; 2. 91-Matt Land[3]; 3. 8-Will Browne[1]; 4. 8G-Eric Greco Jr[13]; 5. 21K-Bobby Michnowicz[6]; 6. 9-Scott Kinney[9]; 7. 47-Greg Dennett[2]; 8. 45-Cody Nigh[5]; 9. 3F-Brandon Leedy[10]; 10. 17F-Harlee Aguilera[8]; 11. 35JR-Dakota Albright[17]; 12. 14-Steve Roza[11]; 13. 343-Tyler Gerdes[4]; 14. 03-Pat Kelly[15]; 15. 25K-Hunter Kinney[18]; 16. 18F-Josef Ferolito[12]; 17. 37-Tim Kinser[16]; 18. 11S-Danielle Clauson-Sevo[14]
---
Article Credit: Mark Sublett
Submitted By: Dakota Albright
Article Media
Back to News