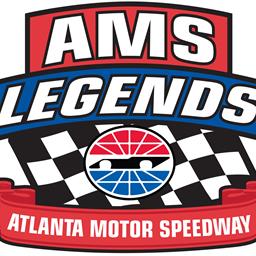 Atlanta Motor Speedway
Hampton, GA
Track Information
The door-to-door excitement of short track racing greets fans year-round with Legends and Bandolero racing on the 1/4-Mile "Thunder Ring," located on the frontstretch of Atlanta Motor Speedway! Grassroots racing in various divisions occurs year-round with offseason events on the 1/4-mile and road course tracks as part of Winter Flurry and the Thursday Thunder Legends Racing Series presented by Papa John's Pizza! Pit admission for offseason and Winter Flurry events may be purchased at the security command post, located near the AMS main entrance. Pit admission is $30 for competitors, $20 for other individuals and free for ages 5 and under. All grandstands are non-smoking at Thursday Thunder, with smoking being permitted in designated areas near the grandstands. Thursday Thunder is one of the most affordable, exciting family activities in Atlanta. Every Thursday night June into late July and on Saturdays in early August, a smorgasbord of games, contests, giveaways and hot on-track racing excitement take place at Atlanta Motor Speedway. Grandstand tickets are just $5, ages 5 and under are admitted free for each evening of fun and grass-roots racing on the paved quarter-mile track at AMS, the Thunder Ring. Drivers as young as 8-years-old come from all over the nation to battle each night in eight different classes for the right to be called champions at Atlanta Motor Speedway. Gates open at 6 p.m., practice, qualifying, heat races begin at 6:00 p.m. with features starting at approximately 7:45 p.m. Don't miss this summer's most fun and affordable activity. Come see the region's up and coming drivers each Thursday night at Atlanta Motor Speedway. Call (770) 946-4211 for information or visit www.legendsofga.com. You can enjoy the excitement of sanctioned auto racing from behind the wheel! Thanks to US Legend Cars and Legends of Georgia, it's easy, affordable and a great source of family fun. Legends Cars are 5/8 scale replicas of classic coupes and sedans of the '30s that were modified into the fordable racing machines of NASCAR's grassroots history. But don't let their size fool you - these are serious race cars powered by 1200cc, 4-cylinder Yamaha engines delivering 122 horsepower - more than enough to give you some major league racing thrills.
AMS Requirements
All Minors (17 and younger) must have a current Minor Waiver form on file with Atlanta Motor Speedway. A new waiver has to be submitted every year.
PLEASE NOTE: Waiver forms must be printed in color. Black and white copies will not be accepted.
If you are racing in a paying Division (Pro, Masters, Semi-Pro) you must have a W-9 form on file with Atlanta Motor Speedway in order to receive any purse money.
Any time the Legends shop is open, the Competitor West Parking lot is available for your use. Please sign a waiver each time you come to use that lot. Helmets and seatbelts must be worn and only one car moving in this lot at a time.
Racing at AMS
All INEX drivers MUST have a current INEX license.
INEX approved safety equipment is required.
Renegade Racing Fuel or Shell 93 are the only fuels allowed for all INEX Divisions.
Raceceivers are mandatory for all Practices and Races.
Transponders are mandatory for all races. Cars without a working transponder may not be scored and placed at the end of their event for scoring and points.
Click here for AMS Race Procedures.
No personal golf carts, ATVs, etc. allowed for practices or races.
Atlanta Motor Speedway follows the Division structure as published by INEX.
2022 Bandolero Divisions:
Rookie Bandoleros: Any age, geared towards competitors with little to no previous experience.
Bandits: (Drivers between the ages of 8 - 11).
Outlaws: (Drivers age 12 and older).
2022 Legends Divisions:
Chargers:
Any age, geared towards competitors with little to no previous experience. Competitors will be moved up to their Division when the Race Director deems it appropriate. There are no points or Championships in this Division.

Young Lions:
Drivers 12 - 15 years old as of January 1, 2022. 12 and 13 year old drivers will be included in this class at the Executive Competition Director's discretion. Drivers may stay in this division for only 2 years and then move to Semi-Pro or Pro with approval (EIRI).
Semi-Pro:(Novice Class)
Drivers 16 years old and older as of January 1, 2022 (EIRI): Designed for drivers who are starting out in Legend racing only. No prior experience is necessary but beginners may be required to compete in consolation, B Mains, and/ or start in the rear of the field.
Masters:
The Masters division will feature drivers 40 years old and over as of January 1, 2022. If a driver turns 40 during the 2012 calendar year, that driver will have the option to move up to masters on his/her birthday. This move is not automatic and a written request is required from the racer to INEX. National & State points will not transfer from semi-pro or pro to masters. "Golden Masters" drivers are those over 50 and will be included as Masters. The top Golden Master driver will receive an additional award at certain events. Also, INEX will recognize a Golden Master champion at the end of the season for Asphalt, Road course, and Dirt Points.
Pro (Expert Class):
Designed for experienced drivers. Driver must have competed in some other form of professional motorsports or have competed in the "SemiPro," "Masters," or "Young Lions" division in the Legend Cars Series in order to race in this division. This is the pinnacle class of Legend Cars racing and will be treated as such. Approval to compete in this class will be necessary.
About Legends of Georgia
Legends of Georgia is managed by Ken Ragan. You can reach Ken by mail, e-mail or phone.
Shop Phone: 770-707-2977
Ken's Cell Phone: 704-575-8542
Fax: 770-707-4092
E-mail: kenr@AtlantaMotorSpeedway.com
Mail: PO Box 500 Hampton, GA 30228
Fan Info
Camping information unavailable
Cooler information unavailable
ATM information unavailable
Payment information unavailable
Parking information unavailable
Seating information unavailable
WiFi information unavailable
Family Info
Family seating information unavailable
Playground information unavailable
Restroom information unavailable
Pit Info
Pit access information unavailable
Concession information unavailable
Electrical information unavailable
Fuel information unavailable
Check-in information unavailable
Placement information unavailable
Surface information unavailable
Tire information unavailable