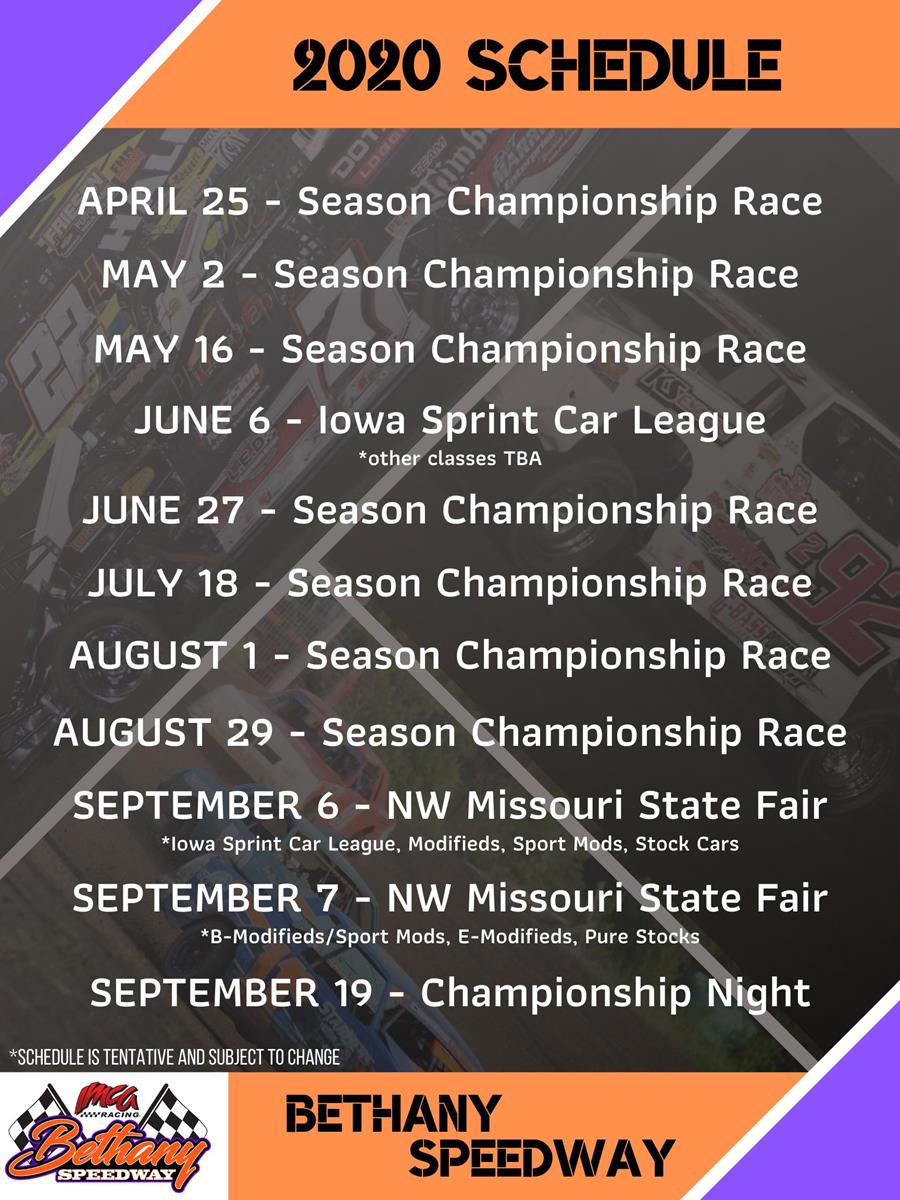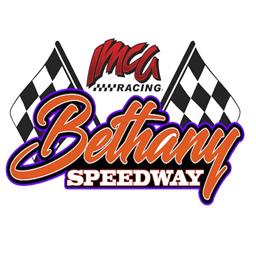 1/13/2020
Bethany Fairgrounds Speedway
---
Bethany Speedway Reveals Schedule for 2020 Season
BETHANY, Mo. – Bethany Speedway officials have released the 2020 schedule, featuring 11 nights of racing.
The season begins with opening night on Saturday, April 25. The season championship battle then moves to May, where competitors will compete twice, May 2 and May 16.
The first special of the year takes place on June 6, when the Iowa Sprint Car League makes their first trip to Bethany in 2020.
June 27, July 18, Aug. 1 and Aug. 29 make up the race dates through the middle of the season, which takes the schedule to the Northwest Missouri State Fair races.
On Sunday, Sept. 6, the Iowa Sprint Car League, Modifieds, Sport Mods and Stock Cars headline night one of the fair. Monday, Sept. 7 includes B-Modifieds/Sport Mods, E-Modifieds and Pure Stocks on night two.
The final race of the season, championship night, will take place on Sept. 19.
Weekly classes will be discussed and determined at the pre-season drivers meeting on Saturday, Jan. 25. The 2020 schedule is tentative and subject to change.
Bethany Speedway 2020 Schedule
April 25 – Season Championship Race
May 2 – Season Championship Race
May 16 – Season Championship Race
June 6 – Iowa Sprint Car League, other classes TBA
June 27 – Season Championship Race
July 18 – Season Championship Race
August 1 – Season Championship Race
August 29 – Season Championship Race
September 6 – Northwest Missouri State Fair - Iowa Sprint Car League, Modifieds, Sport Mods, Stock Cars
September 7 – Northwest Missouri State Fair – B-Modifieds/Sport Mods, E-Modifieds, Pure Stocks
September 19 – Championship Night
*schedule is tentative and subject to change
---
Submitted By: Jacob Blair
Back to News