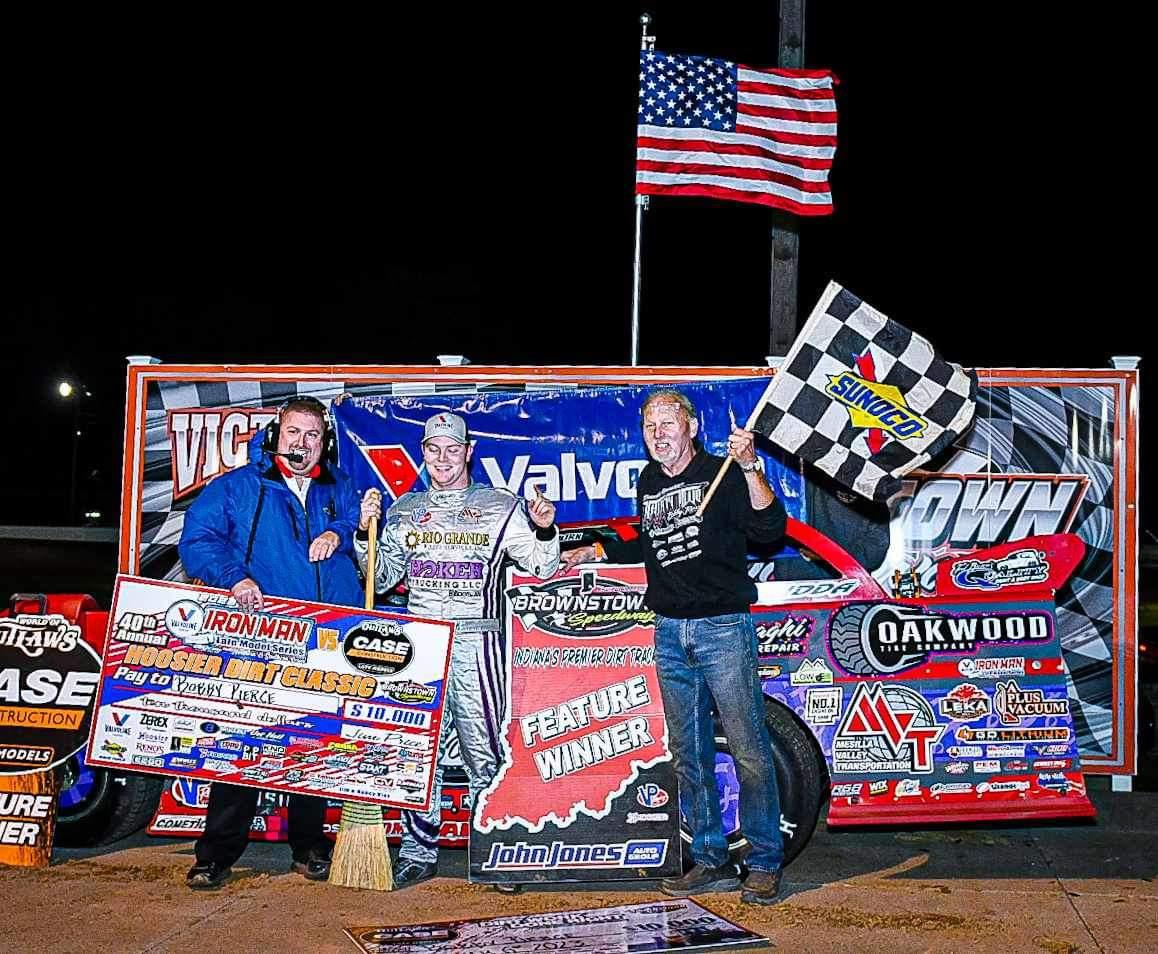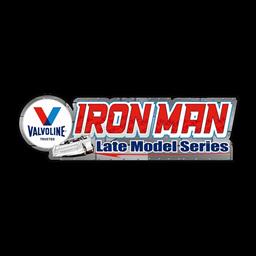 10/6/2023
Iron-Man Late Model Series
---
Bobby Pierce Prevails in Valvoline Iron-Man Late Model Northern Series/WoO CASE Construction Late Model Series Hoosier Dirt Classic at Brownstown Spee
BROWNSTOWN, INDIANA (October 6, 2023)– The Valvoline Iron-Man Late Model Northern Series and the World of Outlaws CASE Construction Late Model Series would co-sanction together for the first time on Friday evening at Brownstown Speedway in Brownstown, IN for the track's 40th Annual Hoosier Dirt Classic and Bobby Pierce of Oakwood, IL would take the lead on lap seven and drive on to claim the $10,000 payday.
The win by the 26-year-old Pierce, a second generation racer, would be his first career Valvoline Iron-Man Late Model Series victory and would come aboard his Longhorn Chassic powered by a Vic Hill Race Engine that carries sponsorship from Hoker Trucking, Rio Grande Waste Services, Mesilla Valley Transportation, Carnaghi Towing and Repair, Extreme Electric, Toyota of Danville, A-Plus Vacuum, Bloomington-Normal Truck, Leka Tree Service, Oakwood Tire Company, and Fast One Speed Shop.
The start of the 40th Annual Hoosier Dirt Classic Valvoline A-Main contest would not see a lap completed as Greg Johnson would slow on the backchute with mechanical issues and his night would be finished. The second attempted start would be called back when it was determined that Ryan Gustin fired before the start zone, resulting in him being penalized and moved to the second row. The third time would be the charm and action would get underway, with new polesitter Adam Stricker taking the race lead, followed by Bobby Pierce, Chris Madden, Gustin, and Gordy Gundaker. The caution would wave again on lap three when Gustin's machine slowed on the track after dropping off the frontchute, with Gustin retiring from the event. Stricker maintained the lead on the restart, with Pierce, Madden, and Gundaker in tow, while Brandon Sheppard would work Billy Moyer, Sr. for fifth. Pierce would begin to pressure Stricker for the lead at this point, with Pierce sliding past Stricker for the race lead exiting turn four on lap seven. Pierce would pull away a bit from Stricker and would start lapping slower cars on lap ten. Meanwhile, Kyle Bronson would battle with Sheppard for fifth and claim the position on lap thirteen. Pierce would get into heavy lapped traffic by lap fifteen, allowing Stricker to erase much on Pierce's earlier advantage. Caution would slow the action on lap nineteen when Devin Gilpin would see his mount slow on the backchute and be finished for the event. Pierce, Stricker, and Madden remained first through third on the restart, while Bronson would slip past Gundaker for the fourth spot. The caution would appear again on lap twenty-one as James Rice would spin his mount in turn one and ultimately pull pitside for the remainder of the race. This restart would see Madden work past Stricker to take second, while Gundaker reclaimed the fourth position until the caution waved with only one more circuit completed as Brian Shirley would slow in turn two, with his night being finished. Pierce and Madden remained first and second on the restart, while sixteenth-place starting Tyler Erb would jump from sixth to third, followed by Gundaker and Bronson. Stricker would charge the top side of the track drive past Gundaker and Bronson for fourth, only to have Gundaker retake fourth one tour later. The final caution of the contest appeared on lap twenty-eight when Sheppard would slow in turn two, report to the work area, and return to competition. The restart would see Pierce, Madden, Erb, Gundaker, and Stricker hold the top five positions and this would be how the top five would finish the event, with Pierce victorious. The remainder of the top ten finishers would be Bronson, Cade Dillard, Shane Clanton, Dennis Erb, Jr., and Tanner English.
The next event for the Valvoline Iron-Man Late Model Northern Series will be Saturday October 28 at Atomic Speedway in Waverly, OH, with the winner's share and total purse to be announced in an upcoming press release. The event will also conclude the Northern portion of the Valvoline Iron-Man Late Model Series 2023 schedule and the series champion will also be recognized at this event.
For more information on the Valvoline Iron-Man Late Model Series, phone series promoter Chris Tilley at (828) 361-5981 or by visiting the tour website at www.IMDIRT.net or by following Iron-Man Series (@CTPROMOTE) on Twitter or liking Iron-Man Racing Series on Facebook.
The Valvoline Iron-Man Late Model Series and Brucebilt Performance Parts Iron-Man Open Wheel Modified Series would like to thank the following sponsors and marketing partners for their support of the 2023 racing season: Valvoline, Zerex by Valvoline, Brucebilt Performance Parts, Hoosier Racing Tire, E-Z-GO, Sunoco Race Fuels, Bazell Race Fuels, SFP Performance Systems, MyRacePass, Impact Race Gear, XS Power Batteries, Vic Hill Racing Engines, Racecar Engineering, FLO Racing, American Racer Tires, Keltner Contracting, Todd Steel Buildings, TW Taylor Trucking, Earnhardt Technologies Group, Weichert Realtors-Ford Brothers (Judith Dyehouse-Agent), Swafford Signs, KY Clutch, DIRTCAR Racing, Brown Haven Homes, Knowles Race Parts and Bodies, Coosa Heating and Cooling, STAKT Products, KND Safety, Chattanooga Valley Auto Parts, PopBit, Denby's J&J Construction, Jim and Nancy Viox, Advanced Transportation, Lowe's Tows, Reno's Roadhouse, and Racetrack Safety Initiative.
About Valvoline™
Valvoline Inc. (NYSE: VVV) is a leading worldwide marketer and supplier of premium branded lubricants and automotive services, with sales in more than 140 countries. Established in 1866, the company's heritage spans more than 150 years, during which time it has developed powerful brand recognition across multiple product and service channels. Valvoline ranks as the No. 3 passenger car motor oil brand in the DIY market by volume. It operates and franchises approximately 1,400 quick-lube locations, and it is the No. 2 chain by number of stores in the United States under the Valvoline Instant Oil ChangeSM brand and the No. 3 chain by number of stores in Canada under the Valvoline Great Canadian Oil Change brand. It also markets Valvoline lubricants and automotive chemicals, including the Valvoline High Mileage with MaxLife technology motor oil for engines over 75,000 miles; Valvoline Advanced Full Synthetic motor oil; Valvoline Premium Blue™ heavy-duty motor oil; Valvoline Multi-Vehicle Automatic Transmission Fluid; and Zerex™ antifreeze. To learn more, visit www.valvoline.com.
Official Summary of Results
Feature Results for the Valvoline Iron-Man Late Model Northern Series/World of Outlaws CASE Construction Late Model Series 40th Annual Hoosier Dirt Classic at Brownstown Speedway in Brownstown, IN on Friday October 6, 2023
Bobby Pierce-Oakwood, Ill.
Chris Madden-Gray Court, S.C.
Tyler Erb-New Waverly, Tex.
Gordy Gundaker-Saint Charles, Mo.
Adam Stricker-Batavia, Ohio
Kyle Bronson-Branden, Fla.
Cade Dillard-Robeline, La.
Shane Clanton-Zebulon, Ga.
Dennis Erb, Jr.-Carpentersville, Ill.
Tanner English-Benton, Ky.
Nick Hoffman-Mooresville, N.C.
Brent Larson-Lake Elmo, Minn.
Tristan Chamberlain-Richmond, Ind.
Shelby Miles-Bloomington, Ind.
Todd Cooney-Des Moines, Iowa
Rod Conley-Wheelersburg, Ohio
Brandon Sheppard-New Berlin, Ill.
Chad Stapleton-Edinburgh, Ind.
Austin Lay-Walton, Ky.
Brian Shirley-Chatham, Ill.
James Rice-Verona, Ky.
Devin Gilpin-Columbus, Ind.
Billy Moyer, Sr.-Batesville, Ark.
Jesse Lay-Walton, Ky.
Dustin Walker-Polk, Mo.
Ryan Gustin-Marshalltown, Iowa
Greg Johnson-Bedford, Ind.
Time of Race: 29 minutes, 15 seconds
Margin of Victory: 1.755 seconds
Yellow Flags: Six (lap 1, 3, 19, 21, 22, 28)
Red Flags: None
Lap Leaders: Adam Stricker 1-6, Bobby Pierce 7-40
Entries: 42
E-Z-GO Time Trials Top Qualifier: Bobby Pierce (Group A) 12.758 seconds
SFP Performance Systems Hard Charger Award ($100 product certificate): Tyler Erb (started 16th-finished 3rd-advanced 16 positions)
Provisionals: Austin Lay (IM Series), Jesse Lay (IM Series), Tanner English (WoO), Dustin Walker (WoO), Chad Stapleton (Track)
Todd Steel Buildings Heat Race One Finish (8 laps/top 4 transfer): Bobby Pierce, Gordy Gundaker, Todd Cooney, James Rice, Brent Larson, Tristan Chamberlain, David Webb, Sam Mars, Marty O'Neal, Justin Shaw, Dallas Miller
SFP Performance Systems Heat Race Two Finish (8 laps/top 4 transfer): Chris Madden, Billy Moyer, Sr., Shelby Miles, Greg Johnson, Rod Conley, Mike Spatola, Chad Stapleton, Austin Lay, Daniel Adam, Jesse Lay
STAKT Products Heat Race Three Finish (8 laps/top 4 transfer): Ryan Gustin, Cade Dillard, Kyle Bronson, Shane Clanton, Nick Hoffman, Tanner English, Jeffrey Shackelford, Jared Bailey, Josh Rice, Dustin Walker, Austin Cochran
Keltner Contracting Heat Race Four Finish (8 laps/top 4 transfer): Adam Stricker, Brandon Sheppard, Brian Shirley, Tyler Erb, Dennis Erb, Jr., Tyler Bruening, Devin Gilpin, Jason Jameson, Jordan Wever, Michael Lake
Impact RaceGear B-Main One Finish (10 laps/top 3 transfer): Brent Larson, Tristan Chamberlain, Rod Conley, David Webb, Mike Spatola, Chad Stapleton, Sam Mars, Marty O'Neal, Austin Lay, Daniel Adam, Jesse Lay (DNS-Justin Shaw, Dallas Miller)
Impact RaceGear B-Main Two Finish (10 laps/top 3 transfer): Nick Hoffman, Dennis Erb, Jr., Devin Gilpin, Tanner English, Tyler Bruening, Jared Bailey, Jordan Wever, Jason Jameson, Jeffrey Shackelford, Michael Lake, Austin Cochran (DNS-Dustin Walker, Josh Rice)
Valvoline Iron-Man Late Model Northern Series 2023 Schedule/Results:
May 26-Ponderosa Speedway-Junction City, KY-Josh Rice (Verona, KY)
May 27-Lake Cumberland Speedway-Burnside, KY-Josh Rice (Verona, KY)
June 17-Lake Cumberland Speedway-Burnside, KY-Josh Rice (Verona, KY)
July 7-Hilltop Speedway-Millersburg, OH-Josh Rice (Verona, KY)
July 22-Atomic Speedway-Waverly, OH-Nick Hoffman (Mooresville, NC)
August 4-Ponderosa Speedway-Junction City, KY-Michael Chilton (Salvisa, KY)
August 19-Atomic Speedway-Waverly, OH-Josh Rice (Verona, KY)
August 26-Lake Cumberland Speedway-Josh Rice (Verona, KY)
September 16-Atomic Speedway-Waverly, OH-Josh Rice (Verona, KY)
October 6-Brownstown Speedway-Brownstown, IN-Bobby Pierce (Oakwood, IL)
October 28-Atomic Speedway-Waverly, OH-Purse To Be Announced
---
Article Credit: Ryan Roberts image
Back to News