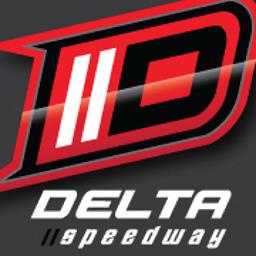 ---
HORSLEY TAKES FIRST DELTA SUPER 600 WIN DURING KING OF CA
HORSLEY TAKES FIRST DELTA SUPER 600 WIN DURING KING OF CA
STOCKTON, CALIFORNIA (July 14, 2018) – Riverbank's Dillon Horsley led all 30 laps to take round #10 of the King of California for the Delta Speedway presented by Financial Center Credit Union. Horsley's $500 win on Saturday led the four division card with 87 Micro Sprints racing at the San Joaquin County Fairgrounds.
Horsley inherited the lead via an eight car inversion. The race was halted on the opening lap when Nikko Panella spun in turn two, sparking a multi-car melee. Nick Von Euw, Alex Panella, and 2014 champion Travis Labat were among those involved with Ethan Lesser coming in late to tag Nikko as well.
Once the skirmish was cleared, Horsley went to work with much of the field using the bottom line.
Summer Sizzler sweeper Raio Salmon and Keith Day, Jr. went side-by-side for second behind him. Salmon had the spot using her signature bottom line before Day challenged back on the high side in lapped traffic on lap nine.
The race went non-stop with Sarale looking inside Day for third before Day started going downstairs after losing a straightaway to Salmon in the process. Joey Ancona made his presence felt late in the race from fifth but only had five laps left to make any progress.
The nearly half-lap advantage that Horsley accumulated was never challenged as he led Salmon, Day, Ancona, and Sarale across the stripe at the finish.
Non Wing was a race of patience that saw 2018 California Speedweek champion Tyler Smith back in his familiar place atop the podium. Adam Kaeding took the lead from the outside pole with Smith jumping up to his bumper from fourth starting spot. Third starting George Nielson went backwards early to the eighth position. The first caution flew on lap five for Nicholas Ringo stopped in turn two.
The red flag flew when B Main winner Chance Damron got airborne in turn two for a red flag on lap eight. Later in the event, the leaders darted in and out of lapped traffic before nearly tagging Damron when he spun for a lap 21 caution. Plaza Speedweek winner James Ringo broke a chain under caution to surrender eighth place as well.
Smith used the restart to seize the lead from Kaeding, first showing his nose at the conclusion of lap 22 before completing the pass to lead lap 23. Caden Sarale surrendered ninth when he spun on lap 26 for the event's final caution. A wild scramble at the finish saw Smith take the victory while Kaeding was bounced back behind both JJ Bright and Jimmy Leal. Kaeding was fourth with Dixon Speedweek winner Chad Laughton fifth.
2018 California Speedweek champion Dylan Bloomfield scored his third King of California win of 2018 when he led all 25 laps for the Restricted victory. Bloomfield led the field into traffic on lap nine before a caution when traffic tangled in front of the leaders. Izaak Sharp and Thomas Vo came together in turn four with Vo climbing over the top of Sharp for a lap 13 caution.
Bloomfield drove away from Corey Day for a 1.5 second win while Hailey Wood was a pleasant surprise in third ahead of Caeden Steele and Enumclaw, WA's Colby Thornhill.
Caleb Debem of Prundale started on the pole and led lap one of the 20 lap Jr. Sprints feature. Action slowed for a caution when Selena Little and Tanner Whitaker tangled in turn two. Heat race winner Dalton Parreira took over the lead on the restart while Debem and Barnes went side-by-side for second. Barnes bounced off the berm in turn two and went up the hill taking Debem with him, allowing shotgun starter Austin Wood to drive towards second. The trio battled hard for second at halfway while Parreira pulled away.
Parreira never looked back for a comfortable win ahead of Barnes, Debem, Wood, and recent Delta winner TK O'Brien.
Delta Speedway continues July 28th with their eighth points race at the 1/7th mile located at the San Joaquin County Fairgrounds.
For more information on Delta Speedway presented by Financial Center Credit Union, follow us online at www.deltaspeedwaystockton.com or on Facebook, Twitter, and Instagram. Many thanks to Financial Center Credit Union, Tuleburg, Lovotti Air, Motion Media Wraps, Van De Pol Petroleum, Interstate Truck Center, Von Euw Trucking, Morrill Industries, Sanborn Chevrolet, Genova Bakery, Price Rite Restaurant Equipment, Bruno's Peppers, and Hoosier Tire West for their support of Delta Speedway!
---
Article Credit: STEVEN BLAKESLEY
Submitted By: Steven Blakesley
Back to News