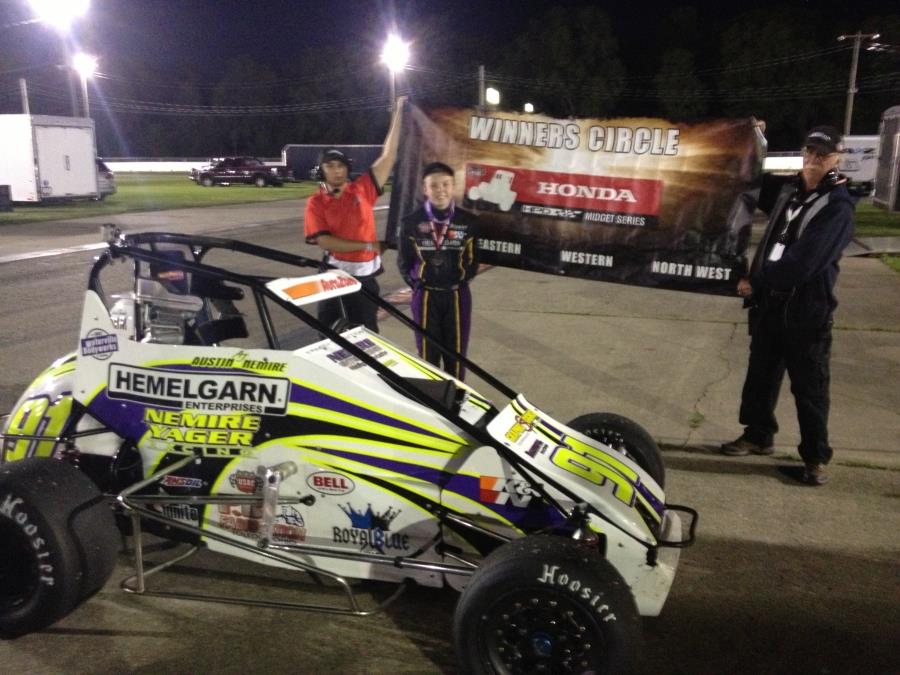 ---
NEMIRE CONTINUES TORRID PACE WITH XENIA VICTORY
Xenia, OH……..USAC HPD Midwest Midget point leader Austin Nemire of Toledo, Ohio grabbed Friday night's 30-lap feature at Kil-Kare Raceway, extending yet again his point lead in the process. He took the lead from Calvin Carroll on lap six and led the rest of the way to beat Jack Cross, Nikki Carroll, Calvin Carroll and Adam Thomason.
HPD USAC MIDWEST PAVEMENT MIDGET RACE RESULTS: June 13, 2014 – Xenia, Ohio – Kil-Kare Raceway
QUALIFICATIONS: 1. Austin Nemire, 91, Nemire/Yager-13.392; 2. Jacob Stickle, 14, Stickle-13.946; 3. Adam Thomason, 74, Thomason-13.957; 4. Jack Cross, 17c, Griffith-14.146; 5. Calvin Carroll, 24, Carroll-14.164; 6. Steve Myers, 88, Myers-15.587; 7. Nikki Carroll, 5, Carroll-16.302.
HEAT RACE: (8 Laps) 1. Nemire, 2. Thomason, 3. Stickle, 4. C.Carroll, 5. Cross, 6. N.Carroll, 7. Myers. NT
FEATURE: (30 Laps) 1. Austin Nemire, 2. Jack Cross, 3. Nikki Carroll, 4. Calvin Carroll, 5. Adam Thomason, 6. Jacob Stickle, 7. Steve Myers. NT
FEATURE LAP LEADERS: Laps 1-5 C.Carroll, Laps 6-30 Nemire.
NEW HPD MIDWEST PAVEMENT MIDGET POINTS: 1-Nemire-353, 2-C.Carroll-235, 3-Thomason-230, 4-Stickle-220, 5-N.Carroll-216, 6-Myers-141, 7-Blaine Leydig-131, 8-Cross-101, 9-Scott Hunter-69, 10-Tate Martz-63.
NEXT HPD MIDWEST PAVEMENT MIDGET RACE: June 14 – Columbus (OH) Motor Speedway
---
Submitted By: Admin Account
Back to News