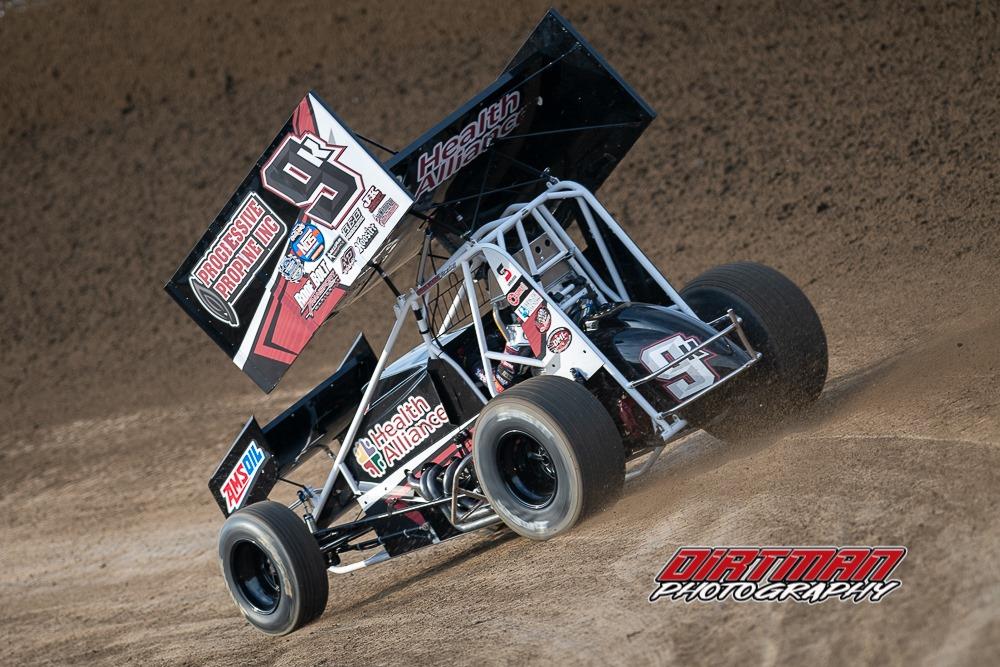 7/21/2020
Inside Line Promotions
---
Kyle Schuett Captures Season-Best Seventh-Place Finish at Macon Speedway
(Photo by Dirtman Photography)
Inside Line Promotions – MACON, Ill. (July 21, 2020) – Kyle Schuett highlighted last weekend with a season-best outing during a Built Ford Tough MOWA Sprint Car Series event at Macon Speedway on Saturday night.
"Our night at Macon started well," he said. "We started on the pole for our heat race. We led the entire race and won by about the length of the straightaway."
The feature redraw, which encompassed the top eight in heat race points, didn't go quite as well for Schuett as he drew the eighth starting spot.
"The starting position in the feature was important since the track took rubber around Lap 4," he said. "We ran seventh and had a couple of opportunities to pass cars, but couldn't quite complete them. Macon is a little fifth-mile track, so we didn't feel too bad about finishing seventh and bringing the car home in one piece."
His seventh-place result was his best of the season.
Friday night's pill draw for starting position in the heat race at Lincoln Speedway in Lincoln, Ill., didn't go as well for Schuett. He started last – seventh – in his heat race.
"It took me too long to get around the cars I needed to pass," he said. "By the time I got to fifth there were only two or three laps left and I wasn't able to make a challenge for fourth."
Schuett's fifth-place run earned enough points to garner one of the 16 lock-in positions into the main event. He lined up on the inside of the eighth row.
"I was able to move up a couple of spots before I spun out," he said. "Then I restarted at the back and was in contention to gain more positions until the leader put me a lap down. My car could only run the top, but I moved to the bottom to get out of the way as a sign of respect. I couldn't get ahold of the race track enough to be competitive so I eventually pulled off to save our equipment.
"It was disappointing. If I wouldn't have spun, we probably could've finished in the top 10. It was a driver error, but that happens in racing. We'll be ready to go this weekend and we learned a lot from the changes we made Saturday night. We have some suspension changes in mind to make our car better as well."
Up next for Schuett are races at Jacksonville Speedway in Jacksonville, Ill., on Friday and at Beaver Dam Raceway in Beaver Dam, Wis., on Saturday.
"We're excited to go to Jacksonville," he said. "We haven't been there this year, but we had success at the track last year. Plus, we learned quite a bit this past weekend and we're looking forward to using that at Jacksonville during the MOWA Series event.
"We're also looking forward to returning to Beaver Dam. We raced there twice this year with the World of Outlaws and we're excited to see how we'll do with the IRA Sprint Car Series."
QUICK RESULTS –
July 17 – Lincoln Speedway in Lincoln, Ill. – Heat race: 5 (7); Feature: 18 (15).
July 18 – Macon Speedway in Macon, Ill. – Heat race: 1 (1); Feature: 7 (8).
SEASON STATS –
10 races, 0 wins, 0 top fives, 2 top 10s, 2 top 15s, 5 top 20s
UP NEXT –
Friday at Jacksonville Speedway in Jacksonville, Ill., with the Built Ford Tough MOWA Sprint Car Series and Saturday at Beaver Dam Raceway in Beaver Dam, Wis., with the Bumper to Bumper IRA Sprint Car Series
MEDIA LINKS –
Website: http://www.SchuettRacing.com
Twitter: https://twitter.com/SchuettRacing
Facebook: https://www.facebook.com/Schuett-Racing-Inc-764142200301233/
SPONSOR SPOTLIGHT – Allstar Performance
Allstar Performance designs, builds and sells high quality racing and performance automotive parts and equipment for circle track, drag, open wheel and street use. Many Allstar Performance parts are one-of-a-kind and unavailable elsewhere. For more information, visit https://allstarperformance.com/.
"We appreciate the excellent customer support and timely shipping on all of the high-quality parts we receive from Allstar Performance," Schuett said.
Schuett would also like to thank Health Alliance, Progressive Propane, Roof Bolt Transport, Engler Machine and Tool, AMSOIL, Hoosier Tire Midwest, R & B Powder Coating, Allstar Performance, Safety Kleen (The Official Environmental Service Company of Schuett Racing), Diversified Machine (DMI), Rod End Supply, Hooker Harness, Steve Thomas Racing, Smith Titanium and J & K Property Rentals, LLC., for their continued support.
INSIDE LINE PROMOTIONS –
Inside Line Promotions specializes in affordable public relations and media management for motor sports drivers, teams, sponsors, tracks, series, events, organizations and manufacturers. ILP Founder Shawn Miller leverages professional journalism with new media technologies and social networking to improve your exposure and the return on investment for your sponsors.
To meet the media relations needs of your program by joining Team ILP, contact Shawn at 541-510-3663 or Shawn@InsideLinePromotions.com. For more information on Inside Line Promotions, visit http://www.InsideLinePromotions.com.
---
Article Credit: Inside Line Promotions
Submitted By: Shawn Miller
Back to News