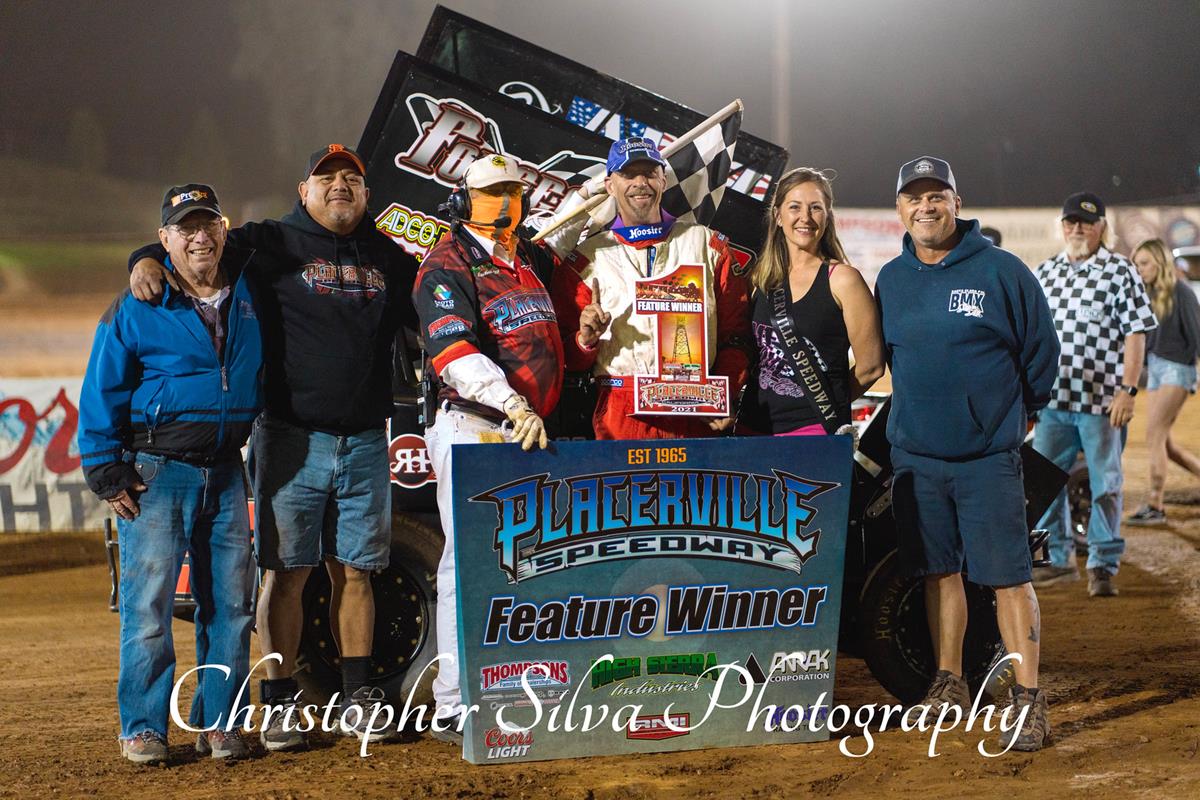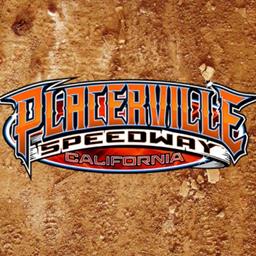 5/9/2021
Placerville Speedway
---
Craig Holsted goes back-to-back at Placerville Speedway with the BCRA Lightning Sprints
Craig Holsted goes back-to-back at Placerville Speedway with the BCRA Lightning Sprints
By Gary Thomas
Placerville, CA – May 8, 2021…Rancho Cordova's Craig Holsted has been on a roll to start the Bay Cities Racing Association Lightning Sprint season and that continued Saturday, as he drove to his second straight victory at the Placerville Speedway.
The driver of the Fonseca Racing/ Red Hawk Casino No. 9 machine has now captured a pair of victories to go along with a runner up in the three events held at the high-banked, red clay bullring.
"It feels great to be standing up here on the front stretch again at Placerville Speedway," Holsted commented to infield announcer PJ Petersen. "It was a lot of fun racing with my friend Dakota Albright in the feature. We got a good draw to start on the front row and hit the setup perfectly again so I could not be happier. I want to thank everyone who helps out on this team for making it possible."
The 20-lap main event came to the line with Holsted and Waterford's Dakota Albright sharing the front row. When starter Ron Stahl waved the Kings Meats green flag it instantly became a battle between the pair, as Holsted and Albright duked it out for the top-spot. Both drivers put on an excellent show for the crowd as the action remained fast and furious. Holsted eventually took command but had Albright breathing down his neck every step of the way.
With the laps ticking away Citrus Heights' veteran Scott Kinney then began to enter the fray. The decorated BCRA Lightning Sprint star carved his way past Albright to grab second just prior to the finish. Up front it was no worries at all for Holsted however, as he crossed under the checkered flag to record the victory over Kinney, Albright, Placerville's Terry Bergstrom and Oakdale's Danika'jo Parker.
The remainder of the top-10 was comprised of Brandon Leedy, Joseph Ferolito, Greg Dennett, Jayden Meyer and Craig Swim. Two heat races were held during the night and went to Brandon Leedy and Dakota Albright respectively. Craig Holsted began the evening by setting fast time with a lap of 12.123 around the quarter-mile.
Next up for the BCRA Lightning Sprints will be a trip down to the Merced Speedway for a night of Wingless competition on Saturday May 22nd. The Lightning Sprints then return to Placerville Speedway on June 5th.
---
BCRA Lightning Sprints Results – Mother's Day Madness at Placerville Speedway
A Feature 20 Laps:
9-Craig Holsted[1]; 2. 25-Scott Kinney[7]; 3. 35JR-Dakota Albright[2]; 4. 17F-Terry Bergstrom[3]; 5. 13-Danika Jo Parker[9]; 6. 3F-Brandon Leedy[4]; 7. 18-Josef Ferolite[6]; 8. 47-Greg Dennett[5]; 9. 21J-Jayden Meyer[11]; 10. 13W-Craig Swim[10]; 11. 343-Tyler Gerdes[8]
Heat 1 8 Laps:
3F-Brandon Leedy[2]; 2. 47-Greg Dennett[1]; 3. 9-Craig Holsted[5]; 4. 25-Scott Kinney[4]; 5. 13-Danika Jo Parker[3]; 6. 21J-Jayden Meyer[6]
Heat 2 8 Laps:
35JR-Dakota Albright[2]; 2. 17F-Terry Bergstrom[4]; 3. 18-Josef Ferolite[3]; 4. 343-Tyler Gerdes[1]; 5. 13W-Craig Swim[5]
Qualifying:
9-Craig Holsted, 12.123[6]; 2. 17F-Terry Bergstrom, 12.134[5]; 3. 25-Scott Kinney, 12.196[9]; 4. 18-Josef Ferolite, 12.299[3]; 5. 13W-Craig Swim, 12.337[7]; 6. 13-Danika Jo Parker, 12.348[8]; 7. 35JR-Dakota Albright, 12.371[2]; 8. 3F-Brandon Leedy, 12.449[11]; 9. 343-Tyler Gerdes, 12.629[1]; 10. 47-Greg Dennett, 12.719[4]; 11. 21J-Jayden Meyer, 13.071[10]
Image courtesy of Christopher Silva Photography
---
Article Credit: Gary Thomas
Submitted By: Gary Thomas
Back to News