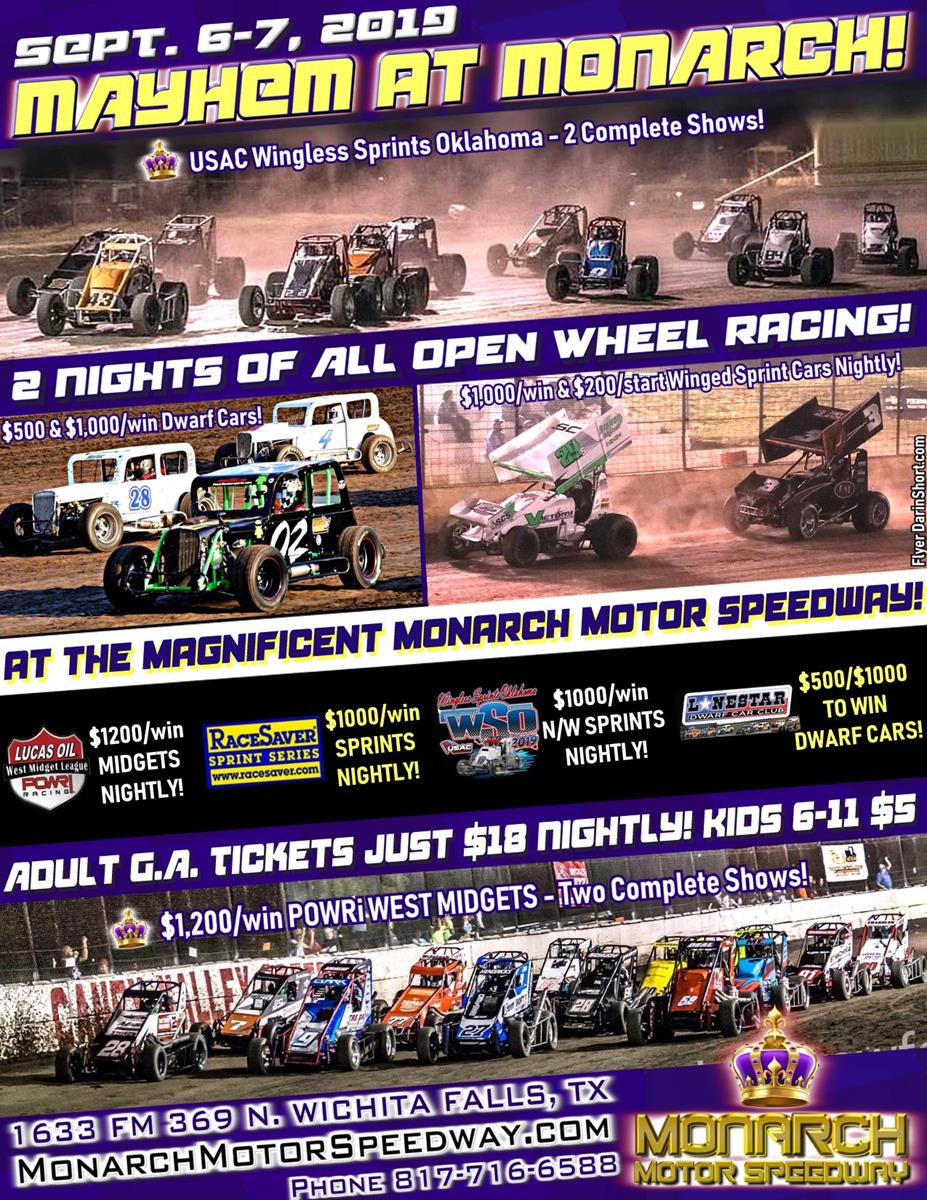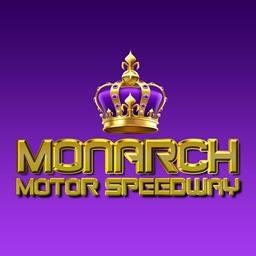 8/20/2019
Monarch Motor Speedway
---
"MAYHEM at MONARCH" SET FOR SEPT. 6-7 Featuring 4 Divisions of Open Wheel Racing!
Sprints, Midgets & Dwarfs – Oh My! "MAYHEM at MONARCH" SET FOR SEPT. 6-7 Featuring 4 Divisions of Open Wheel Racing!
Wichita Falls, TX (8/19/19) press release by DarinShort.com. The final event of the Monarch Motor Speedway season is assured to be a wild one, when the USAC Wingless Sprints Oklahoma, RaceSaver Sprint Cars, POWRi West Midgets and Lone Star Dwarf Car Club all converge upon the ultra-fast, ultra-modern ¼ mile oval with the running of "Mayhem at Monarch" on Friday September 6th and Saturday September 7th. Racing will fire up at 8pm each night with a complete program of heats and features in each division.
The USAC and RaceSaver Sprint Cars will each be racing for $1,000 to win nightly, with the Midgets winner collecting $1,200/win each, while the Dwarfs will race for $500/win on Friday night and $1,000 to win on Saturday night.
Here's the purse/rules details for each division competing in Mayhem at Monarch:
Dwarf Car feature: (Friday) $500 – 300 – 200 – 150 – 125 – 100 – 75…to start. (Saturday) $1,000 – 500 – 300 – 200 – 150 – 125 – 100…to start. Click https://www.lonestardwarfs.com for series rules and info.
RaceSaver Sprint Cars (nightly purse): $1,000 – 600 – 400 – 350 – 300 – 250 – 200…to start.
POWRi West Midgets: $1,200 to win nightly. Click http://www.powri.com/profile/news/?r=1246&rt=assoc for complete series purse and rules information.
USAC Wingless Sprint Oklahoma: $1,000 – 600 – 400 – 350 – 300 – 250 – 200…to start nightly. Click www.WinglessSprintsOklahoma.com for rules information.
Click www.MonarchMotorSpeedway.com for all track details, directions and much more information.
Here is more top-line fan and event info:
AFFORDABLE FAMILY FUN! Adult G.A. (ages 12-64) JUST $18! Seniors $12, Kids 6-11 are $5. Pit passes $35 (age 6-11 pits are $15). Tickets are available at the ticket window on race night, no advance tickets sales for this event.

Pits Open at 5pm, Grandstands Open at 6:30pm

Hot Laps 7:30pm and Racing at 8pm. Drivers Meeting 7:15pm.

Track is located 4 miles west of I-44 in Wichita Falls on Hwy 287, then head north 1.2 miles on FM369. 1633 FM 369 N. Wichita Falls, TX.

There are several hotels about 5 minutes east of the track, including several that offer parking for race car trailers.

We have great food in the concession stand, so come hungry and we'll fix you up - and at family-affordable prices! BYOB to those of age (no glass containers).

GET YOUR 50/50 TICKETS! We offer 50/50 tickets $1 each or 6 tickets for $5! If your lucky number is called, you'll take home 50% of the pot collected...you can go home with more money that you came to the races with!

Be listening during the week for the Blazin and Buzzin Morning Show which will feature lots of news and updates from Monarch Motor Speedway!

No one likes rain at outdoor sporting events. But if the races rain out before the completion of the heat races, hold on to your ticket stub, as it will be valid for the next scheduled race of same ticket price value (in other words, if tickets that night were $15, the next event you will have a $15 credit when you redeem your ticket stub from the previous event). The exact same procedure will be in effect regarding pit passes. If the races rain out after the heat races, the event is considered complete, and any remaining races will not be rescheduled and all drivers will receive start money for their scheduled division that night (for any of the feature events that rained out). There will be no grandstand tickets valid for a future date if races are rained out after the completion of the heat races, as it is considered a complete show.
We also are in the process of developing marketing partners with area businesses. Please email info@MonarchMotorSpeedway.com and we will get back to you at once. Several effective and affordable, made-to-order packages are available.
Join us Friday September 6th and Saturday September 7th for the final weekend of racing at Monarch Motor Speedway in 2019 – with the running of Mayhem at Monarch, featuring four great divisions of open wheel racing!
---
Article Credit: DarinShort.com
Submitted By: Darin Short
Back to News