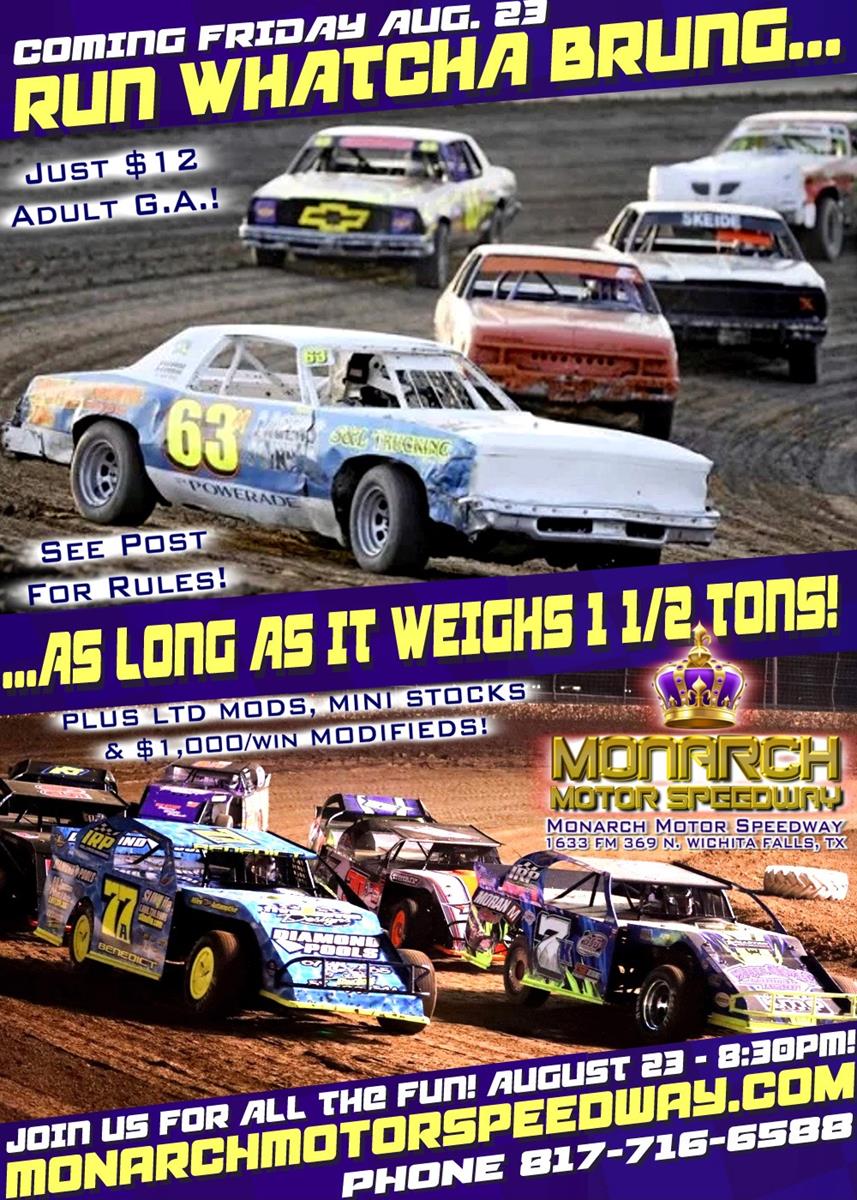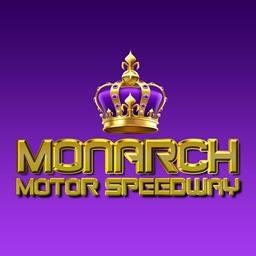 8/20/2019
Monarch Motor Speedway
---
RUN WHATCHA BRUNG - AS LONG AS IT WEIGHS 1 1/2 TONS! Coming to Monarch Motor Speedway FRIDAY, AUGUST 23rd!
RUN WHATCHA BRUNG - AS LONG AS IT WEIGHS 1 1/2 TONS! Coming to Monarch Motor Speedway FRIDAY, AUGUST 23rd! PLUS $1,000/win USRA Modifieds, $650/win Wyatt Sheet Metal Limited Modifieds & $400/win Mini Stocks!
CALLING ALL BOMBERS, PURE STOCKS, HOBBY STOCKS, FACTORY STOCKS, STOCK CARS, TEXAS STOCKS & ANY OTHER STOCK-TYPE RACE CAR WEIGHING AT LEAST 3,000#: Bring 'em all out to Monarch on Friday August 23rd for a night of fun & action as we'll be racing them for $500 to win and $75 to start! Normal race car & driver safety rules in effect. No tire rules. 3,000# including driver. RaceCeivers & Transponders required (track rental available). And that's it for rules! So dust off that race car that's been sitting in your shop and bring it out to the track for a night of fun at the races! IF YOU ARE A DRIVER that plans to compete in this special Run Whatcha Brung division, please comment on this post so the fans know who they can expect to see! THANKS!
We'll also be running a complete program for the USRA Modifieds, Wyatt Sheet Metal Limited Mods and Mini Stocks.
Click www.MonarchMotorSpeedway.com for all track details, directions and much more information.
AFFORDABLE FAMILY FUN! Adult G.A. (ages 12-64) JUST $12! Seniors $8, Kids 6-11 are $5. Pit passes $35 (age 6-11 pits are $15).
Pits Open at 6pm, Grandstands Open at 6:30pm
Hot Laps 8pm and Racing at 8:30pm! Drivers Meeting 7:45pm.
Track is located 4 miles west of I-44 in Wichita Falls on Hwy 287, then head north 1.2 miles on FM369. 1633 FM 369 N. Wichita Falls, TX.
We have great food in the concession stand, so come hungry and we'll fix you up - and at family-affordable prices! BYOB to those of age (no glass containers).
GET YOUR 50/50 TICKETS! We're now offering 50/50 tickets $1 each or 6 tickets for $5! If your lucky number is called, you'll take home 50% of the pot collected...you can go home with more money that you came to the races with!
RACERS BONUS! If you win your heat race, you will win a FREE pit pass for the next time your division races at MMS!
Racers try our PIT PASS DRAWING! You can buy a ticket for $4 or 3 for $10 and we'll draw out a number...and the WINNER gets (2) pit passes to the next event...that's a $70 value!
Be listening during the week for the Blazin and Buzzin Morning Show? which will feature lots of news and updates from Monarch Motor Speedway!
Lonestar Racing and Performance www.facebook.com/Lone-Star-Racing-And-Performance-1712397295478499 will have a fresh and sticky batch of Hoosier F45 Tear Off tires for sale - to reserve yours for pickup tonight, contact them through their Facebook page!
RACE TEAMS: Non-qualifiers or non-starters will receive $30 each in all divisions. If a driver chooses to compete in more than one division on the same night, the driver must purchase an additional pit pass per division entered. On regularly scheduled events, if 11 or fewer cars in a division are signed in, the posted purse structure for that division on that night will start at 2nd place pay and continue down from that point on. No one likes rain at outdoor sporting events. But if the races rain out before the completion of the heat races, hold on to your ticket stub, as it will be valid for the next scheduled race of same ticket price value (in other words, if tickets that night were $15, the next event you will have a $15 credit when you redeem your ticket stub from the previous event). The exact same procedure will be in effect regarding pit passes. If the races rain out after the heat races, the event is considered complete, and any remaining races will not be rescheduled and all drivers will receive start money for their scheduled division that night (for any of the feature events that rained out). There will be no grandstand tickets valid for a future date if races are rained out after the completion of the heat races, as it is considered a complete show.
Division rules are posted at the Monarch Motor Speedway Facebook page, and www.MonarchMotorSpeedway.com
We also are in the process of developing marketing partners with area businesses. Please email info@MonarchMotorSpeedway.com and we will get back to you at once. Several effective and affordable, made-to-order packages are available.
Join us Friday AUGUST 23rd for a great night of family fun, featuring $500/win and $75/start in the Run Whatcha Brung division (for the first time ever!), $650/win for the Wyatt Sheet Metal Limited Mods, $1,000/win USRA Modifieds & $400/win Mini Stocks…all at Monarch Motor Speedway!
---
Article Credit: DarinShort.com
Submitted By: Darin Short
Back to News