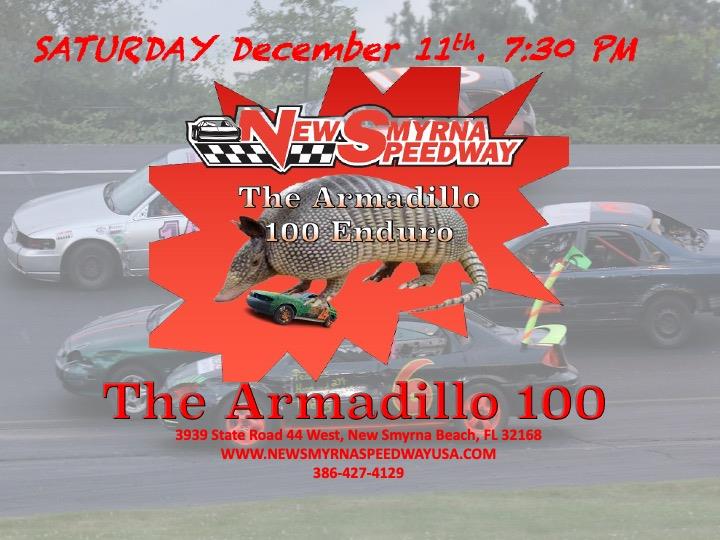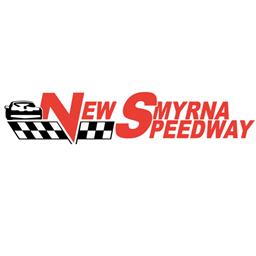 10/5/2021
New Smyrna Speedway
---
The Armadillo 100 Enduro has been Rescheduled to 12/11/2021
It is official! The 3rd annual Armadillo 100 has been rescheduled for December 11th so there is plenty of time to get those cars ready for all the crazy races planned! There will be a 100 lap enduro that pays $2,500 to win! A Demolition Derby paying $1,500 to win! Spectator Racing, A Powder Puff Race, A Burn Out Contest, a race from the Florida Southern Ground Pounders and Much, Much More! These events are open to ALL and the rules can be found below!
RULES & INFO: http://www.newsmyrnaspeedway.org/rules/
Registration: https://www.myracepass.com/tracks/1949/registrations/
3rd ANNUAL ARMADILLO 100
12/11/2021
PIT GATE/ REGISTRATION OPEN.....3:00
ENDURO CARS LINED UP IN STAGING AREA AFTER REGISTRATION IN PIT OFFICE
ENDURO CARS MUST BE IN STAGING AREA by 5pm with hoods and trunks opened (or Start at rear).
DRIVERS MEETING- MANDATORY
NO ENGINES OR GENERATORS RUNNING.........7:00
PARADE LAP/NATIONAL ANTHEM..................................7:20
RACING BEGINS....................7:30
GROUND POUNDERS 20 LAPS
POWDER PUFF 15 LAPS
SPECTATOR RACES $500 to win!
INTERMISSION-
3RD ANNUAL ARMADILLO ENDURO 100 $2500 to win!
UGLY VEHICLE CONTEST
ROLLING BURNOUT CONTEST
DEMO DERBY $1500 to win!
Driver Registration closes at 6:30pm
DO NOT ENTER PITS WITH FLAT TIRES OR DRAGGING PARTS STAY ON PIT ROAD
*YOU MAY CHANGE A TIRE ONLY IF IT'S COMPLETELY FLAT, THE TIRE CHANGE MUST BE DONE ON PIT ROAD ONLY.
TECH HAS FINAL SAY PERIOD!!!!
---
Submitted By: Ryan Stevens
Back to News