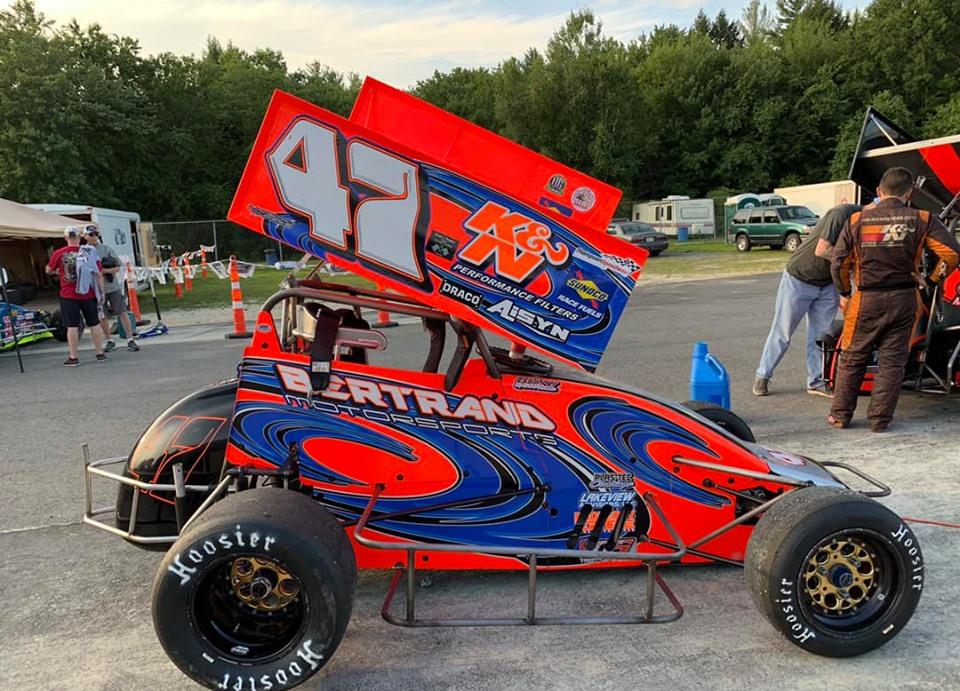 8/19/2019
Inside Line Promotions
---
Sammy Swindell Produces Two Top 10s During Pavement Winged Midget Races
Inside Line Promotions – LEE, N.H. (Aug. 19, 2019) – Sammy Swindell earned a pair of top-10 finishes last week during two pavement winged midget races.
Swindell drove for Bertrand Motorsports during the NorthEastern Midget Association events on Wednesday at Thompson Speedway Motorsports Park in Thompson, Conn., and on Friday at Lee USA Speedway.
"This is my third different car and both tracks I hadn't run before," he said. "It's a bit different because it's a midget with a top wing on it on pavement. The cars are different than any other midgets I've driven. It's about finding out what the car will allow you to do. I felt like I picked it up pretty easy every time, but you're having to learn new tracks, too."
The action began with a fourth-place finish in a heat race last Wednesday at Thompson Speedway Motorsports Park. However, the heat race finish didn't matter other than it gave Swindell additional laps.
"I had to start (the main event) behind all the qualified cars except the first and second-place finishers from when the previous race," he said. "That's their handicap system. I don't understand it, but that's the way they do it. Now that I've run those two races if I come back before this time next year I'll get to start further up in the main so that'd be a big help."
Swindell advanced from eighth to seventh place in the main event during an uncomfortable race.
"That was the biggest and fastest track I've ever run a midget on," he said. "It was banked a lot more than anything I've run on pavement. All that and trying to fine-tune the car, it takes a little bit of time. You get two practices, a heat race and a main. Once you start you don't really have that much time to spend. We've been able to be competitive with those guys most every time.
"I didn't have my seat quite right. When I'd go into the banking I'd slide down into it. It made it uncomfortable and I didn't get as good of a feel as I needed to run a fast track like that."
The team made changes prior to Friday's event at Lee USA Speedway and it showed as Swindell was the quickest in the second practice session.
"That place was a lot of fun," he said. "You could slide the car around if you needed to. The driver had more input than the track before where it was mostly the car doing all the work."
Swindell advanced from fourth to third place in a heat race and from eighth to fifth place in the main event.
"We came back in the feature and I think we had the second quickest lap of the day," he said. "The races have all gone straight through pretty much. The guys ahead of me got away and by the time I got though those few cars it started getting really tight off the corners. I just couldn't dive down off the corner like I needed to be able to get by the guy in fourth.
"I learned a lot being up there for two races with just a day off to be able to go back and fine-tune some stuff. I was more comfortable in the car and I felt more confident."
QUICK RESULTS –
Aug. 14 – Thompson Speedway Motorsports Park in Thompson, Ct. – Heat race: 4 (4); Feature: 7 (8).
Aug. 16 – Lee USA Speedway in Lee, N.H. – Heat race: 3 (4); Feature: 5 (8).
SEASON STATS –
20 races, 0 wins, 5 top fives, 9 top 10s, 13 top 15s, 14 top 20s
UP NEXT –
TBD
MEDIA LINKS –
Website: http://www.SammySwindell1.com
Twitter: https://twitter.com/1sam91
SPONSOR SPOTLIGHT – Brown & Miller Racing Solutions
Brown & Miller Racing Solutions is a leader in lightweight hoses and fittings within the motor sports industry. For more information, visit http://www.BMRS.net.
"I've run Brown & Miller Racing Solutions products for quite a few years and they've always been first class," Swindell said. "They are always innovating and trying to make their products better."
Swindell would also like to thank John Christner Trucking, Rossie Feed & Grain, High Performance Lubricants, Whitacre Glass, Sweet Manufacturing, FK Rod Ends, Simpson Race Products, Premier Truck Group, Hopf Farms, W&B Service Company, Superior Trailer Sales, South Bay Partners and Inside Line Promotions for their continued support.
INSIDE LINE PROMOTIONS –
Inside Line Promotions specializes in affordable public relations and media management for motor sports drivers, teams, sponsors, tracks, series, events, organizations and manufacturers. ILP Founder Shawn Miller leverages professional journalism with new media technologies and social networking to improve your exposure and the return on investment for your sponsors.
To meet the media relations needs of your program by joining Team ILP, contact Shawn at 541-510-3663 or Shawn@InsideLinePromotions.com. For more information on Inside Line Promotions, visit http://www.InsideLinePromotions.com.
---
Article Credit: Inside Line Promotions
Submitted By: Shawn Miller
Back to News